Chemopreventive Potential of Caryophyllane Sesquiterpenes: An Overview of Preliminary Evidence
1
Department of Physiology and Pharmacology "V. Erspamer", Sapienza University of Rome, P. le Aldo Moro 5, 00185 Rome, Italy
2
Department of Anatomical, Histological, Forensic and Orthopedic Sciences, Sapienza University of Rome, P. le Aldo Moro 5, 00185 Rome, Italy
3
Department of Biochemical Science "A. Rossi Fanelli", Sapienza University of Rome, P. le Aldo Moro 5, 00185 Rome, Italy
*
Authors to whom correspondence should be addressed.
Received: 7 September 2020 / Revised: 29 September 2020 / Accepted: 15 October 2020 / Published: 18 October 2020
Simple Summary
Caryophyllane sesquiterpenes are unique natural compounds widely occurring in nature, especially in plant essential oils, that are characterized by multiple properties of pharmacological interest. Although β-caryophyllene is the most investigated compound, its metabolite β-caryophyllene oxide and the analogues α-humulene and isocaryophyllene have been evaluated, too. Previous studies showed a polypharmacological profile of these compounds and a possible interest in cancer research; however, emerging evidence have highlighted a complex pool of healing properties, including a block of carcinogen-mediated DNA damage and cytoprotection against anticancer drug toxicity in noncancerous cells, along with antiproliferative and chemosensitizing activitives in cancer cells, thus suggesting their promising role as chemopreventive agents. In line with this evidence, the present review provides the pharmacological basis to support a further therapeutic interest for caryophyllane sesquiterpenes as chemopreventive agents. Moreover, possible structure–activity relationships and future research directions have been highlighted.
Chemoprevention is referred to as a strategy to inhibit, suppress, or reverse tumor development and progression in healthy people along with high-risk subjects and oncologic patients through using pharmacological or natural substances. Numerous phytochemicals have been widely described in the literature to possess chemopreventive properties, although their clinical usefulness remains to be defined. Among them, caryophyllane sesquiterpenes are natural compounds widely occurring in nature kingdoms, especially in plants, fungi, and marine environments. Several structures, characterized by a common caryophyllane skeleton with further rearrangements, have been identified, but those isolated from plant essential oils, including β-caryophyllene, β-caryophyllene oxide, α-humulene, and isocaryophyllene, have attracted the greatest pharmacological attention. Emerging evidence has outlined a complex polypharmacological profile of caryophyllane sesquiterpenes characterized by blocking, suppressing, chemosensitizing, and cytoprotective properties, which suggests a possible usefulness of these natural substances in cancer chemoprevention for both preventive and adjuvant purposes. In the present review, the scientific knowledge about the chemopreventive properties of caryophyllane sesquiterpenes and the mechanisms involved have been collected and discussed; moreover, possible structure–activity relationships have been highlighted. Although further high-quality studies are required, the promising preclinical findings and the safe pharmacological profile encourage further studies to define a clinical usefulness of caryophyllane sesquiterpenes in primary, secondary, or tertiary chemoprevention.
View Full-Text
►

▼

Show Figures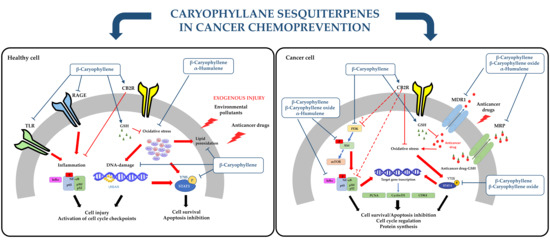 Graphical abstract
This is an open access article distributed under the
Creative Commons Attribution License
which permits unrestricted use, distribution, and reproduction in any medium, provided the original work is properly cited

MDPI and ACS Style
Di Sotto, A.; Mancinelli, R.; Gullì, M.; Eufemi, M.; Mammola, C.L.; Mazzanti, G.; Di Giacomo, S. Chemopreventive Potential of Caryophyllane Sesquiterpenes: An Overview of Preliminary Evidence. Cancers 2020, 12, 3034.
Show more citation formats
Show less citations formats
Note that from the first issue of 2016, MDPI journals use article numbers instead of page numbers. See further details
here
.