Arthralgia Induced by BRAF Inhibitor Therapy in Melanoma Patients
1
Department of Dermatology and National Center for Tumor Diseases, University Hospital Heidelberg, Im Neuenheimer Feld 460, 69120 Heidelberg, Germany
2
Division of Rheumatology, Department of Medicine V, University Hospital Heidelberg, Im Neuenheimer Feld 410, 69120 Heidelberg, Germany
3
Clinical Cooperation Unit Nuclear Medicine, German Cancer Research Center, Im Neuenheimer Feld 280, 69120 Heidelberg, Germany
*
Author to whom correspondence should be addressed.
Received: 19 August 2020 / Revised: 5 October 2020 / Accepted: 15 October 2020 / Published: 16 October 2020
Simple Summary
BRAF inhibitors (BRAFi) are standard of care for BRAF-mutated metastatic melanoma (MM). One of the most common side effects is arthralgia, for which a high incidence has been described, but whose clinical presentation and management have not yet been characterized. The aim of this retrospective study was to assess the patterns and clinical course of this drug-induced joint pain and to discuss a potential pathogenesis based on our clinical findings. In our cohort of patients treated with BRAFi between 2010 and 2018, 48 of 154 (31%) patients suffered from new-onset joint pain, which primarily affected small joints with a symmetrical pattern, as can be observed in patients affected by rheumatoid arthritis, the most frequent rheumatic and musculoskeletal disease. Most cases were sufficiently treated by non-steroidal anti-inflammatory drugs; however, some patients required dose reduction or permanent discontinuation of the BRAFi. Interestingly, we found that the occurrence of arthralgia was associated with better tumor control.
Introduction: BRAF inhibitors (BRAFi), commonly used in BRAF-mutated metastatic melanoma (MM) treatment, frequently cause arthralgia. Although this is one of the most common side effects, it has not been characterized yet. Methods: We retrospectively included all patients treated with BRAFi +/− MEK inhibitors (MEKi) for MM at the National Center for Tumor Diseases (Heidelberg) between 2010 and 2018 and reviewed patient charts for the occurrence and management of arthralgia. The evaluation was supplemented by an analysis of frozen sera. Results: We included 154 patients (63% males); 31% (48/154) of them reported arthralgia with a median onset of 21 days after the start of the therapy. Arthralgia mostly affected small joints (27/36, 75%) and less frequently large joints (19/36, 53%). The most commonly affected joints were in fingers (19/36, 53%), wrists (16/36, 44%), and knees (12/36, 33%). In 67% (24/36) of the patients, arthralgia occurred with a symmetrical polyarthritis, mainly of small joints, resembling the pattern typically observed in patients affected by rheumatoid arthritis (RA), for which a role of the MAPK signaling pathway was previously described. Patients were negative for antinuclear antibodies, anti-citrullinated protein antibodies, and rheumatoid factor; arthritis was visible in 10 of 13 available PET–CT scans. The development of arthralgia was linked to better progression-free survival and overall survival. Conclusion: Arthralgia is a common side effect in patients receiving BRAFi +/− MEKi therapy and often presents a clinical pattern similar to that observed in RA patients. Its occurrence was associated with longer-lasting tumor control.
View Full-Text
►

▼

Show Figures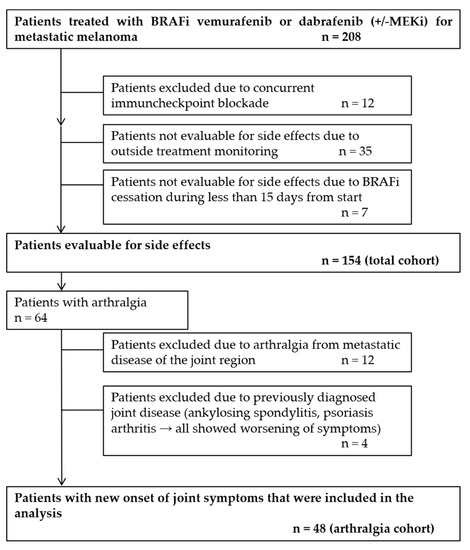 Figure 1
This is an open access article distributed under the
Creative Commons Attribution License
which permits unrestricted use, distribution, and reproduction in any medium, provided the original work is properly cited

MDPI and ACS Style
Salzmann, M.; Benesova, K.; Buder-Bakhaya, K.; Papamichail, D.; Dimitrakopoulou-Strauss, A.; Lorenz, H.-M.; Enk, A.H.; Hassel, J.C. Arthralgia Induced by BRAF Inhibitor Therapy in Melanoma Patients. Cancers 2020, 12, 3004.
Show more citation formats
Show less citations formats
Note that from the first issue of 2016, MDPI journals use article numbers instead of page numbers. See further details
here
.