Main Strategies for the Identification of Neoantigens
N.N. Blokhin National Medical Research Center of Oncology, Ministry of Health of the Russian Federation, 115478 Moscow, Russia
*
Author to whom correspondence should be addressed.
Received: 4 September 2020
/
Revised: 1 October 2020
/
Accepted: 5 October 2020
/
Published: 7 October 2020
Simple Summary
This review provides an overview of currently available approaches applied for neoantigens discovery—tumor-specific peptides that appeared due to the mutation process and distinguish tumors from normal tissues. Focusing on genomics-based approaches and computational pipelines, we cover all steps required for selecting appropriate candidate peptides starting from NGS-derived data. Moreover, additional approaches such as mass-spectrometry-based and structure-based methods are discussed highlighting their advantages and disadvantages. This review also provides a description of available complex bioinformatics pipelines ensuring automated data processing resulting in a list of neoantigens. We propose the possible ideal pipeline that could be implemented in the neoantigens identification process. We discuss the integration of results generated by different approaches to improve the accuracy of neoantigens selection.
Genetic instability of tumors leads to the appearance of numerous tumor-specific somatic mutations that could potentially result in the production of mutated peptides that are presented on the cell surface by the MHC molecules. Peptides of this kind are commonly called neoantigens. Their presence on the cell surface specifically distinguishes tumors from healthy tissues. This feature makes neoantigens a promising target for immunotherapy. The rapid evolution of high-throughput genomics and proteomics makes it possible to implement these techniques in clinical practice. In particular, they provide useful tools for the investigation of neoantigens. The most valuable genomic approach to this problem is whole-exome sequencing coupled with RNA-seq. High-throughput mass-spectrometry is another option for direct identification of MHC-bound peptides, which is capable of revealing the entire MHC-bound peptidome. Finally, structure-based predictions could significantly improve the understanding of physicochemical and structural features that affect the immunogenicity of peptides. The development of pipelines combining such tools could improve the accuracy of the peptide selection process and decrease the required time. Here we present a review of the main existing approaches to investigating the neoantigens and suggest a possible ideal pipeline that takes into account all modern trends in the context of neoantigen discovery.
View Full-Text
►

▼

Show Figures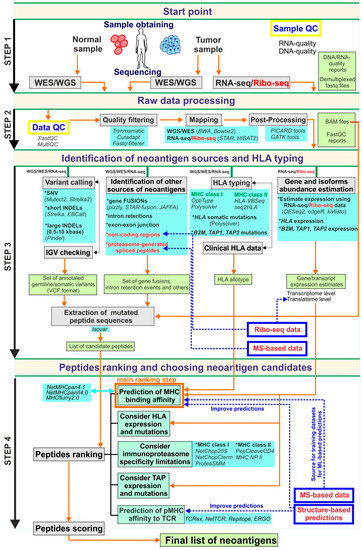 Figure 1
This is an open access article distributed under the
Creative Commons Attribution License
which permits unrestricted use, distribution, and reproduction in any medium, provided the original work is properly cited

MDPI and ACS Style
Gopanenko, A.V.; Kosobokova, E.N.; Kosorukov, V.S. Main Strategies for the Identification of Neoantigens. Cancers 2020, 12, 2879. https://doi.org/10.3390/cancers12102879
AMA Style
Gopanenko AV, Kosobokova EN, Kosorukov VS. Main Strategies for the Identification of Neoantigens. Cancers. 2020; 12(10):2879. https://doi.org/10.3390/cancers12102879
Chicago/Turabian Style
Gopanenko, Alexander V., Ekaterina N. Kosobokova, and Vyacheslav S. Kosorukov 2020. "Main Strategies for the Identification of Neoantigens" Cancers 12, no. 10: 2879. https://doi.org/10.3390/cancers12102879
Note that from the first issue of 2016, MDPI journals use article numbers instead of page numbers. See further details
here
.