TRAIL Induces Nuclear Translocation and Chromatin Localization of TRAIL Death Receptors
1
Institute for Experimental Cancer Research, University of Kiel, 24105 Kiel, Germany
2
Department of Clinical Chemistry, University Medical Centre, Ruprecht-Karls University of Heidelberg, 68167 Mannheim, Germany
3
Department of General and Visceral Surgery, Ulm University Hospital, Albert-Einstein-Allee 23, 89081 Ulm, Germany
4
Department of Translational Genomics, Medical Faculty, University of Cologne, 50931 Cologne, Germany
5
CECAD Research Center, Medical Faculty, University of Cologne, 50931 Cologne, Germany
6
Department of Infection Prevention and Infectious Diseases, University of Regensburg, 93053 Regensburg, Germany
*
Author to whom correspondence should be addressed.
†
These authors contributed equally to this work.
Received: 2 August 2019 / Accepted: 8 August 2019 / Published: 14 August 2019
Abstract
Binding of tumor necrosis factor-related apoptosis-inducing ligand (TRAIL) to the plasma membrane TRAIL-R1/-R2 selectively kills tumor cells. This discovery led to evaluation of TRAIL-R1/-R2 as targets for anti-cancer therapy, yet the corresponding clinical trials were disappointing. Meanwhile, it emerged that many cancer cells are TRAIL-resistant and that TRAIL-R1/-R2-triggering may lead to tumor-promoting effects. Intriguingly, recent studies uncovered specific functions of long ignored intracellular TRAIL-R1/-R2, with tumor-promoting functions of nuclear (n)TRAIL-R2 as the regulator of let-7-maturation. As nuclear trafficking of TRAIL-Rs is not well understood, we addressed this issue in our present study. Cell surface biotinylation and tracking of biotinylated proteins in intracellular compartments revealed that nTRAIL-Rs originate from the plasma membrane. Nuclear TRAIL-Rs-trafficking is a fast process, requiring clathrin-dependent endocytosis and it is TRAIL-dependent. Immunoprecipitation and immunofluorescence approaches revealed an interaction of nTRAIL-R2 with the nucleo-cytoplasmic shuttle protein Exportin-1/CRM-1. Mutation of a putative nuclear export sequence (NES) in TRAIL-R2 or the inhibition of CRM-1 by Leptomycin-B resulted in the nuclear accumulation of TRAIL-R2. In addition, TRAIL-R1 and TRAIL-R2 constitutively localize to chromatin, which is strongly enhanced by TRAIL-treatment. Our data highlight the novel role for surface-activated TRAIL-Rs by direct trafficking and signaling into the nucleus, a previously unknown signaling principle for cell surface receptors that belong to the TNF-superfamily.
View Full-Text
►

▼

Figures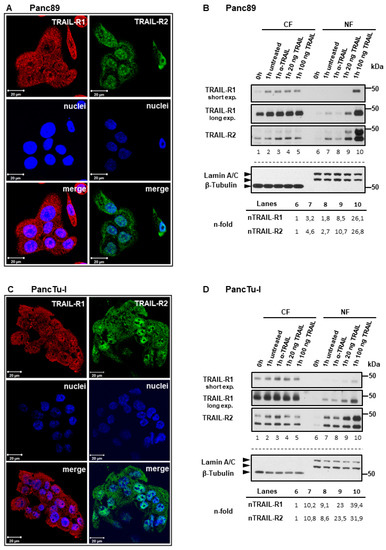 Figure 1
This is an open access article distributed under the
Creative Commons Attribution License
which permits unrestricted use, distribution, and reproduction in any medium, provided the original work is properly cited (CC BY 4.0).

Share & Cite This Article
MDPI and ACS Style
Mert, U.; Adawy, A.; Scharff, E.; Teichmann, P.; Willms, A.; Haselmann, V.; Colmorgen, C.; Lemke, J.; von Karstedt, S.; Fritsch, J.; Trauzold, A. TRAIL Induces Nuclear Translocation and Chromatin Localization of TRAIL Death Receptors. Cancers 2019, 11, 1167.
Note that from the first issue of 2016, MDPI journals use article numbers instead of page numbers. See further details here.
Related Articles
Comments
[Return to top]