Incorporation of a Hydrophilic Spacer Reduces Hepatic Uptake of HER2-Targeting Affibody–DM1 Drug Conjugates
1
Department of Protein Science, KTH Royal Institute of Technology, Roslagstullsbacken 21, 114 17 Stockholm, Sweden
2
Department of Immunology, Genetics and Pathology, Uppsala University, 751 85 Uppsala, Sweden
3
Department of Medicinal Chemistry, Uppsala University, 751 23 Uppsala, Sweden
4
Science for Life Laboratory, Uppsala University, 751 23 Uppsala, Sweden
*
Author to whom correspondence should be addressed.
†
These authors contributed equally to this work.
Received: 17 July 2019 / Revised: 6 August 2019 / Accepted: 12 August 2019 / Published: 14 August 2019
Abstract
Affibody molecules are small affinity-engineered scaffold proteins which can be engineered to bind to desired targets. The therapeutic potential of using an affibody molecule targeting HER2, fused to an albumin-binding domain (ABD) and conjugated with the cytotoxic maytansine derivate MC-DM1 (AffiDC), has been validated. Biodistribution studies in mice revealed an elevated hepatic uptake of the AffiDC, but histopathological examination of livers showed no major signs of toxicity. However, previous clinical experience with antibody drug conjugates have revealed a moderate- to high-grade hepatotoxicity in treated patients, which merits efforts to also minimize hepatic uptake of the AffiDCs. In this study, the aim was to reduce the hepatic uptake of AffiDCs and optimize their in vivo targeting properties. We have investigated if incorporation of hydrophilic glutamate-based spacers adjacent to MC-DM1 in the AffiDC, (Z
HER2:2891
)
2
–ABD–MC-DM1, would counteract the hydrophobic nature of MC-DM1 and, hence, reduce hepatic uptake. Two new AffiDCs including either a triglutamate–spacer–, (Z
HER2:2891
)
2
–ABD–E
3
–MC-DM1, or a hexaglutamate–spacer–, (Z
HER2:2891
)
2
–ABD–E
6
–MC-DM1 next to the site of MC-DM1 conjugation were designed. We radiolabeled the hydrophilized AffiDCs and compared them, both in vitro and in vivo, with the previously investigated (Z
HER2:2891
)
2
–ABD–MC-DM1 drug conjugate containing no glutamate spacer. All three AffiDCs demonstrated specific binding to HER2 and comparable in vitro cytotoxicity. A comparative biodistribution study of the three radiolabeled AffiDCs showed that the addition of glutamates reduced drug accumulation in the liver while preserving the tumor uptake. These results confirmed the relation between DM1 hydrophobicity and liver accumulation. We believe that the drug development approach described here may also be useful for other affinity protein-based drug conjugates to further improve their in vivo properties and facilitate their clinical translatability.
View Full-Text
►

▼

Figures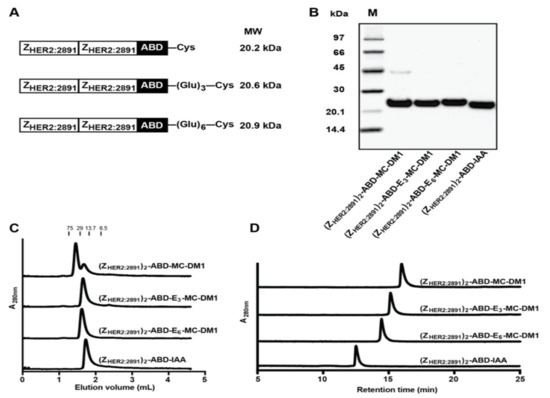 Figure 1
This is an open access article distributed under the
Creative Commons Attribution License
which permits unrestricted use, distribution, and reproduction in any medium, provided the original work is properly cited (CC BY 4.0).

Share & Cite This Article
MDPI and ACS Style
Ding, H.; Altai, M.; Rinne, S.S.; Vorobyeva, A.; Tolmachev, V.; Gräslund, T.; Orlova, A. Incorporation of a Hydrophilic Spacer Reduces Hepatic Uptake of HER2-Targeting Affibody–DM1 Drug Conjugates. Cancers 2019, 11, 1168.
Note that from the first issue of 2016, MDPI journals use article numbers instead of page numbers. See further details here.
Related Articles
Comments
[Return to top]