Hepatic Resection Following Selective Internal Radiation Therapy for Colorectal Cancer Metastases in the FOXFIRE Clinical Trial: Clinical Outcomes and Distribution of Microspheres
1
NIHR Oxford Biomedical Research Centre, CRUK-MRC Institute for Radiation Oncology, Department of Oncology, University of Oxford, Oxford OX3 7DQ, UK
2
Centre of Pathology, Imperial College London, London W2 1NY, UK
3
Centre for Statistics in Medicine, Nuffield Department of Orthopaedics, Rheumatology and Musculoskeletal Sciences (NDORMS), University of Oxford, Oxford OX3 7LD, UK
4
Department of Surgery, Faculty of Medicine, University of Southampton, Southampton SO16 6YD, UK
5
Department of Surgery, University Hospital Southampton NHS Foundation Trust, Tremona Road, Southampton SO16 6YD, UK
6
Oncology Department, Faculty of Medicine, Imperial College London, London W2 1NY, UK
7
NIHR University College London Hospitals Biomedical Research Centre, UCL Cancer Institute, University College London, 72 Huntley Street, London WC1E 6DD, UK
*
Author to whom correspondence should be addressed.
†
These authors contributed equally to this work.
Received: 19 June 2019 / Revised: 30 July 2019 / Accepted: 1 August 2019 / Published: 12 August 2019
Abstract
The FOXFIRE (5-Fluorouracil, OXaliplatin and Folinic acid ± Interventional Radio-Embolisation) clinical trial combined systemic chemotherapy (OxMdG: Oxaliplatin, 5-fluorouracil and folic acid) with Selective Internal Radiation Therapy (SIRT or radio-embolisation) using yttrium-90 resin microspheres in the first-line management for liver-dominant metastatic colorectal cancer (CRC). We report clinical outcomes for patients having hepatic resection after this novel combination therapy and an exploratory analysis of histopathology. Multi-Disciplinary Teams deemed all patients inoperable before trial registration and reassessed them during protocol therapy. Proportions were compared using Chi-squared tests and survival using Cox models. FOXFIRE randomised 182 participants to chemotherapy alone and 182 to chemotherapy with SIRT. There was no statistically significant difference in the resection rate between groups: Chemotherapy alone was 18%, (
n
= 33); SIRT combination was 21% (
n
= 38) (
p
= 0.508). There was no statistically significant difference between groups in the rate of liver surgery, nor in survival from time of resection (hazard ratio (HR) = 1.55; 95% confidence interval (CI) = 0.83–2.89). In the subgroup studied for histopathology, microsphere density was highest at the tumour periphery. Patients treated with SIRT plus chemotherapy displayed lower values of viable tumour in comparison to those treated with chemotherapy alone (
p
< 0.05). This study promotes the feasibility of hepatic resection following SIRT. Resin microspheres appear to preferentially distribute at the tumour periphery and may enhance tumour regression.
View Full-Text
►

▼

Figures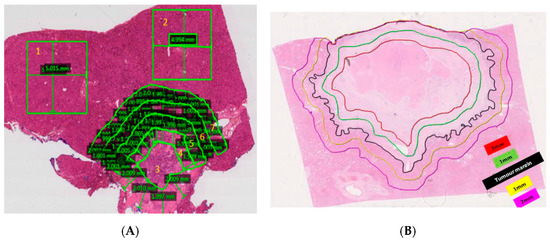 Figure 1
This is an open access article distributed under the
Creative Commons Attribution License
which permits unrestricted use, distribution, and reproduction in any medium, provided the original work is properly cited (CC BY 4.0).

Share & Cite This Article
MDPI and ACS Style
Winter, H.; Rassam, J.; Virdee, P.S.; Goldin, R.; Pitcheshwar, P.; Weaver, K.; Primrose, J.; Berry, D.P.; Wasan, H.S.; Sharma, R.A. Hepatic Resection Following Selective Internal Radiation Therapy for Colorectal Cancer Metastases in the FOXFIRE Clinical Trial: Clinical Outcomes and Distribution of Microspheres. Cancers 2019, 11, 1155.
Note that from the first issue of 2016, MDPI journals use article numbers instead of page numbers. See further details here.
Related Articles
Comments
[Return to top]