Association between Circulating Fibroblast Growth Factor 21 and Aggressiveness in Thyroid Cancer
1
Department of Endocrinology and Metabolism, Chungnam National University College of Medicine, Daejeon 35015, Korea
2
Department of Medical Science, College of Medicine, Chungnam National University, Daejeon 35015, Korea
3
Department of Otolaryngology-Head and Neck Surgery, Chungnam National University College of Medicine, Daejeon 35015, Korea
*
Authors to whom correspondence should be addressed.
†
These authors contributed equally to this work.
Received: 27 May 2019 / Revised: 13 July 2019 / Accepted: 8 August 2019 / Published: 12 August 2019
Abstract
Fibroblast growth factor 21 (FGF21) plays important roles in regulating glucose, lipid, and energy metabolism; however, its effects in tumors remain poorly understood. To understand the role of FGF21 in regulating tumor aggressiveness in thyroid cancer, serum levels of FGF21 were measured in healthy subjects and patients with papillary thyroid cancer (PTC), and expression levels of FGF21, FGF receptors (FGFRs), and β-klotho (KLB) were investigated in human thyroid tissues. The cell viability, migrating cells, and invading cells were measured in PTC cells after treatment with recombinant FGF21. Higher serum levels of FGF21 were found in patients with thyroid cancer than in control participants, and were significantly associated with body mass index (BMI), fasting glucose levels, triglyceride levels, tumor stage, lymphovascular invasion, and recurrence. Serum FGF21 levels were positively correlated with the BMI in patients with PTC, and significantly associated with recurrence. Recombinant FGF21 led to tumor aggressiveness via activation of the FGFR signaling axis and epithelial-to-mesenchymal transition (EMT) signaling in PTC cells, and AZD4547, an FGFR tyrosine kinase inhibitor, attenuated the effects of FGF21. Hence, FGF21 may be a new biomarker for predicting tumor progression, and targeting FGFR may be a novel therapy for the treatment of obese patients with PTC.
View Full-Text
►

▼

Figures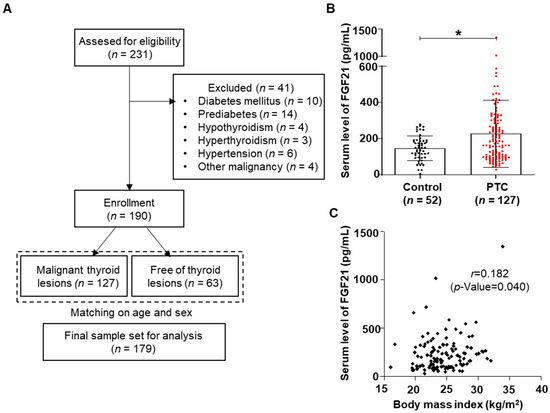 Figure 1
This is an open access article distributed under the
Creative Commons Attribution License
which permits unrestricted use, distribution, and reproduction in any medium, provided the original work is properly cited (CC BY 4.0).

Share & Cite This Article
MDPI and ACS Style
Kang, Y.E.; Kim, J.T.; Lim, M.A.; Oh, C.; Liu, L.; Jung, S.-N.; Won, H.-R.; Lee, K.; Chang, J.W.; Yi, H.-S.; Kim, H.J.; Ku, B.J.; Shong, M.; Koo, B.S. Association between Circulating Fibroblast Growth Factor 21 and Aggressiveness in Thyroid Cancer. Cancers 2019, 11, 1154.
Note that from the first issue of 2016, MDPI journals use article numbers instead of page numbers. See further details here.
Related Articles
Comments
[Return to top]