Open Access This article is
freely available
re-usable
Review
Main Inflammatory Cells and Potentials of Anti-Inflammatory Agents in Prostate Cancer
Department of Urology, Osaka University Graduate School of Medicine, Suita, Osaka 565-0871, Japan
*
Author to whom correspondence should be addressed.
Received: 24 July 2019 / Accepted: 9 August 2019 / Published: 12 August 2019
Abstract
:
Prostate cancer is the most common type of cancer and the leading cause of cancer deaths among men in many countries. Preventing progression is a major concern for prostate cancer patients on active surveillance, patients with recurrence after radical therapies, and patients who acquired resistance to systemic therapies. Inflammation, which is induced by various factors such as infection, microbiome, obesity, and a high-fat diet, is the major etiology in the development of prostate cancer. Inflammatory cells play important roles in tumor progression. Various immune cells including tumor-associated neutrophils, tumor-infiltrating macrophages, myeloid-derived suppressor cells, and mast cells promote prostate cancer via various intercellular signaling. Further basic studies examining the relationship between the inflammatory process and prostate cancer progression are warranted. Interventions by medications and diets to control systemic and/or local inflammation might be effective therapies for prostate cancer progression. Epidemiological investigations and basic research using human immune cells or mouse models have revealed that non-steroidal anti-inflammatory drugs, metformin, statins, soy isoflavones, and other diets are potential interventions for preventing progression of prostate cancer by suppressing inflammation. It is essential to evaluate appropriate indications and doses of each drug and diet.
Keywords:
inflammation; prostate cancer; immune cell; intervention; NSAIDs; metformin; statin; cytokine; mouse model
2. Immune Cells and Intercellular Signaling Promoting Prostate Cancer Progression
2.1. Neutrophils
Neutrophils are short-lived cells with a circulating half-life of less than 24 h [
39
] and primarily work as an antibacterial immune response. The cytokines secreted by tumor cells, such as granulocyte colony-stimulating factor (G-CSF), interleukin (IL)1β, IL6 or tumor necrosis factor (TNF), have been suggested to extend their lifespan [
40
,
41
]. Chemokines secreted from tumor cells also attract neutrophils in the blood to the tumor microenvironment, where they become tumor-associated neutrophils (TANs). TANs can be immunosuppressive, and stimulate tumor cell proliferation and angiogenesis (N2 TANs). However, they can also inhibit tumor growth (N1 TANs) [
40
]. TANs are also reported to play important roles on the metastatic cascade [
41
]. The administration of the tyrosine kinase inhibitor cabozantinib resulted in the clearance of invasive prostate cancer of
Pten
/
Tp53
-deficient (prostate-specific knockout) mouse model by recruiting neutrophils to the tumor [
42
].
Although murine neutrophils differ from human neutrophils in terms of surface markers and genetic diversity [
43
], evidence suggested that neutrophils play an important role in progression of human prostate cancers. The peripheral blood neutrophil-lymphocyte ratio is associated with a high Gleason score and a poor prognosis in early stage prostate cancer [
44
,
45
], and is also a prognostic factor for response to abiraterone and docetaxel treatment in late stage castration-resistant prostate cancer [
46
,
47
]. Other studies have shown that neutrophils in both peripheral blood and prostate are predictive factors for prostate biopsy results [
48
,
49
]. While correlative studies suggest a role for neutrophils in human prostate cancer, further research is needed to confirm their ability to drive disease progression.
2.2. Macrophages
Macrophages play important roles in promoting growth and bone metastasis of prostate cancer [
50
]. Monocyte chemotactic protein (MCP)-1/C-C motif ligand (CCL)2 secreted by prostate cancer cells and stromal cells recruits tumor-infiltrating macrophages and induces tumor progression [
51
,
52
]. Macrophages are one of the most abundant types of immune cells in the tumor microenvironments and divided into classic macrophages (M1) and alternative macrophages (M2). M1 macrophages act in microbiocidal and anti-tumor activity with the secretion of IL1β, IL12 and TNF-α, whereas M2 macrophages act in tissue remodeling, immune tolerance and tumor progression with the secretion of IL4, IL10 and transforming growth factor (TGF)-β [
53
,
54
]. Exposure of macrophages to IL4, CSF-1, granulocyte-macrophage colony-stimulating factor (GM-CSF) and TGF-β secreted by cancer cells polarize macrophages to the M2 phenotype, resulting in immunosuppressive microenvironments. Although obesity leads to a shift of the macrophage phenotype from M2 to M1 in the adipose tissues of mice [
55
], these macrophages also increased the expression of CD206, which is a surface marker of the M2 polarization phenotype [
56
]. In
Pten
-deficient model mice (<Pb-Cre+;
Pten
(fl/fl)>) of prostate cancer, the ratio of tumor-infiltrating macrophages expressing CD206 to ones expressing major histocompatibility complex (MHC) class II was increased, and IL6 secreted by tumor-infiltrating macrophages was elevated by HFD [
25
]. IL6 secreted by many cell types can promote cancer growth via phosphorylation of signal transducer and activator of transcription (STAT)-3 [
57
].
In humans, CD206-positive M2 tumor-infiltrating macrophages are associated with metastasis and poor prognosis [
58
], and were more abundant in the metastases of castration-resistant prostate cancer [
59
]. Tumor-infiltrating macrophages are partly derived from blood monocytes [
60
]. Peripheral blood monocyte fraction is increased in pathologically high-grade prostate cancer [
61
]. Peripheral high monocyte count, which reflects tumor-infiltrating macrophages [
62
], is a negative predictive factor for prostate cancer treated with hormonal therapy [
63
] and chemotherapy [
64
]. Circulating monocytes from prostate cancer patients may promote invasion of epithelial cells [
65
]. Detailed investigations of the roles of macrophages and monocytes in prostate cancer progression are needed.
2.3. Myeloid-Derived Suppressor Cells (MDSCs)
Myeloid-derived suppressor cells (MDSCs) are the immature myeloid cells that suppress anti-tumor immune responses in the tumor microenvironments. Inflammatory responses drive accumulation and activation of MDSCs [
66
]. MDSCs are a heterogeneous population and express a mixture of surface markers typical for myeloid cells, but lack the markers of lymphocytes, natural killer cells, macrophages and dendritic cells. MDSCs modulate the cytokine production of macrophages and promote tumor angiogenesis and metastasis [
67
]. MDSCs, which are characterized by the surface marker CD11b
+
Ly6C
+
Ly6G
+
in mice, also inhibit T cells via arginase-1, inducible nitric oxide synthase (iNOS) and reactive oxygen species and induce regulatory T cells by IL10 and TGF-β. Reported inducers of MDSCs include lipopolysaccharide, CSF-1, GM-CSF, IL1β, IL6, IL13, and prostaglandin E2 (PGE2) [
68
]. In
Pten
-deficient model mice, MDSCs infiltration in tumor was increased and tumor growth was promoted by HFD [
25
]. C-X-C motif ligand (CXCL)5 secreted from prostate cancer cells attracts MDSCs expressing C-X-C chemokine receptor (CXCR)2, and the elimination of MDSCs or the blocking of CXCL5-CXCR2 signaling elicits antitumor responses in the
Pten
/
Smad4
-deficient mouse model [
69
]. In the transgenic adenocarcinoma of mouse prostate (TRAMP) model, IL23 secreted from MDSCs can activate the androgen receptor (AR) pathway, promoting cell survival and proliferation under androgen-deprived conditions, suggested a mechanism of MDSC-mediated resistance to castration [
70
]. MDSCs are divided into two major groups: The cells with a morphology and surface markers like monocytes (monocytic (M)-MDSCs, CD11b
+
Ly6C
high
Ly6G
−
) and the cells with those like neutrophils (polymorphonuclear (PMN)-MDSCs or granulocytic MDSCs, CD11b
+
Ly6C
low
Ly6G
+
).
MDSCs were originally discovered in mice, and their counterparts in humans are not clearly defined. In humans, many studies report that the equivalent cells to PMN-MDSCs are defined as CD11b
+
CD14
−
CD15
+
or CD11b
+
CD14
−
CD66b
+
, and that M-MDSCs are defined as CD11b
+
CD14
+
HLA-DR
−/low
CD15
−
[
71
]. Both PMN-MDSCs and M-MDSCs in peripheral blood from patients with prostate cancer were significantly increased compared with healthy donors, and were negatively associated with overall survival [
72
,
73
]. PMN-MDSCs in metastatic lymph nodes of prostate cancer exhibited a high degree of immunosuppressive activity [
74
]. Both peripheral blood and local MDSCs could be a new target in the prevention of prostate cancer progression.
3. Potential Effective Drugs and Diets for Preventing Progression of Prostate Cancer by Controlling the Inflammation
3.1. Aspirin, Non-Steroidal Anti-Inflammatory Drugs (NSAIDs)
3.4. Others
Soybeans are rich sources of bioactive phytochemicals, isoflavones. A meta-analysis of eight randomized control trials supported a possible role for soy and isoflavones in prostate cancer risk reduction [
155
]. Soy bread consumption for 56 days reduced MDSC-associated cytokines (IL6, GM-CSF, G-CSF, and CSF-1) and M-MDSCs in peripheral blood of prostate cancer patients with asymptomatic biochemical recurrence [
38
]. Although a randomized control trial failed to find a significant benefit to soy protein supplementation on the biochemical recurrence of prostate cancer after radical prostatectomy [
156
], soy isoflavones-rich diets may suppress inflammation and could prevent progression of prostate cancer.
4. Conclusions
Inflammation enhanced by various immune cells and intercellular signaling is one of important factors for progression of prostate cancer. There is a great deal of evidence suggesting the progression can be prevented by targeting inflammation. Further analysis in mouse models would give new insights into the mechanisms of the prostate cancer progression induced by inflammation and identify new therapeutic targets. Moreover, clinical trials would suggest the appropriate indications and doses of each drug or diet to prevent progression of prostate cancer.
Author Contributions
Conceptualization, K.F. and N.N.; methodology, K.F.; formal analysis, T.H; investigation, T.H. and M.M.; resources, T.H.; data curation, T.H.; writing—original draft preparation, T.H.; writing—review and editing, K.F.; visualization, T.H.; supervision, N.N.; project administration, K.F.; funding acquisition, T.H., K.F. and N.N.
Funding
This research was funded by JSPS KAKENHI, grant number JP18K16693.
Conflicts of Interest
The authors declare no conflict of interest. The funders had no role in the design of the study; in the collection, analyses, or interpretation of data; in the writing of the manuscript, or in the decision to publish the results.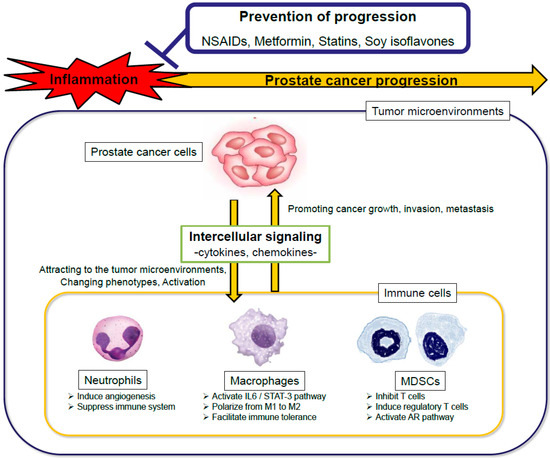 Figure 1. The scheme of the interactions of immune cells with prostate cancer progression and the interventions against inflammation. NSAIDs, non-steroidal anti-inflammatory drugs; IL, interleukin; STAT, signal transducer and activator of transcription; MDSCs, myeloid-derived suppressor cells; AR, androgen receptor.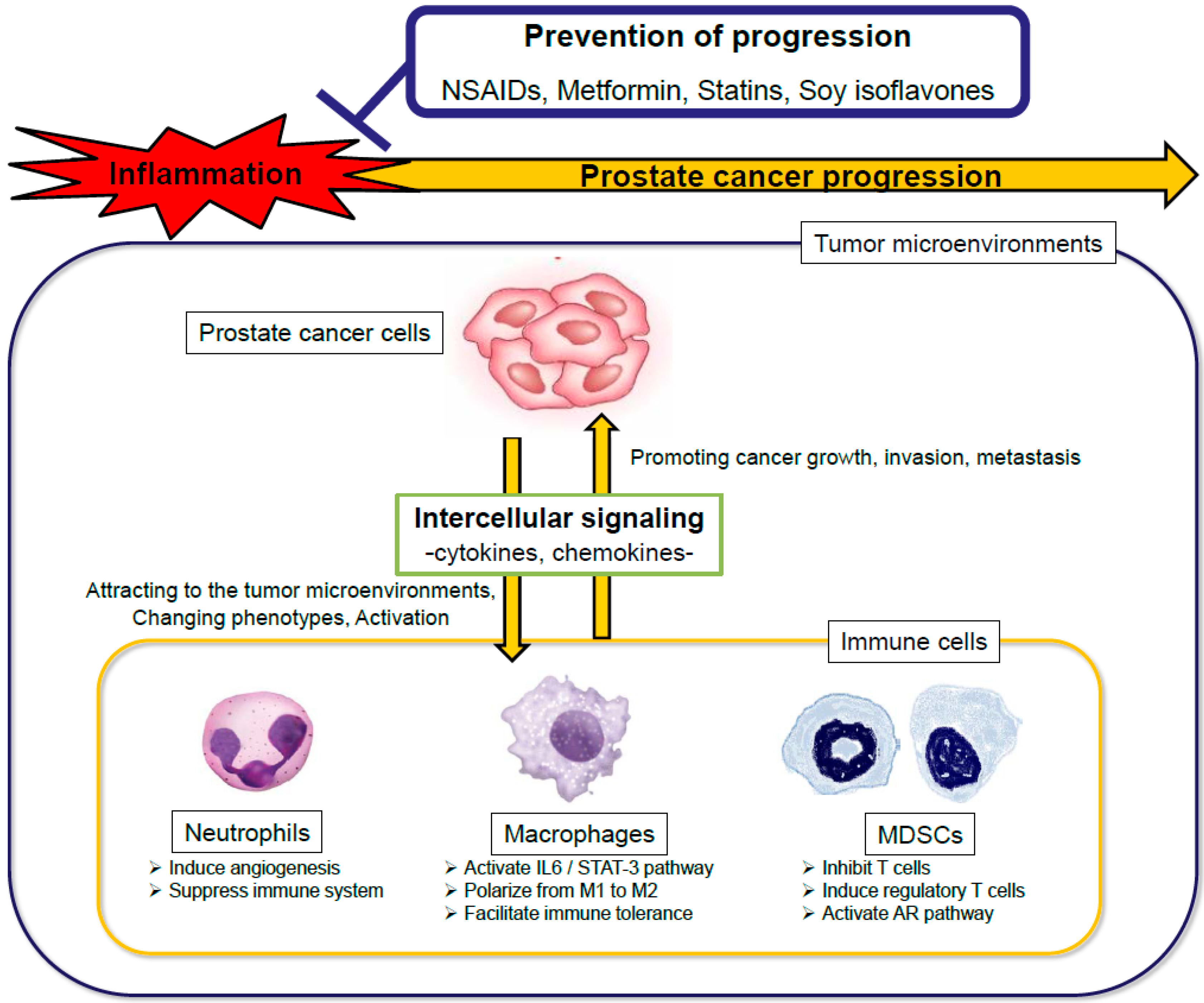 Table 1. Potential drugs and diets for preventing prostate cancer progression by controlling the inflammation.
Drugs or Diets
Mechanism of Action
Aspirin, NSAIDs
Inhibit COX-2 pathway
Suppress local MDSC infiltration [25]
Prevent M2 polarization of tumor-infiltrating macrophages [25]
Reduce IL6 secretion by tumor-infiltrating macrophages [25]
Metformin
Suppress NF-κB pathway [26]
Downregulate COX-2 and PGE2 in tumor cells [27,28]
Reduce tumor-infiltrating macrophages [28]
Inhibit local MDSC infiltration [29]
Prevent M2 polarization of tumor-infiltrating macrophages [30]
Promote M1 polarization of tumor-infiltrating macrophages [31]
Reduce MDSCs in spleen and tumor [31]
Protect exhaustion of CD8+ T cells in tumor [32]
Statins
Disrupt the organization of the lipid rafts
Prevent the organization of cholesterol crystals
Reduce the synthesis of MCP-1 [33]
Decrease level of CD11b adhesion molecule [34]
Increase regulatory T cells [35]
Inhibit T cell activation [36]
Activate peroxisome proliferator-activated receptors [37]
Soy isoflavones
Reduce MDSC-associated cytokines in peripheral blood [38]
Reduce MDSCs in peripheral blood [38]
Vitamin D,
Unclear
Pomegranate,
Green Tea,
Resveratrol,
Zyflamend
Abbreviation: NSAIDs, non-steroidal anti-inflammatory drugs; COX, cyclooxygenase; MDSC, myeloid-derived suppressor cell; IL, interleukin; NF, nuclear factor; PGE2, prostaglandin E2; MCP, monocyte chemotactic protein.

© 2019 by the authors. Licensee MDPI, Basel, Switzerland. This article is an open access article distributed under the terms and conditions of the Creative Commons Attribution (CC BY) license (http://creativecommons.org/licenses/by/4.0/).