Open Access This article is
freely available
re-usable
Review
The Hedgehog Signaling Pathway: A Viable Target in Breast Cancer?
Division of Medical Oncology, Department of Internal medicine, James Comprehensive Cancer Center, Ohio State University, Columbus, OH 43210, USA
Received: 1 July 2019 / Accepted: 30 July 2019 / Published: 7 August 2019
Abstract
:
The hedgehog (Hh) pathway plays a key role in embryonic development and stem cell programs. Deregulation of the Hh pathway is a key driver of basal cell carcinoma, and therapeutic targeting led to approval of Hh inhibitor, vismodegib, in the management of this cancer. The Hh pathway is implicated in other malignancies including hormone receptor (HR+) positive and triple negative breast cancer (TNBC). Hh signaling, which is activated in human mammary stem cells, results in activation of glioma-associated oncogene (GLI) transcription factors. High GLI1 expression correlates with worse outcomes in breast cancer. Non-canonical GLI1 activation is one mechanism by which estrogen exposure promotes breast cancer stem cell proliferation and epithelial–mesenchymal transition. Tamoxifen resistant cell lines show aberrant activation of Hh signaling, and knockdown of Hh pathway inhibited growth of tamoxifen resistant cells. As in other cancers Hh signaling is activated by the PI3K/AKT pathway in these endocrine resistant cell lines. Hh pathway activation has also been reported to mediate chemotherapy resistance in TNBC via various mechanisms including paracrine signaling to tumor micro-environment and selective proliferation of cancer stem cells. Co-activation of Hh and Wnt signaling pathways is a poor prognostic marker in TNBC. Early phase clinical trials are evaluating the combination of smoothened (SMO) inhibitors and chemotherapy in TNBC. In addition to SMO inhibitors like vismodegib and sonidegib, which are in clinical use for basal cell carcinoma, GLI1 inhibitors like GANT58 and GANT61 are in preclinical drug development and might be an effective mechanism to overcome drug resistance in breast cancer. Gene signatures predictive of Hh pathway activation could enrich for patients likely to respond to these agents.
Keywords:
hedgehog; GLI1; breast cancer
1. Introduction
Breast cancer accounts for about one-third of cancer diagnoses in women. In 2019, there are predicted to be around 268,000 new cases of breast cancer in the United States and about 42,000 breast cancer related deaths [
1
]. About 75% of breast cancer cases are hormone receptor positive (HR+), while 15% are human epidermal growth factor receptor 2 (HER2) positive and 10% are triple negative [
2
]. Endocrine therapy is the major treatment modality for HR+ cancer, and the recent emergence of CDK4/6 inhibitors has extended median progression free survival (PFS) for patients with metastatic breast cancer to 24 months [
3
,
4
,
5
]. Although the availability of endocrine therapies has improved the outcomes of HR+ breast cancer, the development of endocrine resistance is inevitable and precludes the possibility of long-term disease control. For patients with triple negative breast cancer (TNBC), treatment options are typically restricted to cytotoxic chemotherapy [
6
,
7
]. As a result, there is a great need to develop new targets in TNBC and new treatment options to overcome endocrine resistance in HR+ breast cancer.
The hedgehog (Hh) pathway is highly conserved and is critical for normal embryogenesis [
8
,
9
]. The Hh pathway has been implicated in regulating embryonic mammary gland induction, development of ductal architecture and differentiation in lactation [
10
]. Dysregulation of the pathway is implicated in the development and proliferation of breast cancer [
11
,
12
]. The Hh protein family consists of Hh ligands (Sonic-SHH, Indian-IHH, and Desert-DHH) which bind cell surface transmembrane receptor Patched (PTCH). PTCH inhibits the activity of the transmembrane receptor like protein Smoothened (SMO), but when bound to ligands (SHH, IHH, DHH) it releases SMO which results in posttranslational processing of the GLI (glioma-associated oncogene homolog)–zinc-finger transcription factors. Thus far, three mammalian GLI proteins have been identified; GLI1 and GLI2 usually act as transcriptional activators, and GLI3 acts as a transcriptional repressor [
13
]. Hh pathway mutations like
PTCH1
are known to be oncogenic in basal cell carcinoma and have been successfully targeted with small molecule inhibitors of smoothened (SMO) like vismodegib [
14
]. Other mechanisms of aberrant activation like overexpression of Hh ligand, autocrine and paracrine signaling are identified in several other cancers like lung cancer, colorectal cancer, prostate cancer, breast cancer and malignant melanoma. Here, we discuss the activation of the Hh pathway in HR+ breast cancer and TNBC and the potential for therapeutic targeting.
2. Hedgehog Signaling in Mammary Gland Development and Cancer
3. Hedgehog Pathway in Hormone Receptor Positive Breast Cancer
4. Hedgehog Pathway in Triple Negative Breast Cancer
Thus, in summary, preclinical evidence suggests that the Hh pathway may play a critical role in the maintenance of the cancer stem cell phenotype, activation of cancer-associated fibroblasts, invasive behavior and angiogenesis in TNBC, and the mechanism of activation is mostly non-canonical via direct transcriptional upregulation of GLI1 and GLI2.
5. Hedgehog Pathway Inhibitors
6. Conclusions
Hh pathway activation is a poor prognostic indicator in both HR breast cancer and TNBC. This complex pathway leads to several aggressive features like EMT, development and maintenance of cancer stem cells, angiogenesis and invasiveness. Despite the growing evidence for the role of the Hh pathway in various cancers, the current Hh targeted therapies in clinical trials are limited to SMO inhibitors. This strategy is unlikely to be effective in breast cancer due to downstream, non-canonical activation of GLI by other pathways such as the PIK3/AKT, EGFR, TGF-β and NF-κB pathways. Selective and potent GLI inhibitors in combination with other targets guided by biomarkers predictive of pathway activation might represent a more effective strategy.
Author Contributions
All authors have read the manuscript and agree to the final submission. All authors have contributed intellectually to the development of the manuscript to be listed as authors.
Funding
This research received no external funding.
Conflicts of Interest
The authors declare that they have no conflicts of interest.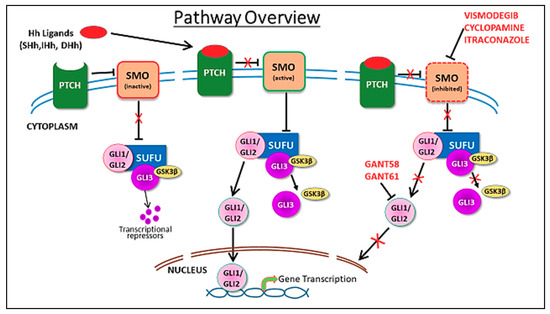 Figure 1. Figure depicts canonical hedgehog signaling pathway. In absence of hedgehog ligands, sonic hedgehog (SHH), Indian hedgehog (IHH) and desert hedgehog (DHH) bind to Patched (PTCH) protein, which inhibits Smoothened (SMO) and its downstream signaling events. Binding of Hh ligands to PTCH inhibits the PTCH, leading to the dis-inhibition of SMO, which then inhibits suppressor of fused (SUFU), thereby leading to release and nuclear translocation of glioma-associated oncogene (GLI)1/2 proteins and transcriptional upregulation of various GLI target genes. GLI3 is a transcriptional repressor, that when associated with SUFU in a trimolecular complex with GSK3b, undergoes further processing to generate repressor GLI. Activation of SMO leads to dissociation of SUFU/GLI3/GSK3b complex. Inhibitors of the pathway, including vismodegib, cyclopamine, itraconazole, GANT58 and GANT61 and the sites of inhibition are indicated.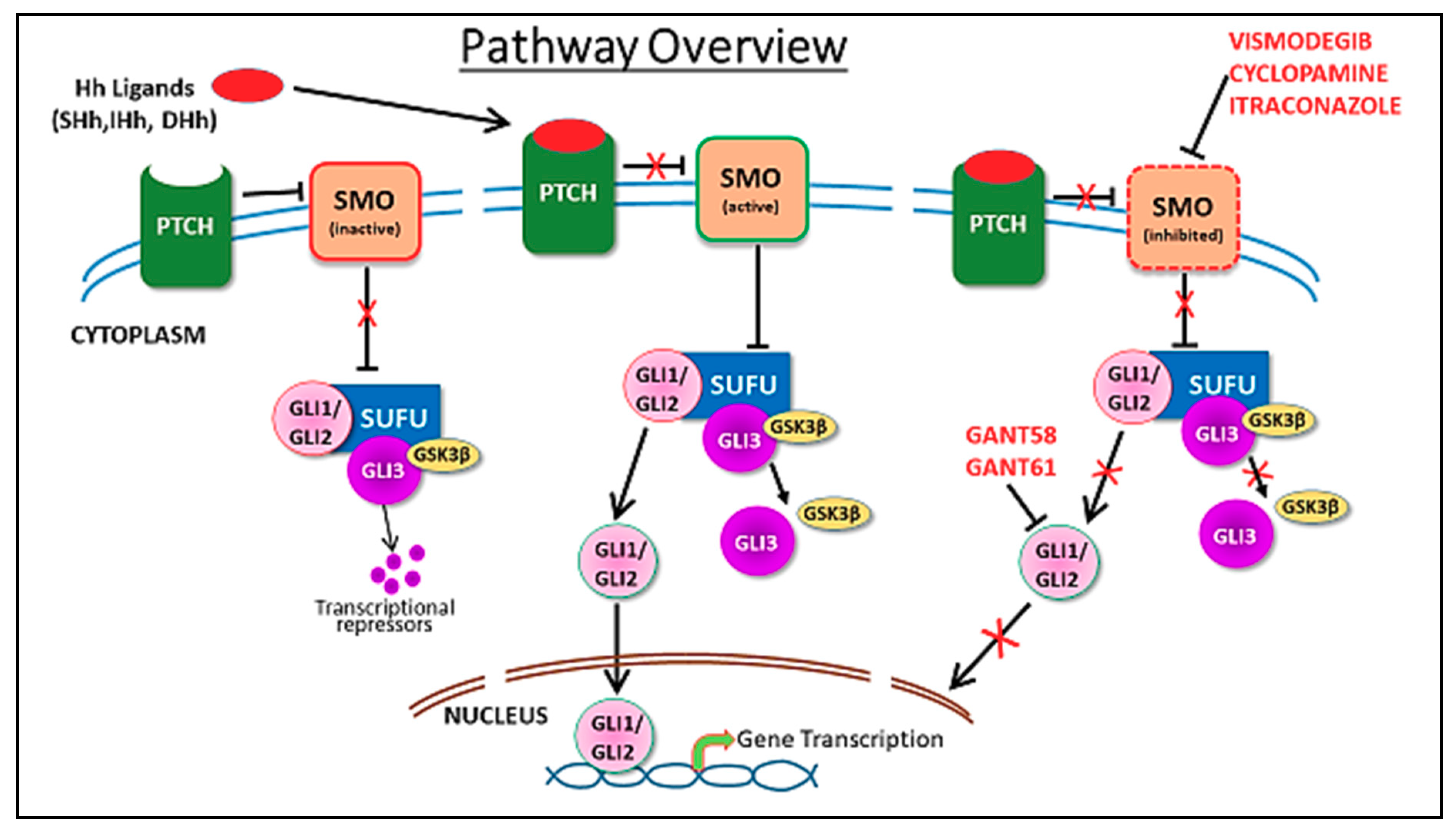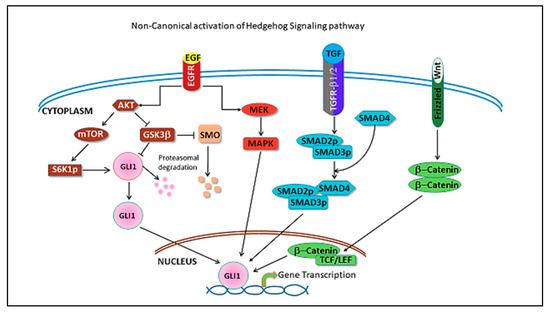 Figure 2. Figure depicts pathways that cross-talk with Hh pathway leading to its non-canonical activation. EGF(Epidermal growth factor) signaling pathway activates GLI mediated transcription through pAKT, as well as MAPK activation (shown in brown/red). TGFβ activation is mediated through SMAD2/3/4 complex (shown in blue) and Wnt signaling pathway activation is through b-catenin/TCF-LEF (shown in green).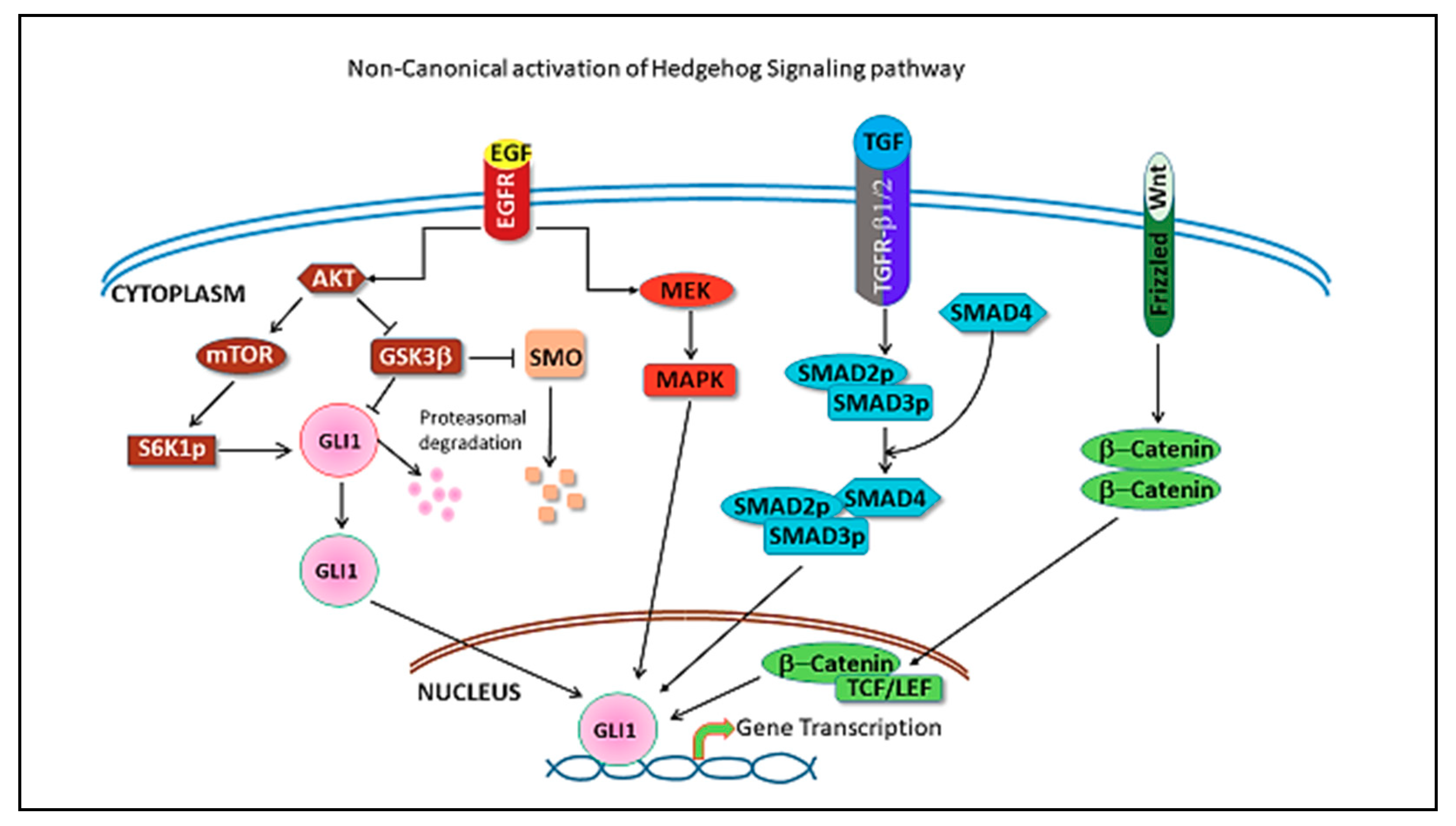 © 2019 by the authors. Licensee MDPI, Basel, Switzerland. This article is an open access article distributed under the terms and conditions of the Creative Commons Attribution (CC BY) license (http://creativecommons.org/licenses/by/4.0/).