Coagulation Factor Xa Promotes Solid Tumor Growth, Experimental Metastasis and Endothelial Cell Activation
1
Faculty of Biological Sciences, Pontificia Universidad Católica de Chile, Santiago 8331150, Chile
2
Advanced Center for Chronic Diseases (ACCDiS), Santiago, Chile
3
Faculty of Medicine, Pontificia Universidad Católica de Chile, Santiago 8331150, Chile
4
Vicerrectoría de Investigación, Universidad Mayor, Santiago 7510041, Chile
5
Comisión Chilena de Energía Nuclear (CCHEN), Santiago, Chile
6
Institute of Biomedical Sciences, Faculty of Medicine, University de Chile, Santiago 8380453, Chile
7
Millennium Institute on Immunology and Immunotherapy, Santiago 8331150, Chile
8
Biomedical Research Consortium of Chile, Santiago 8331010, Chile
9
Laboratory of Immunoncology, Fundación Ciencia & Vida, Santiago, Chile
10
Regenerative Medicine Center, Faculty of Medicine, Clinica Alemana-Universidad Del Desarrollo, Santiago 7650568, Chile
11
Immunology Institute, Faculty of Medicine, Universidad Austral de Chile, Valdivia 5110566, Chile
12
Department of Urology, Roswell Park Comprehensive Cancer Center, Buffalo, NY 14203, USA
13
Laboratory of Cellular Communication, ICBM, Faculty of Medicine, Universidad de Chile, Santiago 8380453, Chile
14
Department of Immunology, Genetics and Pathology, Rudbeck Laboratory, Uppsala University, 751 85 Uppsala, Sweden
*
Author to whom correspondence should be addressed.
Received: 14 June 2019 / Revised: 11 July 2019 / Accepted: 27 July 2019 / Published: 2 August 2019
Abstract
Hypercoagulable state is linked to cancer progression; however, the precise role of the coagulation cascade is poorly described. Herein, we examined the contribution of a hypercoagulative state through the administration of intravenous Coagulation Factor Xa (FXa), on the growth of solid human tumors and the experimental metastasis of the B16F10 melanoma in mouse models. FXa increased solid tumor volume and lung, liver, kidney and lymph node metastasis of tail-vein injected B16F10 cells. Concentrating on the metastasis model, upon coadministration of the anticoagulant Dalteparin, lung metastasis was significantly reduced, and no metastasis was observed in other organs. FXa did not directly alter proliferation, migration or invasion of cancer cells in vitro. Alternatively, FXa upon endothelial cells promoted cytoskeleton contraction, disrupted membrane VE-Cadherin pattern, heightened endothelial-hyperpermeability, increased inflammatory adhesion molecules and enhanced B16F10 adhesion under flow conditions. Microarray analysis of endothelial cells treated with FXa demonstrated elevated expression of inflammatory transcripts. Accordingly, FXa treatment increased immune cell infiltration in mouse lungs, an effect reduced by dalteparin. Taken together, our results suggest that FXa increases B16F10 metastasis via endothelial cell activation and enhanced cancer cell-endothelium adhesion advocating that the coagulation system is not merely a bystander in the process of cancer metastasis.
View Full-Text
►

▼

Figures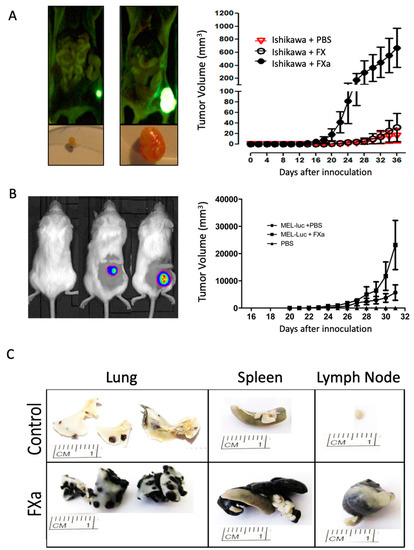 Figure 1
This is an open access article distributed under the
Creative Commons Attribution License
which permits unrestricted use, distribution, and reproduction in any medium, provided the original work is properly cited (CC BY 4.0).

Share & Cite This Article
MDPI and ACS Style
Arce, M.; Pinto, M.P.; Galleguillos, M.; Muñoz, C.; Lange, S.; Ramirez, C.; Erices, R.; Gonzalez, P.; Velasquez, E.; Tempio, F.; Lopez, M.N.; Salazar-Onfray, F.; Cautivo, K.; Kalergis, A.M.; Cruz, S.; Lladser, Á.; Lobos-González, L.; Valenzuela, G.; Olivares, N.; Sáez, C.; Koning, T.; Sánchez, F.A.; Fuenzalida, P.; Godoy, A.; Contreras Orellana, P.; Leyton, L.; Lugano, R.; Dimberg, A.; Quest, A.F.; Owen, G.I. Coagulation Factor Xa Promotes Solid Tumor Growth, Experimental Metastasis and Endothelial Cell Activation. Cancers 2019, 11, 1103.
Note that from the first issue of 2016, MDPI journals use article numbers instead of page numbers. See further details here.
Related Articles
Comments
[Return to top]