Open Access This article is
freely available
re-usable
Review
Integrins, CAFs and Mechanical Forces in the Progression of Cancer
Department of Biological Sciences, Wayne State University, Detroit, MI 48202, USA
*
Author to whom correspondence should be addressed.
Received: 19 April 2019 / Accepted: 20 May 2019 / Published: 24 May 2019
Abstract
:
Cells respond to both chemical and mechanical cues present within their microenvironment. Various mechanical signals are detected by and transmitted to the cells through mechanoreceptors. These receptors often contact with the extracellular matrix (ECM), where the external signals are converted into a physiological response. Integrins are well-defined mechanoreceptors that physically connect the actomyosin cytoskeleton to the surrounding matrix and transduce signals. Families of α and β subunits can form a variety of heterodimers that have been implicated in cancer progression and differ among types of cancer. These heterodimers serve as the nexus of communication between the cells and the tumor microenvironment (TME). The TME is dynamic and composed of stromal cells, ECM and associated soluble factors. The most abundant stromal cells within the TME are cancer-associated fibroblasts (CAFs). Accumulating studies implicate CAFs in cancer development and metastasis through their remodeling of the ECM and release of large amounts of ECM proteins and soluble factors. Considering that the communication between cancer cells and CAFs, in large part, takes place through the ECM, the involvement of integrins in the crosstalk is significant. This review discusses the role of integrins, as the primary cell-ECM mechanoreceptors, in cancer progression, highlighting integrin-mediated mechanical communication between cancer cells and CAFs.
Keywords:
integrin; CAF; cancer-associated fibroblast; cancer cells; mechanics of cancer; mechanotransduction; TME; tumor microenvironment; ECM; extracellular matrix; ECM remodeling; ECM proteins
2. Integrins
Integrins, the best characterized cell-ECM mechanoreceptors, are composed of non-covalently linked heterodimeric α and β subunits. Twenty-four distinct integrin subtypes have been identified in mammals and are made up of eighteen α subunits (α1–11, αV, αIIb, αL, αM, αX, αD and αE) and eight β subunits (β1–8) [
11
,
22
]. Each integrin subunit possesses a large extracellular domain, a single transmembrane domain, and a short cytoplasmic tail (except for β4). The α subunits allow integrins to selectively bind to distinct motifs of ECM proteins (Arg-Gly-Asp (RGD) motif, collagen and laminin) [
11
], whereas the β subunits are responsible for the interaction of integrin with the actomyosin cytoskeleton through numerous anchoring proteins, connecting multiple signaling pathways [
23
]. Heterodimerization of integrin often takes place within the cell before presentation on the cell surface through the interaction between the β-propeller domain of the α subunit and the hybrid domain of the β subunit [
24
].
2.1. Integrin Activation
Inactive integrin heterodimers are usually found in a bent conformation and possess low affinity for their ligands. Once activated, integrins undergo rapid conformational changes to become extended with increased ligand affinity. Intracellularly, the conformational changes of integrins can be accomplished by binding of intracellular activators (e.g., talin and kindlin) [
25
,
26
]. Both activators possess a FERM (4.1/ezrin/radixin/moesin) domain that enables them to bind to the β subunit cytoplasmic tails of integrins. However, whether the activators work together or independently is not yet fully understood. Integrins span the cell membrane and are exposed on both the inside and outside of the cell. Therefore, the activation of integrins can take place in both sides of the membrane, consequently integrins transduce signals bidirectionally across the membrane [
27
,
28
]. Integrin activation can occur by biochemical or mechanical ligands. Through their extracellular domains, integrins can be activated by mechanical stimuli from within the ECM and stromal cells, or by binding to ECM proteins, such as collagen, fibronectin, fibrinogen, laminin and vitronectin as their ligands. Integrin clustering is regulated not only by ECM ligands, but by other extracellular integrin interacting partners (e.g., galectins and tetraspanins) as they bind to the extracellular domain of integrins in a ligand-independent manner [
21
]. Moreover, biochemical and mechanical ligands can be applied reciprocally to activate integrins. In support of this hypothesis, it was found that ligand-induced mechanical force by steered molecular dynamics (SMD) stimulation accelerates hinge-angle opening, resulting in the transition of integrins from an inactive to an active conformation with high ligand-binding affinity [
29
].
Activated integrins exhibit high affinity to extracellular ligands, leading to integrin clustering at the cell membrane which stabilizes the cell-ECM interaction. Consequently, extracellular signals are transduced through integrins into the cell, known as outside-in signaling that affects various cellular behaviors, including motility, spreading, migration, growth, survival, proliferation and differentiation [
30
,
31
]. This signal transduction cannot be solely governed by integrins as they are not capable of phosphorylating or dephosphorylating other molecules in the signaling cascade. Instead, recruited kinases (e.g., FAK, ILK and Src) upon integrin activation carry out the task to deliver the signals to the downstream molecules.
2.2. Ligand Specificity and Diversity
Distinct extracellular domains of integrin α subunits give each integrin the binding specificity to proteins of the ECM [
24
]. For instance, collagen binding integrins consist of α1, α2, α10 or α11 subunits, which heterodimerize only with the β1 subunit, and recognize the same motif, GFOGER. Alternatively, α3, α6, α7 subunits belong to a subgroup of integrins that bind to laminin [
11
,
32
]. The number of interacting ECM ligands also varies amongst different integrins, for example, integrin α5β1 recognizes primarily fibronectin, whereas αvβ3 binds to multiple RGD containing proteins such as fibronectin and vitronectin [
33
]. Even when they interact with the same ligands, the integrins can recognize them in a different manner. For example, although integrins α5β1 and α4β1 are known to bind to fibronectin, their recognition sequences in fibronectin are different. Integrin α5β1 recognizes the RGD sequence in fibronectin, whereas integrin α4β1 recognizes EILDV and REDV sequences.
A different combination of integrin subunits can have a distinct impact on the same cellular response. For instance, in the context of glomerulosclerosis, caused by abnormal collagen deposition in the glomerulus, integrins α1β1 and α2β1 play different roles. Whereas integrin α2β1 binds to collagen type I and positively regulates collagen synthesis, integrin α1β1 interacts with collagen type IV to negatively modulate the synthesis of collagen. As a result, integrin α2β1 exacerbates the condition, but integrin α1β1 protects from glomerular injury, indicating that expression of a subset of integrins can result in contradictory cellular responses based on its ECM ligand [
34
,
35
]. Another example of different responses to similar subunit combinations involves αv subunit-containing integrins that bind to the RGD motif. Five different β subunits (β1, β3, β5, β6 and β8) are known to form heterodimers with the αv subunit, but different combinations can give rise to diverse cellular responses [
36
]. For example, integrin αvβ3, the most studied αv subunit-containing integrin, binds to RGD motif containing proteins (e.g., vitronectin, fibronectin, fibrinogen, and von Willebrand factor), collagen, laminin and also interacts with vascular endothelial growth factor receptor (VEGFR), platelet-derived growth factor (PDGF), fibroblast growth factor-2 (FGF2), matrix metalloproteinase-2 (MMP-2) and insulin [
37
,
38
]. Integrin αvβ3 is broadly expressed in different types of cells such as endothelial cells, osteoclasts and blood cells. Notably, the expression of the receptor is high in tumors including activated tumor endothelial cells, glioblastomas, malignant melanomas, breast, lung, pancreatic and prostate carcinomas, but not in resting endothelial cells and normal organ systems [
39
,
40
,
41
,
42
,
43
]. Furthermore, integrin αvβ3, in association with vitronectin, has been found to facilitate the differentiation of prostate and breast cancer stem cells (CSCs) and subsequently promote tumor formation [
44
]. Diverse types of integrins have been implicated in cancer progression (see
Table 1
).
Integrin αvβ5, another αv subunit-containing integrin, is expressed in glioblastomas together with integrin αvβ3 [
45
]. In addition, the interaction of integrin αvβ5 with TGFBI (transforming growth factor beta-induced), an ECM interacting protein that contains RGD motif, promotes the activation of FAK signaling pathway, consequently enhancing glycolysis and invasiveness in pancreatic cancer cells [
52
].
2.3. Integrins in Mechanotransduction
Many types of mechanical cues are present in the ECM, including substrate rigidity, fluid shear stress, hydrostatic pressure, tensile and compressive forces, and diverse integrin subtypes are involved in mechanosensing and force transmission.
3. Cancer-Associated Fibroblasts (CAFs)
Normal tissue fibroblasts, key regulators of ECM composition and organization, are found in a quiescent state under normal physiological conditions. However, they develop stress fibers in response to mechanical tension generated by their surrounding substrate and thus differentiate into myofibroblasts during wound healing and fibrosis, both conditions requiring tissue remodeling [
96
,
97
]. The existence of myofibroblasts was first described during wound healing in granulation tissues [
98
].
The activated fibroblasts in tumors, CAFs, have similar characteristics of myofibroblasts as both cell types are contractile and express high levels of α-SMA. However, CAFs are more similar to myofibroblasts present in fibrosis than those in wound healing, because myofibroblasts present during wound healing are eventually lost through apoptosis, whereas CAFs and myofibroblasts in fibrosis are perpetually activated [
19
]. CAFs are highly heterogeneous and they have been found to originate from various cell types in the tumor stroma, including resident fibroblasts, epithelial and endothelial cells via epithelial/endothelial–mesenchymal transition (EMT/EndMT), bone marrow-derived mesenchymal stem cells, adipose tissue-derived stem cells, pericytes and smooth muscle cells [
17
,
99
,
100
]. Their multiple origins may explain why CAFs are heterogenous and have numerous functions in different sites of the body.
4. Communication Between CAFs and Cancer Cells Mediated by Integrins
4.1. ECM Remodeling by CAFs
4.2. Paracrine Signaling by CAFs to Cancer Cells
5. Conclusions
The microenvironment surrounding cancer cells has been recognized as an attractive target for the treatment of cancer patients in the past couple of decades. As the most abundant stromal cells in the TME, CAFs have widely been investigated that they regulate many aspects of tumorigenesis and metastasis. The crosstalk between CAFs and cancer cells takes place either through interchangeable soluble factors in a paracrine manner or through biochemical or mechanical cues within the TME, and the signals are received by their own cell surface receptors. As we discussed in this review, integrins are heterogenous and can form a variety of heterodimers. Various integrins are expressed by different types of cells including CAFs and cancer cells in order to transduce varied signals bidirectionally across the cell membrane. Although some integrins can function in multiple types of cells, the expression or activation of integrins can also be differentially regulated among distinct cell types (e.g., cancer cells vs. normal cells or CAFs vs. normal fibroblasts), therefore, this uniqueness of the receptor would bring about the development of more targeted therapeutic agents.
Author Contributions
Writing—original draft preparation, I.J.; writing—review and editing, K.A.B.
Funding
This research received no external funding.
Conflicts of Interest
The authors declare no conflict of interest.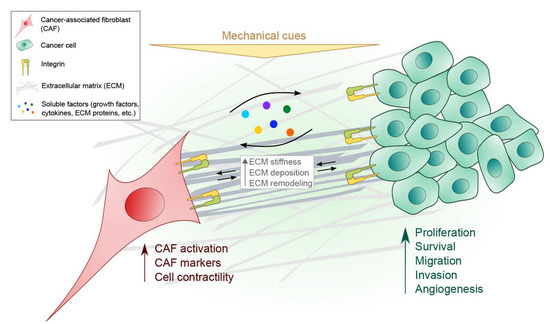 Figure 1.
Interplay between CAFs and cancer cells in the TME. Multiple types of integrins (shown as one type for simplification in the figure) on CAFs and cancer cells are responsible for sensing and transducing various protein such as ECM proteins and mechanical cues (e.g., substrate rigidity, hydrostatic pressure, compressive, tensile and shear stress) present in the TME. See
Table 1
for details regarding different integrin subtypes and their ligands in cancer progression. Signals arising from enhanced ECM stiffness, for example, can also be recognized by both CAFs and cancer cells through integrins. CAFs and cancer cells also influence each other's physiological processes by releasing and receiving diverse soluble factors in a paracrine manner.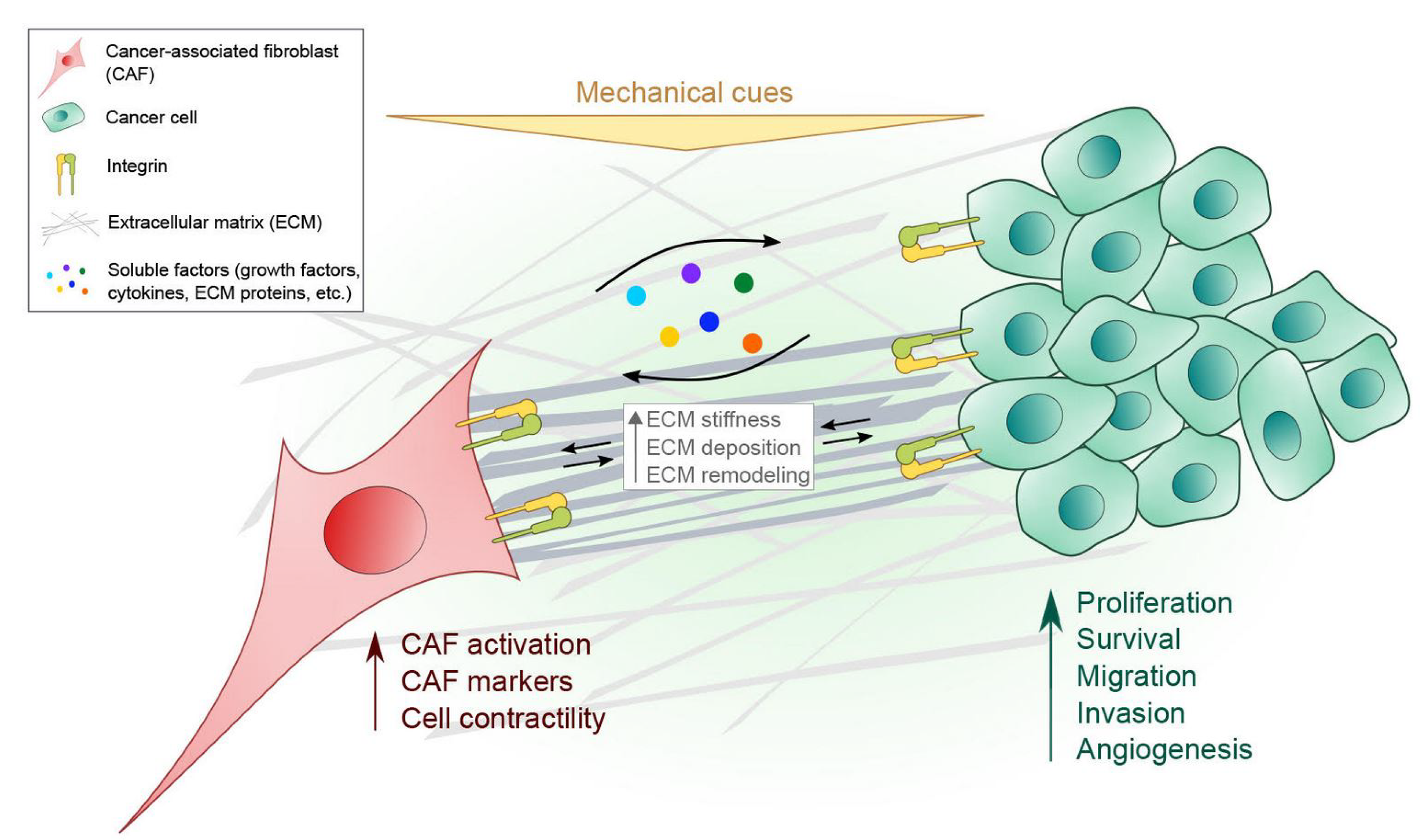 Integrins
Source of Expression
Ligands in the Study
Cancer-Promoting Effects
References
αvβ3
Prostate and breast CSC
Vitronectin
Tumor formation
[44]
Glioblastoma
Glioma-associated angiogenesis
[45]
Breast cancer
Shear stress
Metastatic potential
[46]
CAF
Fibronectin
Colon cancer cell invasion
[47]
CAF
Periostin
Cell survival, growth, proliferation, migration, invasion and angiogenesis
[48,49,50,51]
αvβ5
Glioblastoma
Glioma-associated angiogenesis
[45]
Pancreatic cancer
TGFBI
Pancreatic cancer cell invasion
[52]
CAF
Differentiation of normal fibroblasts into CAFs
[53]
CAF
Periostin
Cell survival, growth, proliferation, migration, invasion and angiogenesis
[48,49,50,51]
αvβ6
CRC
CAF activation and CRC invasion
[54]
HNSCC
Fibronectin
Directional migration of collective HNSCC cells
[55]
α3β1
CAF
Collective invasion of SCC cells
[56]
CAF
Laminin-322
CAF differentiation
[57]
Pancreatic cancer
Poor clinical outcome in pancreatic cancer patients
[58]
Breast cancer, melanoma and glioblastoma
Cell aggregation and aggregate coalescence
[59]
α5β1
CAF
Fibronectin
Differentiation of normal fibroblasts into CAFs
[53]
CAF
Collective invasion of SCC cells
[56]
CAF
Fibronectin
Integrin αv-mediated directional pancreatic cancer cell migration
[60]
Pancreatic and lung cancer
Fibronectin
Direct interaction of cancer cells with fibronectin-presenting fibroblasts
[61]
α9β1
HNSCC
Fibronectin
Directional migration of collective HNSCC cells
[55]
α11β1
CAF
Collagen
Non-small cell lung carcinoma progression
[62,63,64,65]
PSC
Collagen
Pancreatic cancer cell migration and invasion
[66]
β1
Pancreatic cancer
Collagen
Tumor initiation, self-renewal potential, migration and invasion
[67,68]
Pancreatic and breast cancer
Fibronectin
Pancreatic and breast cancer cell invasion
[69]
Gastric cancer
Tumorigenesis and metastasis of gastric cancer
[70]
β3
Fibrosarcoma
Transient tugging and pulling forces
Integrin β3 downregulation-mediated fibrosarcoma cell invasion
[71]
Breast cancer
IL-32
Breast cancer cell invasion and metastasis
[72]

© 2019 by the authors. Licensee MDPI, Basel, Switzerland. This article is an open access article distributed under the terms and conditions of the Creative Commons Attribution (CC BY) license (http://creativecommons.org/licenses/by/4.0/).