Clinical Significance of Lymph-Node Ratio in Determining Supraclavicular Lymph-Node Radiation Therapy in pN1 Breast Cancer Patients Who Received Breast-Conserving Treatment (KROG 14-18): A Multicenter Study
1
Department of Radiation Oncology, Dongsan Medical Center, Keimyung University School of Medicine, Daegu 42601, Korea
2
Department of Radiation Oncology, Samsung Medical Center, Sungkyunkwan University School of Medicine, Seoul 06351, Korea
3
Center for Breast Cancer, Research Institute and Hospital, National Cancer Center, Goyang 10408, Korea
4
Department of Radiation Oncology, Seoul National University College of Medicine, Seoul 03080, Korea
5
Department of Radiation Oncology, Ewha Womans University Mokdong Hospital, Ewha Womans University School of Medicine, Seoul 07804, Korea
6
Department of Radiation Oncology, Yonsei Cancer Center, Yonsei University College of Medicine, Seoul 03722, Korea
7
Department of Radiation Oncology, Chonnam National University Medical School, Gwangju 61469, Korea
8
Department of Radiation Oncology, St. Vincent′s Hospital, The Catholic University of Korea College of Medicine, Seoul 06591, Korea
9
Department of Radiation Oncology, Ajou University School of Medicine, Suwon 16499, Korea
10
Department of Radiation Oncology, Dong-A University Hospital, Dong-A University School of Medicine, Busan 49201, Korea
11
Department of Radiation Oncology, Chonbuk National University Medical School, Jeonju 54907, Korea
12
Department of Radiation Oncology, Wonju Severance Christian Hospital, Wonju 26426, Korea
*
Author to whom correspondence should be addressed.
†
These two authors contributed equally to this work.
Received: 21 April 2019 / Revised: 8 May 2019 / Accepted: 13 May 2019 / Published: 16 May 2019
Abstract
This study evaluated the clinical significance of the lymph-node ratio (LNR) and its usefulness as an indicator of supraclavicular lymph-node radiation therapy (SCNRT) in pN1 breast cancer patients with disease-free survival (DFS) outcomes. We retrospectively analyzed the clinical data of patients with pN1 breast cancer who underwent partial mastectomy and taxane-based sequential adjuvant chemotherapy with postoperative radiation therapy in 12 hospitals (
n
= 1121). We compared their DFS according to LNR, with a cut-off value of 0.10. The median follow-up period was 66 months (range, 3–112). Treatment failed in 73 patients (6.5%) and there was no significant difference in DFS between the SCNRT group and non-SCNRT group. High LNR (>0.10) showed significantly worse DFS in both univariate and multivariate analyses (0.010 and 0.033, respectively). In a subgroup analysis, the effect of SCNRT on DFS differed significantly among patients with LNR > 0.10 (
p
= 0.013). High LNR can be used as an independent prognostic factor for pN1 breast cancer patients treated with partial mastectomy and postoperative radiotherapy. It may also be useful in deciding whether to perform SCNRT to improve DFS.
View Full-Text
►

▼

Figures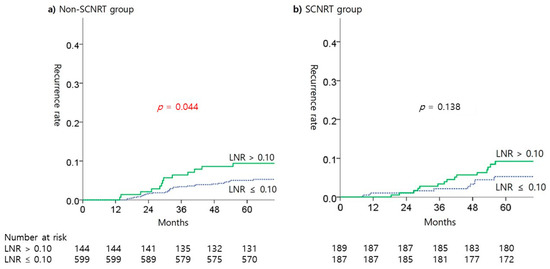 Figure 1
This is an open access article distributed under the
Creative Commons Attribution License
which permits unrestricted use, distribution, and reproduction in any medium, provided the original work is properly cited (CC BY 4.0).

Share & Cite This Article
MDPI and ACS Style
Kim, J.; Park, W.; Kim, J.H.; Choi, D.H.; Kim, Y.-J.; Lee, E.S.; Shin, K.H.; Kim, J.H.; Kim, K.; Kim, Y.B.; Ahn, S.-J.; Lee, J.H.; Chun, M.; Lee, H.-S.; Kim, J.S.; Cha, J. Clinical Significance of Lymph-Node Ratio in Determining Supraclavicular Lymph-Node Radiation Therapy in pN1 Breast Cancer Patients Who Received Breast-Conserving Treatment (KROG 14-18): A Multicenter Study. Cancers 2019, 11, 680.
Note that from the first issue of 2016, MDPI journals use article numbers instead of page numbers. See further details here.
Related Articles
Comments
[Return to top]