The Significant Reduction or Complete Eradication of Subcutaneous and Metastatic Lesions in a Pheochromocytoma Mouse Model after Immunotherapy Using Mannan-BAM, TLR Ligands, and Anti-CD40
1
Section on Medical Neuroendocrinology, Eunice Kennedy Shriver National Institute of Child Health and Human Development, National Institutes of Health, Bethesda, MD 20814, USA
2
Department of Medical Biology, Faculty of Science, University of South Bohemia, Ceske Budejovice 37005, Czech Republic
3
Laboratory of Pathology, National Cancer Institute, National Institutes of Health, Bethesda, MD 20814, USA
4
Laboratory of Molecular Imaging and Nanomedicine, National Institute of Biomedical Imaging and Bioengineering, National Institutes of Health, Bethesda, MD 20814, USA
5
Biological Molecular Imaging Section, University of Florida College of Medicine, Gainesville, FL 32603, USA
6
Department of Nuclear Medicine, La Timone University Hospital, CERIMED, Aix-Marseille University, 13385 Marseille, France
7
Surgical Neurology Branch, National Institute of Neurological Disorders and Stroke, National Institutes of Health, Bethesda, MD 20814, USA
*
Author to whom correspondence should be addressed.
Received: 13 March 2019 / Revised: 4 May 2019 / Accepted: 6 May 2019 / Published: 11 May 2019
Abstract
Therapeutic options for metastatic pheochromocytoma/paraganglioma (PHEO/PGL) are limited. Here, we tested an immunotherapeutic approach based on intratumoral injections of mannan-BAM with toll-like receptor ligands into subcutaneous PHEO in a mouse model. This therapy elicited a strong innate immunity-mediated antitumor response and resulted in a significantly lower PHEO volume compared to the phosphate buffered saline (PBS)-treated group and in a significant improvement in mice survival. The cytotoxic effect of neutrophils, as innate immune cells predominantly infiltrating treated tumors, was verified in vitro. Moreover, the combination of mannan-BAM and toll-like receptor ligands with agonistic anti-CD40 was associated with increased mice survival. Subsequent tumor re-challenge also supported adaptive immunity activation, reflected primarily by long-term tumor-specific memory. These results were further verified in metastatic PHEO, where the intratumoral injections of mannan-BAM, toll-like receptor ligands, and anti-CD40 into subcutaneous tumors resulted in significantly less intense bioluminescence signals of liver metastatic lesions induced by tail vein injection compared to the PBS-treated group. Subsequent experiments focusing on the depletion of T cell subpopulations confirmed the crucial role of CD8
+
T cells in inhibition of bioluminescence signal intensity of liver metastatic lesions. These data call for a new therapeutic approach in patients with metastatic PHEO/PGL using immunotherapy that initially activates innate immunity followed by an adaptive immune response.
View Full-Text
►

▼

Figures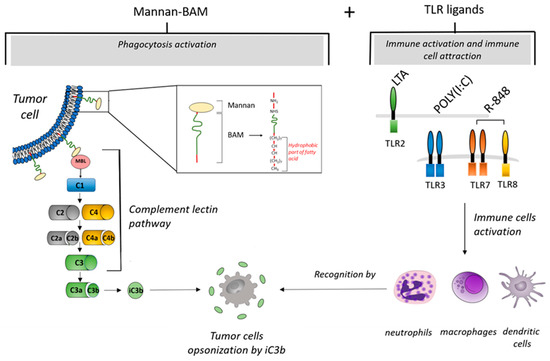 Figure 1
This is an open access article distributed under the
Creative Commons Attribution License
which permits unrestricted use, distribution, and reproduction in any medium, provided the original work is properly cited (CC BY 4.0).

Share & Cite This Article
MDPI and ACS Style
Caisova, V.; Li, L.; Gupta, G.; Jochmanova, I.; Jha, A.; Uher, O.; Huynh, T.-T.; Miettinen, M.; Pang, Y.; Abunimer, L.; Niu, G.; Chen, X.; Ghayee, H.K.; Taïeb, D.; Zhuang, Z.; Zenka, J.; Pacak, K. The Significant Reduction or Complete Eradication of Subcutaneous and Metastatic Lesions in a Pheochromocytoma Mouse Model after Immunotherapy Using Mannan-BAM, TLR Ligands, and Anti-CD40. Cancers 2019, 11, 654.
Note that from the first issue of 2016, MDPI journals use article numbers instead of page numbers. See further details here.
Related Articles
Comments
[Return to top]