A Role for NF-κB in Organ Specific Cancer and Cancer Stem Cells
1
Department of Cell Biology, Bielefeld University, Universitätsstrasse 25, 33615 Bielefeld, Germany
2
Department of Gynecology and Obstetrics, and Perinatal Center, Protestant Hospital of Bethel Foundation, Burgsteig 13, 33617 Bielefeld, Germany
3
Department of General and Visceral Surgery, Protestant Hospital of Bethel Foundation, Schildescher Strasse 99, 33611 Bielefeld, Germany
4
Department for Thoracic Surgery and Pneumology, Protestant Hospital of Bethel Foundation, Burgsteig 13, 33617 Bielefeld, Germany
5
Institute of Pathology, KRH Hospital Nordstadt, Haltenhoffstrasse 41, affiliated with the Protestant Hospital of Bethel Foundation, 30167 Hannover, Germany
6
Children's Center, Protestant Hospital of Bethel Foundation, 33617 Bielefeld, Germany
7
Scientific Director, Protestant Hospital of Bethel Foundation, Maraweg 21, 33617 Bielefeld, Germany
8
Department of Urology and Center for Computer-assisted and Robotic Urology, Protestant Hospital of Bethel Foundation, Burgsteig 13, 33617 Bielefeld, Germany
9
Department of Neurosurgery and Epilepsy Surgery, Protestant Hospital of Bethel Foundation, Burgsteig 13, 33617 Bielefeld, Germany
10
Department of Orthopedics, Trauma Surgery, and Trauma Center, Protestant Hospital of Bethel Foundation, Burgsteig 13, 33617 Bielefeld, Germany
11
Department of Hematology, Oncology, Internal Medicine, Bone Marrow and Stem Cell Transplantation, Palliative Medicine, and Tumor Center, Protestant Hospital of Bethel Foundation, Burgsteig 13, 33617 Bielefeld, Germany
12
Molecular Neurobiology, Bielefeld University, Universitätsstrasse 25, 33615 Bielefeld, Germany
*
Author to whom correspondence should be addressed.
†
Forschungsverbund BioMedizin Bielefeld, FBMB, Maraweg 21, 33617 Bielefeld, Germany.
Received: 11 March 2019 / Revised: 2 May 2019 / Accepted: 8 May 2019 / Published: 11 May 2019
Abstract
Cancer stem cells (CSCs) account for tumor initiation, invasiveness, metastasis, and recurrence in a broad range of human cancers. Although being a key player in cancer development and progression by stimulating proliferation and metastasis and preventing apoptosis, the role of the transcription factor NF-κB in cancer stem cells is still underestimated. In the present review, we will evaluate the role of NF-κB in CSCs of glioblastoma multiforme, ovarian cancer, multiple myeloma, lung cancer, colon cancer, prostate cancer, as well as cancer of the bone. Next to summarizing current knowledge regarding the presence and contribution of CSCs to the respective types of cancer, we will emphasize NF-κB-mediated signaling pathways directly involved in maintaining characteristics of cancer stem cells associated to tumor progression. Here, we will also focus on the status of NF-κB-activity predominantly in CSC populations and the tumor mass. Genetic alterations leading to NF-κB activity in glioblastoma, ependymoma, and multiple myeloma will be discussed.
View Full-Text
►

▼

Figures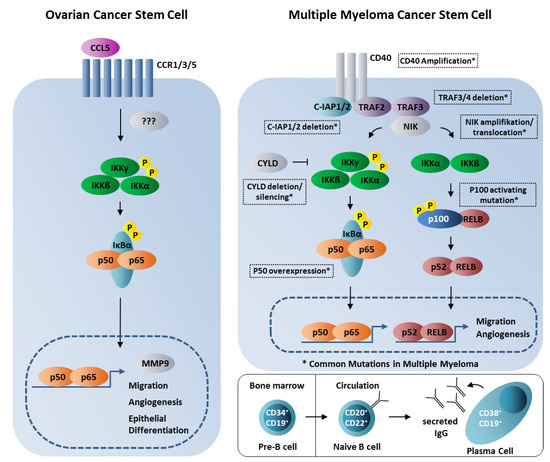 Figure 1
This is an open access article distributed under the
Creative Commons Attribution License
which permits unrestricted use, distribution, and reproduction in any medium, provided the original work is properly cited (CC BY 4.0).

Share & Cite This Article
MDPI and ACS Style
Kaltschmidt, C.; Banz-Jansen, C.; Benhidjeb, T.; Beshay, M.; Förster, C.; Greiner, J.; Hamelmann, E.; Jorch, N.; Mertzlufft, F.; Pfitzenmaier, J.; Simon, M.; Schulte am Esch, J.; Vordemvenne, T.; Wähnert, D.; Weissinger, F.; Wilkens, L.; Kaltschmidt, B. A Role for NF-κB in Organ Specific Cancer and Cancer Stem Cells. Cancers 2019, 11, 655.
Note that from the first issue of 2016, MDPI journals use article numbers instead of page numbers. See further details here.
Related Articles
Comments
[Return to top]