Molecular Alterations in Dog Pheochromocytomas and Paragangliomas
1
Department of Pathology, Erasmus MC Cancer Institute, University Medical Center, 3015 GD Rotterdam, The Netherlands
2
Department of Pathobiology, Faculty of Veterinary Medicine, Utrecht University, 3584 CL Utrecht, The Netherlands
3
School of Veterinary and Life Sciences, Murdoch University, Murdoch 6150, WA, Australia
4
Clinic for Small Animal Internal Medicine, University of Zurich, 8057 Zurich, Switzerland
5
Institute of Veterinary Pathology, University of Zurich, 8057 Zurich, Switzerland
6
Department of Veterinary Medical Science, University of Bologna, 40064 Ozzano dell'Emilia, Italy
7
Genetic Laboratory, Erasmus MC University Medical Center, 3015 GD Rotterdam, The Netherlands
8
Department of Clinical Genetics, Erasmus MC University Medical Center, 3015 GD Rotterdam, The Netherlands
9
Department of Pathology University Medical Center/Princess Maxima Center for Pediatric Oncology, 3584 CS Utrecht, The Netherlands
10
Department of Clinical Sciences of Companion Animals, Faculty of Veterinary Medicine, Utrecht University, 3584 CL Utrecht, The Netherlands
*
Author to whom correspondence should be addressed.
Received: 21 February 2019 / Revised: 16 April 2019 / Accepted: 18 April 2019 / Published: 30 April 2019
Abstract
Recently, genetic alterations in the genes encoding succinate dehydrogenase subunit B and D (
SDHB
and
SDHD
) were identified in pet dogs that presented with spontaneously arising pheochromocytomas (PCC) and paragangliomas (PGL; together PPGL), suggesting dogs might be an interesting comparative model for the study of human PPGL. To study whether canine PPGL resembled human PPGL, we investigated a series of 50 canine PPGLs by immunohistochemistry to determine the expression of synaptophysin (SYP), tyrosine hydroxylase (TH) and succinate dehydrogenase subunit A (SDHA) and B (SDHB). In parallel, 25 canine PPGLs were screened for mutations in
SDHB
and
SDHD
by Sanger sequencing. To detect large chromosomal alterations, single nucleotide polymorphism (SNP) arrays were performed for 11 PPGLs, including cases for which fresh frozen tissue was available. The immunohistochemical markers stained positive in the majority of canine PPGLs. Genetic screening of the canine tumors revealed the previously described variants in four cases;
SDHB
p.Arg38Gln (
n
= 1) and
SDHD
p.Lys122Arg (
n
= 3). Furthermore, the SNP arrays revealed large chromosomal alterations of which the loss of chromosome 5, partly homologous to human chromosome 1p and chromosome 11, was the most frequent finding (100% of the six cases with chromosomal alterations). In conclusion, canine and human PPGLs show similar genomic alterations, suggestive of common interspecies PPGL-related pathways.
View Full-Text
►

▼

Figures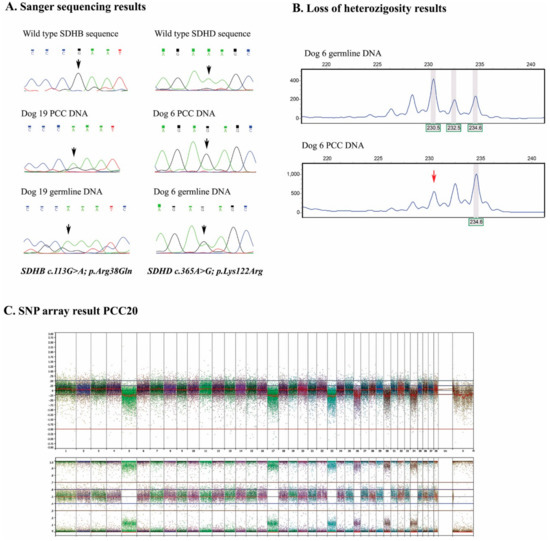 Figure 1
This is an open access article distributed under the
Creative Commons Attribution License
which permits unrestricted use, distribution, and reproduction in any medium, provided the original work is properly cited (CC BY 4.0).

Share & Cite This Article
MDPI and ACS Style
Korpershoek, E.; Dieduksman, D.A.E.R.; Grinwis, G.C.M.; Day, M.J.; Reusch, C.E.; Hilbe, M.; Fracassi, F.; Krol, N.M.G.; Uitterlinden, A.G.; de Klein, A.; Eussen, B.; Stoop, H.; de Krijger, R.R.; Galac, S.; Dinjens, W.N.M. Molecular Alterations in Dog Pheochromocytomas and Paragangliomas. Cancers 2019, 11, 607.
Note that from the first issue of 2016, MDPI journals use article numbers instead of page numbers. See further details here.
Related Articles
Comments
[Return to top]