High Mannose Binding Lectin (PFL) from
Pseudomonas fluorescens

Down-Regulates Cancer-Associated Integrins and Immune Checkpoint Ligand B7-H4

1

Department of Medical Pharmacy, Faculty of Pharmacy, Yasuda Women's University, Hiroshima 731-0153, Japan

2

Department of Human Life Science Education, Graduate School of Education, Hiroshima University, Higashi-Hiroshima 739-8524, Japan

3

Department of Life Sciences, Faculty of Pharmacy, Yasuda Women's University, Hiroshima 731-0153, Japan

4

Department of Pharmaceutical Chemistry, Faculty of Pharmacy, Yasuda Women's University, Hiroshima 731-0153, Japan

*

Author to whom correspondence should be addressed.

Received: 29 March 2019 / Revised: 17 April 2019 / Accepted: 28 April 2019 / Published: 30 April 2019
Abstract
Pseudomonas fluorescens
lectin (PFL), which belongs to the high mannose (HM)-binding OAAH (
Oscillatoria agardhii
agglutinin homologue) lectin family, induces cancer cell death. However, the detailed mechanisms underlying this process have not yet been elucidated. We found that PFL decreased various integrins as well as EGFR in cancer cells by promoting internalization and autophagic degradation of these molecules, subsequently inducing caspase-8 dependent cell apoptosis. As revealed by an ex vivo angiogenesis assay using the rat aortic model, PFL inhibited neovascularization in a dose-dependent manner, which was potentially mediated by down-regulation of endothelium integrins. Interestingly, PFL also down-regulated B7-H4 in cancer cells, which has been implicated as a negative regulator of T cell-mediated immunity. We found that B7-H4 co-localized with β3 integrin in MKN28 gastric cancer cells. siRNA silencing of B7-H4 in MKN28 cells decreased expression of β3 integrin, suggesting physical and functional association between these molecules. Direct interaction of PFL with integrin αvβ3 or B7-H4 was examined by surface plasmon resonance analysis, which detected high affinity glycan-dependent binding to PFL. These investigations suggest that PFL interaction with cell surface integrins is a key process for the anti-cancer activities of PFL.
View Full-Text
►

▼

Figures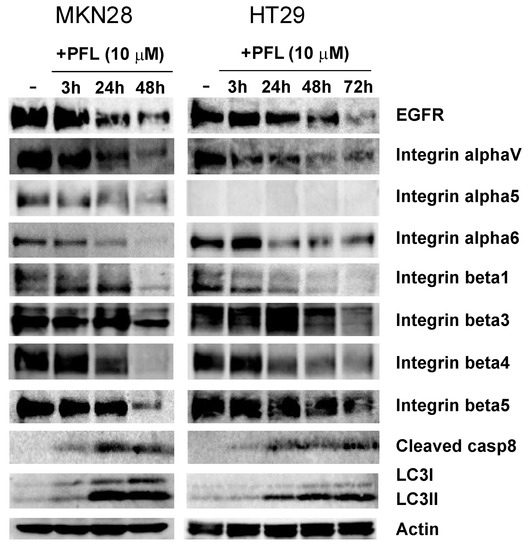 Figure 1
This is an open access article distributed under the
Creative Commons Attribution License
which permits unrestricted use, distribution, and reproduction in any medium, provided the original work is properly cited (CC BY 4.0).

Share & Cite This Article
MDPI and ACS Style
Sato, Y.; Matsubara, K.; Kubo, T.; Sunayama, H.; Hatori, Y.; Morimoto, K.; Seyama, T. High Mannose Binding Lectin (PFL) from Pseudomonas fluorescens Down-Regulates Cancer-Associated Integrins and Immune Checkpoint Ligand B7-H4. Cancers 2019, 11, 604.
Note that from the first issue of 2016, MDPI journals use article numbers instead of page numbers. See further details here.
Related Articles
Comments
[Return to top]