Open Access This article is
freely available
re-usable
Review
Conversion of Stem Cells to Cancer Stem Cells: Undercurrent of Cancer Initiation
1
Department of Medical Bioengineering, Graduate School of Natural Science and Technology, Okayama University, Okayama 700-8530, Japan
2
Division of Biochemistry, Faculty of Science, Menoufia University, Shebin El Koum-Menoufia 32511, Egypt
3
Laboratory of Nano-Biotechnology, Graduate School of Interdisciplinary Science and Engineering in Health Systems, Okayama University, Okayama 700-8530, Japan
*
Author to whom correspondence should be addressed.
Received: 31 January 2019 / Accepted: 6 March 2019 / Published: 11 March 2019
Abstract
:
Cancer stem cells (CSCs) also known as cancer-initiating cells (CIC), are responsible for the sustained and uncontrolled growth of malignant tumors and are proposed to play significant roles in metastasis and recurrence. Several hypotheses have proposed that the events in either stem and/or differentiated cells, such as genomic instability, inflammatory microenvironment, cell fusion, and lateral gene transfer, should be considered as the possible origin of CSCs. However, until now, the exact origin of CSC has been obscure. The development of induced pluripotent stem cells (iPSCs) in 2007, by Yamanaka's group, has been met with much fervency and hailed as a breakthrough discovery by the scientific and research communities, especially in regeneration therapy. The studies on the development of CSC from iPSCs should also open a new page of cancer research, which will help in designing new therapies applicable to CSCs. Currently most reviews have focused on CSCs and CSC niches. However, the insight into the niche before the CSC niche should also be of keen interest. This review introduces the novel concept of cancer initiation introducing the conversion of iPSCs to CSCs and proposes a relationship between the inflammatory microenvironment and cancer initiation as the key concept of the cancer-inducing niche responsible for the development of CSC.
Keywords:
stem cell; cancer stem cells; induced pluripotent stem cells; cancer-inducing niche; chronic inflammation
2. Inflammatory Microenvironment Stimulation and Cancer
3. Stem Cell Niche and Cancer-Inducing Niche
4. Inflammatory Microenvironment Stimulates the Generation of Cancer Stem Cells
We hypothesize that chronic inflammation stimulates the generation of CSCs. According to our concept of the cancer-inducing niche, being developed from normal stem cells in chronic conditions, CSCs are likely to be progenitor cells, which are destined to become cancer cells (
Figure 5
). Once CSCs have developed, the CSC niche, together with the cancer-inducing niche, provides a suitable microenvironment to maintain CSCs, which in turn develops malignant tumor. The phenotype of the malignant tumor appears to depend on both the tissue specific microenvironment and the CSC niche, as demonstrated by previous experiments [
87
,
88
]. We have demonstrated that iPSCs could acquire characters of CSCs when iPSCs were cultured in the presence of a conditioned medium prepared from various cancer cell lines [
87
,
89
].
5. Epigenesis or Mutagenesis?
5.1. Hyper- and Hypo- Methylation of DNA
Epigenetic events, such as DNA methylation, chromatin remodeling, noncoding RNAs, and histone modifications, control gene expression [
123
], which determines the cell fate without changing DNA sequences [
124
]. These events are pivotal during normal mammalian development [
125
]. Disruption of normal epigenetic processes leads to significant change of the cell fate from normal to malignant. These epigenetic changes are believed to be responsible for the source of diversity in cancer [
126
]. The chronic stimulation of the cancer-inducing niche affects the normal SC altering the molecular signaling pathways; this abnormality could be explained by perturbed epigenetics. The accumulation of such epigenetic abnormalities has been suggested to be an early event that prompts and gives rise to CSCs [
127
]. Now, there is a strong argument about the source of CSCs, whether they originate from adult SCs, from progenitors, or from differentiated cells that have dedifferentiated to acquire self-renewal ability. Regardless of these different routes, the altered epigenetics represent the first event of the generation of CSCs [
128
,
129
]. DNA methylation is a main epigenetic modification that powerfully controls gene expression. The patterns of DNA methylation in cancer cells are well known to be distinguished from normal cells [
130
]. Most tumors display a global hypomethylation that causes chromosomal instability and re-expression of silenced genes that play critical roles in tumorigenesis [
131
,
132
]. Furthermore, most tumors exhibit DNA hypermethylation that leads to suppression of tumor suppressor genes [
133
]. The suppression of these tumor suppressor genes may lead to the formation of CSCs [
134
,
135
].
Regarding the proposed model of CSCs generated from iPSCs with the CM of lung cancer derived cells, regulation of gene expression by epigenesis rather than by mutagenesis may perform a critical role in the CSCs' initiation [
89
,
97
]. In this model, DNA hypomethylation was considered to be the main cause in the conversion of iPSCs into CSCs. The differentially methylated regions were identified, and hypomethylation was found to be greater than hypermethylation in the CSCs when compared to miPSCs. Further bioinformatics analysis of KEGG pathways identified hypomethylated genes in the category of the 'PI3K-Akt pathway.' The expression of the nominated genes in the category was then assessed to find the responsible gene. Finally, PI3 kinase genes were found to be overexpressed, resulting in the constitutive activation of the PI3K-Akt-mTOR signaling pathway, which was considered to be a critical effector of carcinogenesis in several cancer types [
136
,
137
]. From these results, we successfully demonstrated that the epigenetic changes were likely the first step in CSC development from iPSCs, and that they have a critical role in CSCs as well as tumor initiation.
5.2. DNA Mutations
There is no doubt about the presence of mutations in cancer cells, and much evidence has been reported that the mutation or gene introduction induces the transformation of the cells. However, no evidence is available to demonstrate cancer initiation or CSC generation by mutation. Since cancer initiation is more important than cancer progress, we should identify the critical events happening in cancer initiation. To date, scientists have explained that mutations were mainly responsible for cancer progression [
138
], while initiation could not be explained by mutation [
139
]. Furthermore, they demonstrated that a mutation alone is unlikely to cause cancer, has a limited tendency to cause cancer, and is unable, by itself, to transform a normal cell to a malignant cell. They hypothesized that signs of transformation were perceived as DNA mutations after the cells changed from a normal state to a cancerous state. They tried to explain that the phenotypes of cancer cells could be determined by the order and points of mutations. The mutations, which have long been studied as the effectors and the initiators of cancer, were considered to be the result of cellular transformation from normal to malignant [
140
]. Consequently, the observed mutations in cancer cells were understood to produce the malignancy.
Regarding cancer stem cell initiation from iPSCs, our group demonstrated that pancreatic cancer stem-like cells, derived from iPSCs in the presence of CM of pancreatic cancer cell lines, represent a realistic model for pancreatic CSCs, which provides a PDAC phenotype [
87
]. Furthermore, it was mentioned that the conversion process of iPSCs has not been achieved under any genetic manipulation, and, after analysis, the expected mutation in this model was not found. This result suggests that the epigenetic events from chronic stimulation are likely to be the critical event in the conversion of iPSCs to CSCs, and that mutation is not the cause of cancer initiation, but a result associated with the cancer progress at the later stages of cancer development.
6. Conclusions
Scientists in cancer research continuously provide new evidence of the critical events that initiate cancer. Chronic inflammation has been considered to be the initial step of cancer stem cell generation, as well as cancer initiation. However, the critical point of initiation has long been controversial. Due to the recent availability of ESCs or iPSCs, the initiation of CSCs has made it possible to demonstrate the presence of a cancer-inducing niche as a quintessential factor of cancer initiation without mutations. Researchers will soon identify the inflammatory factors under chronic situations and signal transduction paths closely related with the initiation of CSCs. This will help us study how to defeat cancer in the future.
Funding
This research received no external funding.
Conflicts of Interest
The authors have no conflicts of interest to declare.
Abbreviations
| | |
| --- | --- |
| CSCs | Cancer stem cells |
| iPSCs | Induced pluripotent stem cells |
| CICs | Cancer-initiating cells |
| ROS | Reactive oxygen species |
| DCs | Dendritic cells |
| ESC | Embryonic stem cell |
| MSCs | Mesenchymal stem cells |
| CM | Conditioned medium |
| PDAC | Pancreatic duct adenocarcinoma |
| ROS | Reactive oxygen species |
| SCLC | Small cell lung cancer |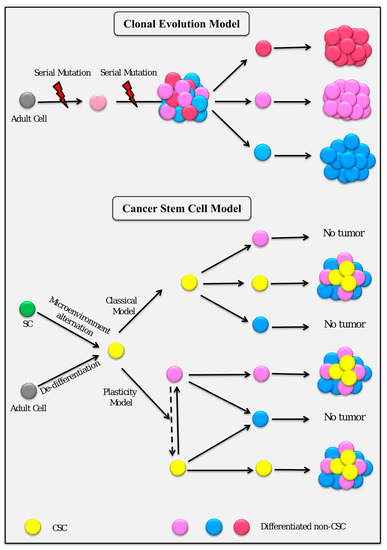 Figure 1. Schematic illustration for the stochastic and cancer stem cell (CSC) models of tumorigenesis.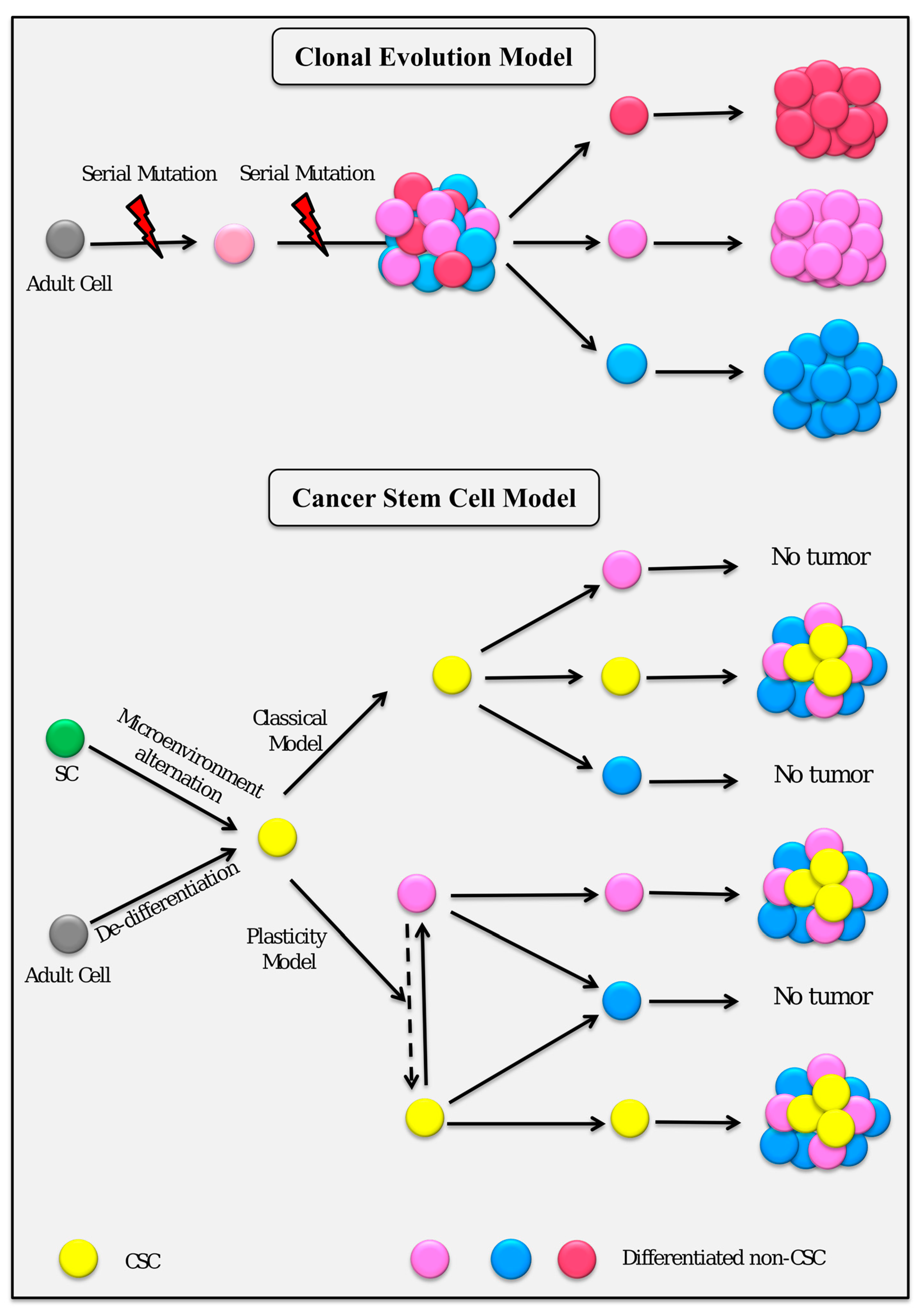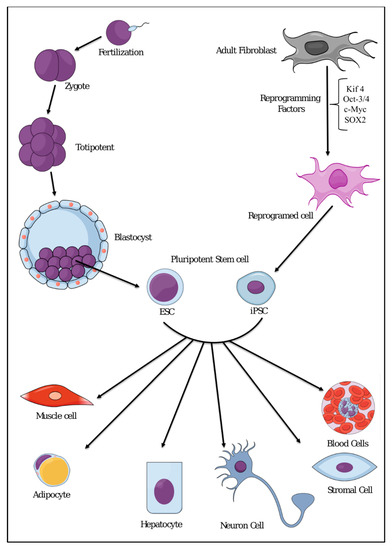 Figure 2. Representative scheme showing differentiation potential of pluripotent stem cells such as embryonic stem cells (ESCs) or induced pluripotent stem cells (iPSCs) into all cell types.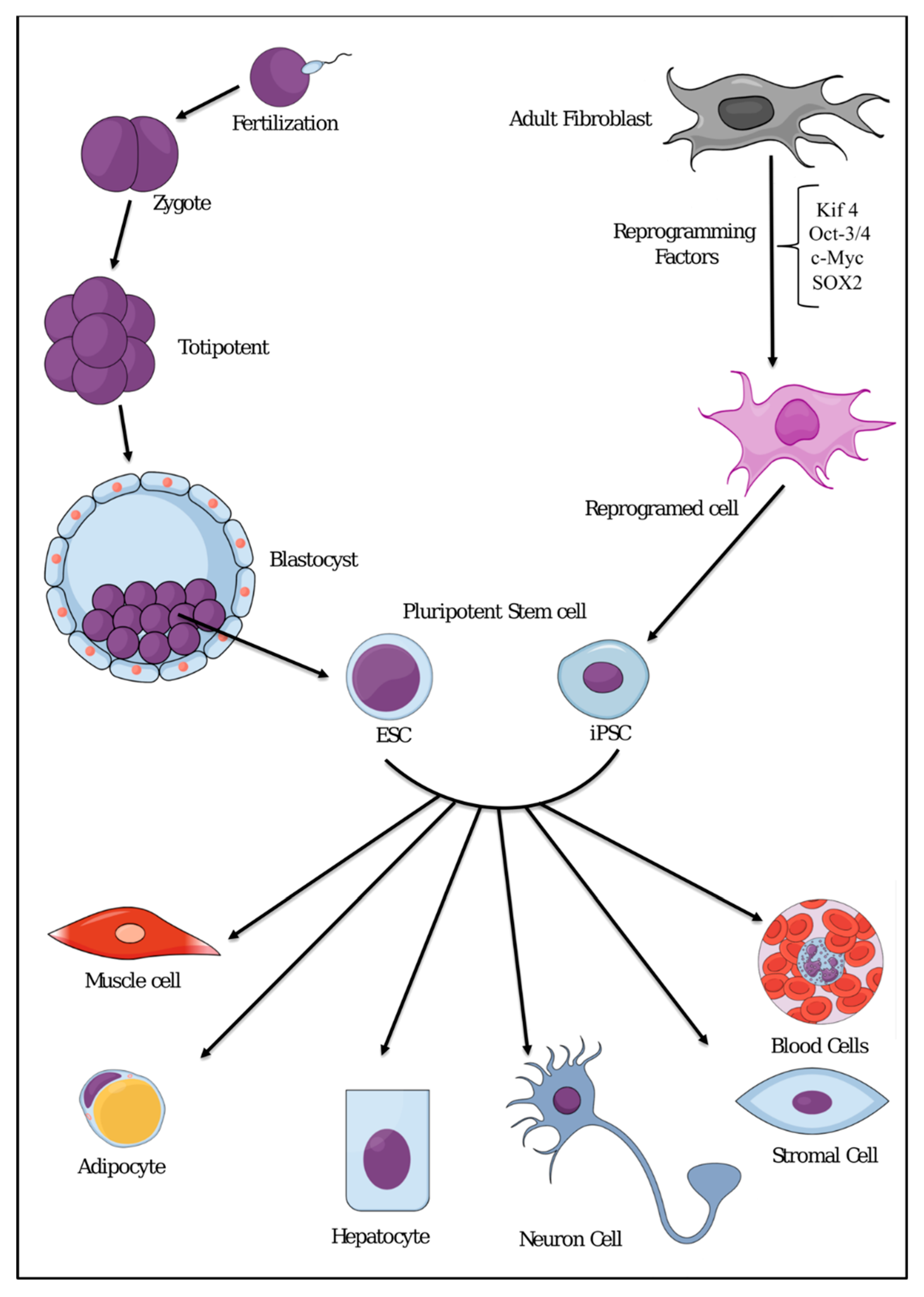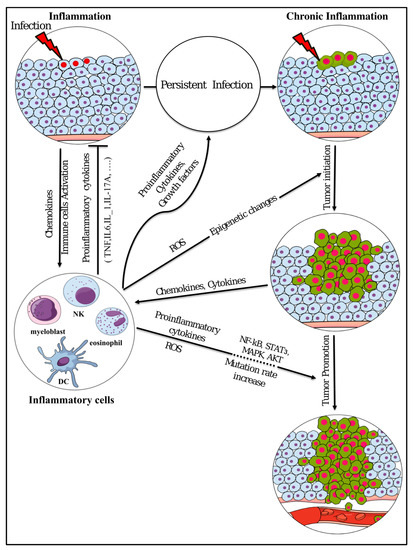 Figure 3. Summary of inflammation involvement in tumor initiation and promotion. ROS: reactive oxygen species; DC: dendritic cell; NK: natural killer.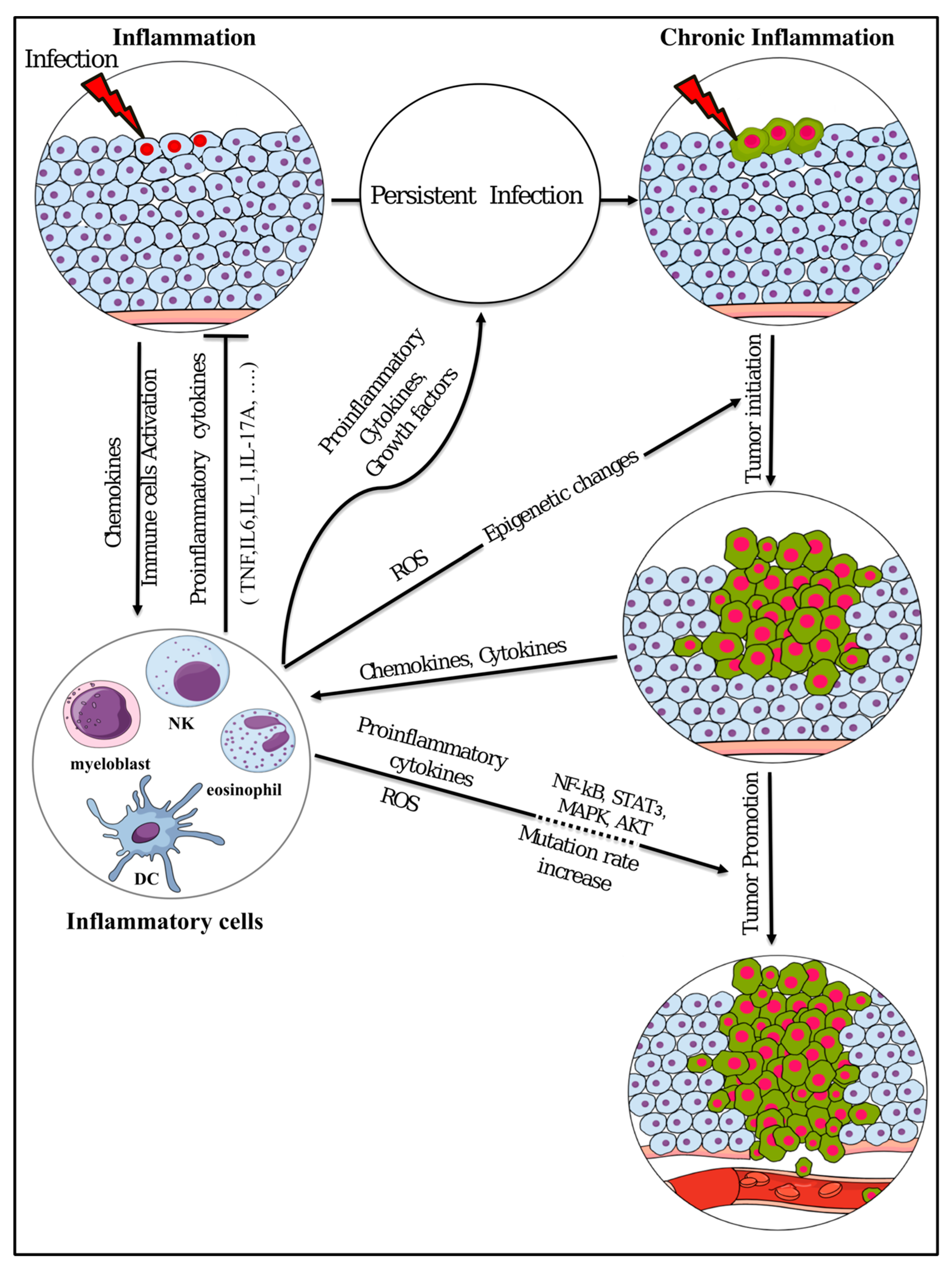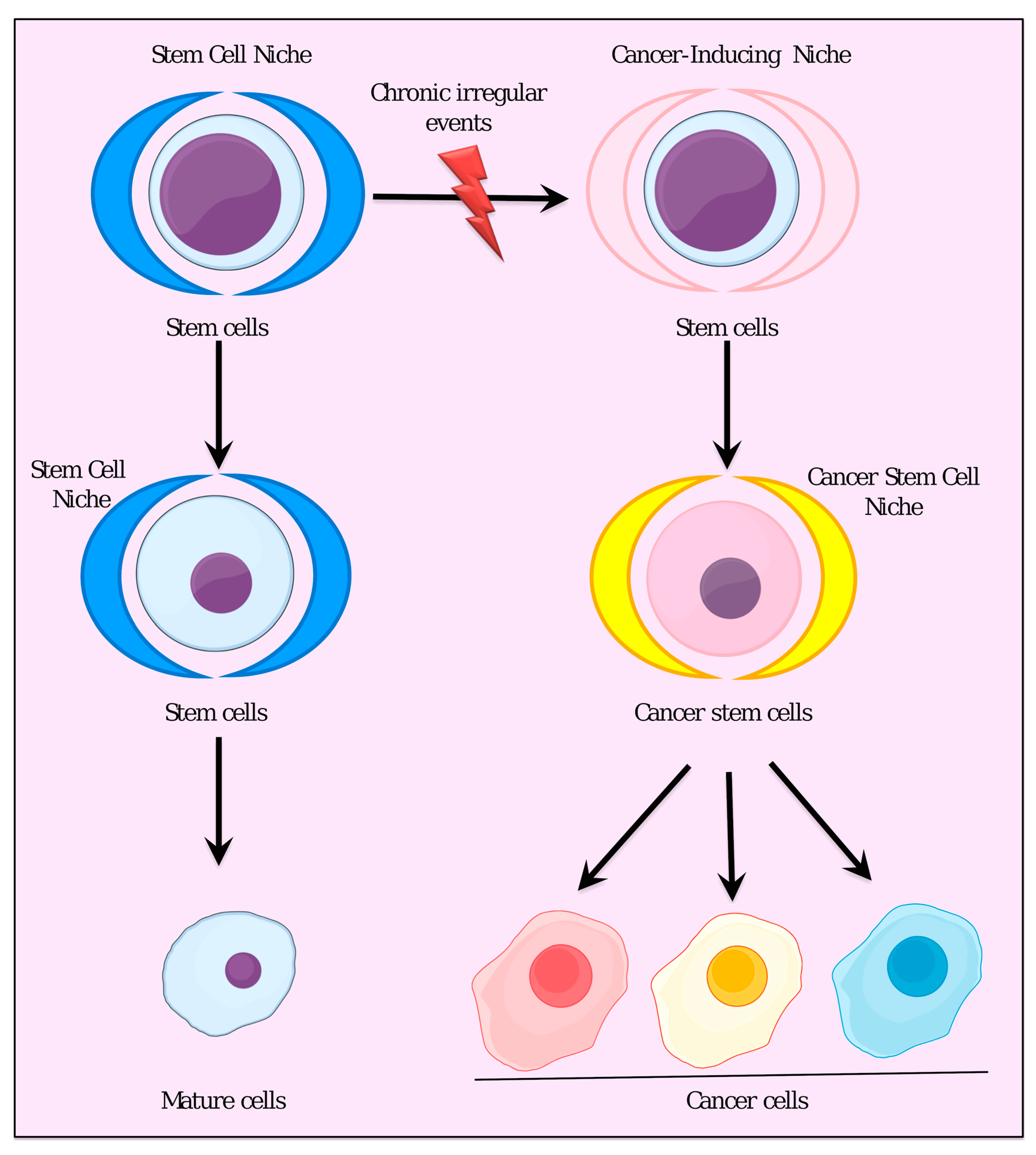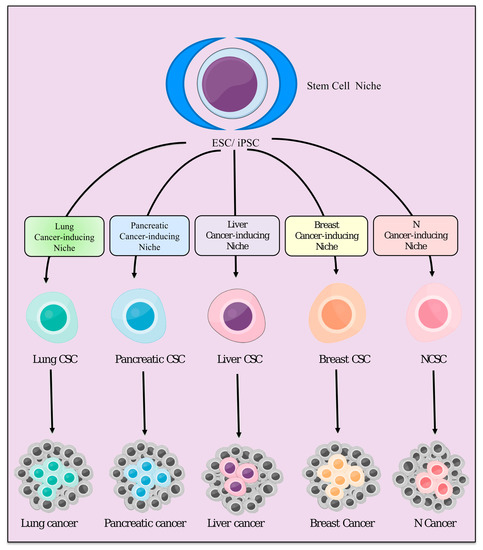 Figure 5. The hypothesis of stem cell (ESCs/iPSCs) differentiation under different cancer-inducing niches.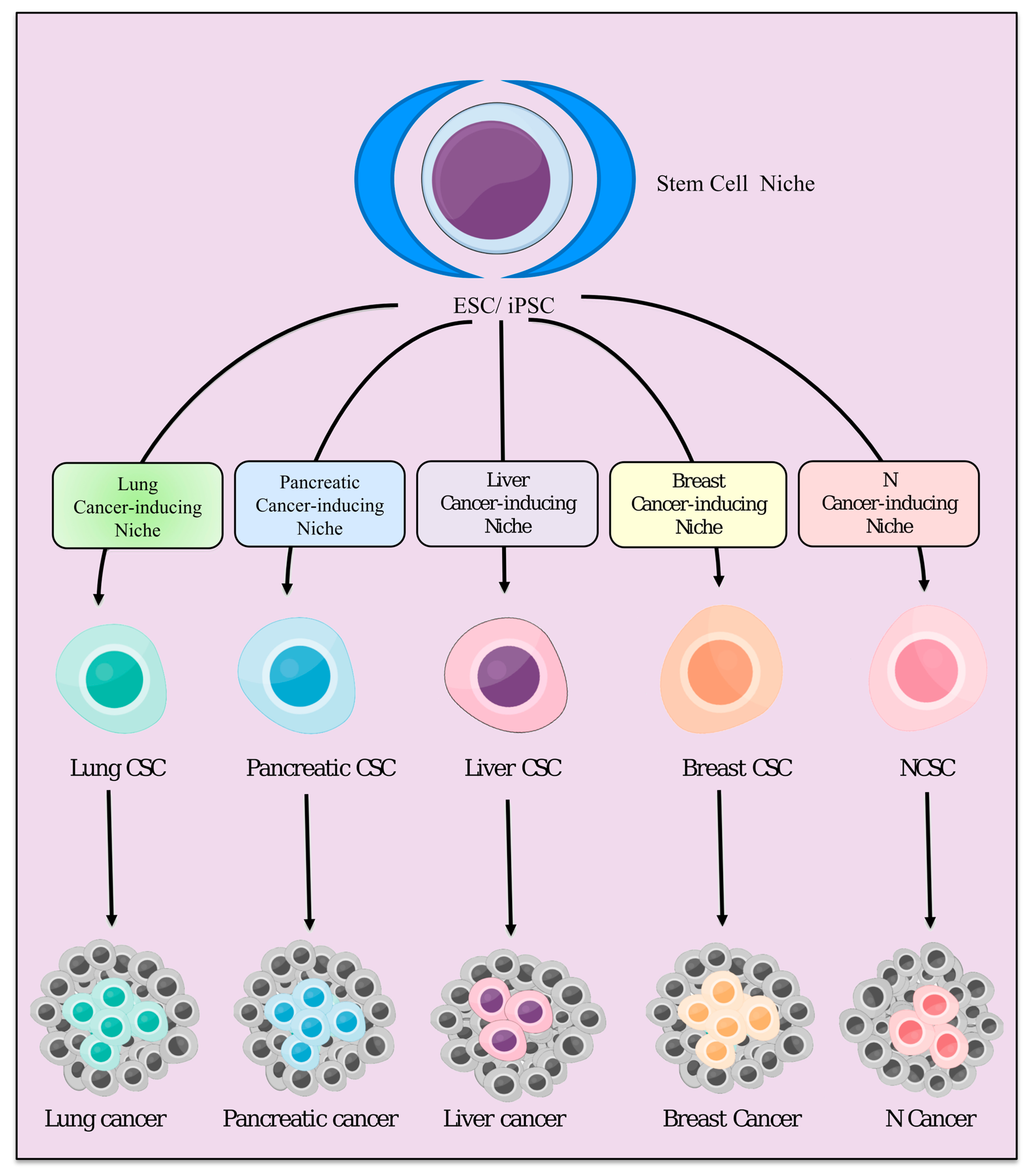 © 2019 by the authors. Licensee MDPI, Basel, Switzerland. This article is an open access article distributed under the terms and conditions of the Creative Commons Attribution (CC BY) license (http://creativecommons.org/licenses/by/4.0/).