Novel Molecular Characterization of Colorectal Primary Tumors Based on miRNAs
1
Biomarkers and Therapeutic Targets Group and Core Facility, Ramon y Cajal Research Institute, (IRYCIS), 28034 Madrid, Spain
2
Pathology Department, Ramon y Cajal Research Institute, University Hospital, 28034 Madrid, Spain
3
SynlabPathology, Pathology Department, Virgen de la Victoria, University Hospital, 29010 Málaga, Spain
4
Microbiology Department and Bioinformatics Core Facility, IRYCIS, 28034 Madrid, Spain
5
Medical Oncology Department, Ramon y Cajal Research Institute, University Hospital, IRYCIS, 28034 Madrid, Spain
6
Hereditary Cancer Program Valencian Region, Molecular Genetics Laboratory, Elche University Hospital, Elche, 03202 Alicante, Spain
7
Medical Oncology Department, Ramon y Cajal Research Institute, University Hospital, IRYCIS, Alcala University, 28034 Ciberonc, Spain
*
Authors to whom correspondence should be addressed.
†
These authors contribute equally to this work.
Received: 21 January 2019 / Revised: 5 March 2019 / Accepted: 6 March 2019 / Published: 11 March 2019
Abstract
microRNAs (miRNA) expression in colorectal (CR) primary tumours can facilitate a more precise molecular characterization. We identified and validated a miRNA profile associated with clinical and histopathological features that might be useful for patient stratification. In situ hybridization array using paraffin-embedded biopsies of CR primary tumours were used to screen 1436 miRNAs. 17 miRNAs were selected for validation by quantitative reverse transcription polymerase chain reaction (qRT-PCR) (
n
= 192) and were further correlated with clinical and histopathological data. We demonstrated that miRNAs associated to Colorectal Cancer (CRC) diagnosis age (over 50s and 60s) included miR-1-3p, miR-23b-3p, miR-27b-3p, miR-143-3p, miR-145-5p and miR-193b-5p. miR-23b-3p and miR-24-3p discriminated between Lynch Syndrome and sporadic CRC. miR-10a-5p, miR-20a-5p, miR-642b and Let-7a-5p were associated to stroma abundance. miR-642b and Let-7a-5p were associated with to peritumoral inflammation abundance. miR-1-3p, miR-143-3p and miR-145-5p correlated with mucinous component. miR-326 correlated with tumour location (right or left sided). miR-1-3p associated with tumour grade. miR-20a-5p, miR-193b-5p, miR-320a, miR-326 and miR-642b-3p associated to tumour stage and progression. Remarkably, we also demonstrated that miR-1-3p and miR-326 expression significantly associated with patient overall survival (OS). Hierarchical clustering and bioinformatics analysis indicated that selected miRNAs could re-classify the patients and work cooperatively, modulating common target genes involved in colorectal cancer key signalling pathways. In conclusion, molecular characterization of CR primary tumours based on miRNAs could lead to more accurate patient reclassification and may be useful for efficient patient management.
View Full-Text
►

▼

Figures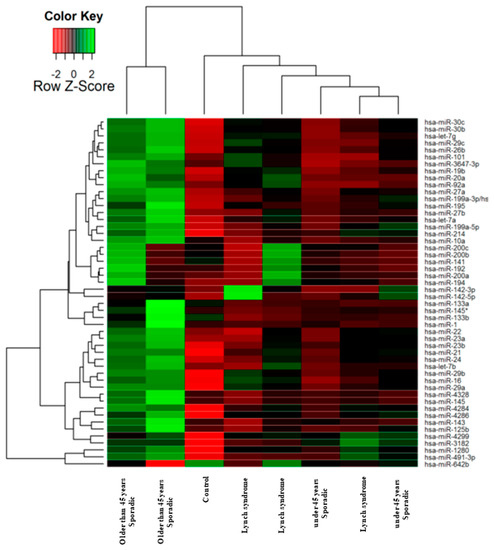 Figure 1
This is an open access article distributed under the
Creative Commons Attribution License
which permits unrestricted use, distribution, and reproduction in any medium, provided the original work is properly cited (CC BY 4.0).

Share & Cite This Article
MDPI and ACS Style
Conde, E.; Pascual, A.; Prieto-Cuadra, D.; Laza, V.F.; Molina-Cerrillo, J.; Ramos-Muñoz, M.E.; Rodríguez-Serrano, E.M.; Soto, J.L.; Carrato, A.; García-Bermejo, M.L.; Guillén-Ponce, C. Novel Molecular Characterization of Colorectal Primary Tumors Based on miRNAs. Cancers 2019, 11, 346.
Note that from the first issue of 2016, MDPI journals use article numbers instead of page numbers. See further details here.
Related Articles
Comments
[Return to top]