WP1130 Enhances TRAIL-Induced Apoptosis through USP9X-Dependent miR-708-Mediated Downregulation of c-FLIP
1
Department of Immunology, School of Medicine, Keimyung University, 1095 Dalgubeoldaero, Dalseo-Gu, Daegu 42601, Korea
2
Department of Anatomy, College of Medicine, Yeungnam University, Daegu 42415, Korea
3
Department of Medical Biology, Jessenius Faculty of Medicine, Comenius University in Bratislava, Martin 03601, Slovakia
4
Department of Experimental Carcinogenesis, Division of Oncology, Biomedical Center Martin, Jessenius Faculty of Medicine, Comenius University in Bratislava, Martin 03601, Slovakia
5
Department of Otolaryngology, School of Medicine, Keimyung University, 1095 Dalgubeoldaero, Dalseo-Gu, Daegu 42601, Korea
*
Author to whom correspondence should be addressed.
†
These authors contributed equally to this work.
Received: 8 February 2019 / Revised: 6 March 2019 / Accepted: 8 March 2019 / Published: 11 March 2019
Abstract
WP1130, a partially selective deubiquitinases (DUB) inhibitor, inhibits the deubiquitinating activities of USP5, USP9X, USP14, USP37, and UCHL1. In this study, we investigate whether WP1130 exerts sensitizing effect on TNF-related apoptosis-inducing ligand (TRAIL)-induced apoptosis in human renal carcinoma cells. Combinations of WP1130 and TRAIL significantly induced apoptosis in renal carcinoma, lung carcinoma and hepatocellular carcinoma cells, but not in normal cells (human mesangial cells (MC) and normal mouse kidney cells (TCMK-1)). The downregulation of c-FLIP protein expression was involved in combined treatment-induced apoptosis. WP1130-induced c-FLIP downregulation was regulated by microRNA (miR)-708 upregulation via inhibition of USP9X. Interestingly, knockdown of USP9X markedly induced c-FLIP downregulation, upregulation of miR-708 expression and sensitivity to TRAIL. Furthermore, ectopic expression of USP9X prevented c-FLIP downregulation and apoptosis upon combined treatment. In sum, WP1130 sensitized TRAIL-induced apoptosis through miR-708-mediated downregulation of c-FLIP by inhibition of USP9X.
View Full-Text
►

▼

Figures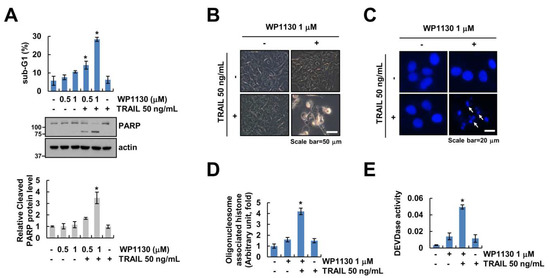 Figure 1
This is an open access article distributed under the
Creative Commons Attribution License
which permits unrestricted use, distribution, and reproduction in any medium, provided the original work is properly cited (CC BY 4.0).

Share & Cite This Article
MDPI and ACS Style
Kim, S.; Woo, S.M.; Min, K.-J.; Seo, S.U.; Lee, T.-J.; Kubatka, P.; Kim, D.E.; Kwon, T.K. WP1130 Enhances TRAIL-Induced Apoptosis through USP9X-Dependent miR-708-Mediated Downregulation of c-FLIP. Cancers 2019, 11, 344.
Note that from the first issue of 2016, MDPI journals use article numbers instead of page numbers. See further details here.
Related Articles
Comments
[Return to top]