Open Access This article is
freely available
re-usable
Review
Recent Advances in Cancer Stem Cell-Targeted Immunotherapy
1
Biomedical Sciences, School of Medicine, Pusan National University, Yangsan 50612, Korea
2
Research Institute for Convergence of Biomedical Science and Technology, Pusan National University Yangsan Hospital, Yangsan 50612, Korea
3
BIO-IT Foundry Technology Institute, Pusan National University, Busan 46241, Korea
*
Author to whom correspondence should be addressed.
Received: 28 January 2019 / Accepted: 1 March 2019 / Published: 5 March 2019
Abstract
:
Cancer stem cells (CSCs) are one of the reasons for the relapse of cancer cells and metastasis. They have drug resistance against most chemotherapeutic agents. CSCs are also responsible for tumor cell heterogeneity and cause minimal residual disease. In order to achieve complete regression of tumors, CSCs have to be targeted. Recent advances in immunotherapies have shown promising outcomes in curing cancer, which are also applicable to target CSCs. CSCs express immune markers and exhibit specific immune characteristics in various cancers, which can be used in immunotherapies to target CSCs in the tumor microenvironment. Recently, various strategies have been used to target CSCs. Adaptive T-cells, dendritic cell (DC)-based vaccines, oncolytic viruses, immune checkpoint inhibitors, and combination therapies are now being used to target CSCs. Here, we discuss the feasibility of these immunological approaches and the recent trends in immunotherapies to target CSCs.
Keywords:
cancer stem cells; immunotherapy; combination therapy
Author Contributions
Conceptualization, S.Y.Y.; writing the manuscript, N.B. and S.Y.Y.; supervision, S.Y.Y.; project administration, S.Y.Y.
Funding
This research was supported by the Basic Science Research Program through the National Research Foundation of Korea (NRF) funded by the Ministry of Education (Grant no. NRF-2016R1D1A1B03935221, NRF-2017R1C1B5015034, and NRF-2018R1D1A1B07050358).
Conflicts of Interest
The authors declare no conflict of interest.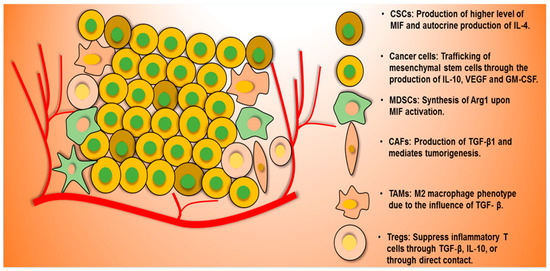 Figure 1. General roles of CSCs and other cells in tumor microenvironment (TME) and the mechanisms of immune escaping, and tumorigenesis. CSCs produces of higher level of migration inhibitory factor (MIF) and autocrine production of IL-4 in order to escape macrophage killing. Cancer cells produce IL-10, VEGF, and GM-CSF, which are involved in trafficking of mesenchymal stem cells. Myeloid derived suppressor cells (MDSCs) secrete Arg1 through MIF1 activation. CAFs mediate tumorigenesis through TGF-β. M2 macrophage promotes tumorigenesis for TGF-β response. TGF-β and IL-10 of T-regulatory cells suppress T-effector cells. (Abbreviations: CAFs, cancer-associated fibroblasts; CSC, cancer stem cells; FAS, fas cell surface death receptor; GM-CSF, granulocyte-macrophage colony-stimulating factor; IL-10, interleukin-10; MDSCs, myeloid-derived suppressor cells, TGF-β, tumor growth factor-beta; VEGF, vascular endothelial growth factor).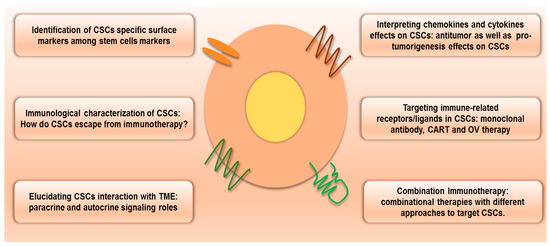 Figure 2. Prospective immunotherapeutic approaches to target CSCs. In order to target CSCs by immunotherapy, the identification CSCs specific surface markers and the immunological characterization of immune escaping with a complete elucidation of interaction with the TME are required. Chemokines' and cytokines' roles on CSCs are also related to immunotherapy. Immune receptors/ligands-based targeting by monoclonal antibody, CART and OV therapy. Owing to increase therapeutic efficacy, combination immunotherapy that consists of different approaches to target CSCs would be an ideal one (Abbreviations: CART, chimeric antigen receptor T-cells; CSCs, cancer stem cells; TME, tumor microenvironment, OV, oncolytic viruses).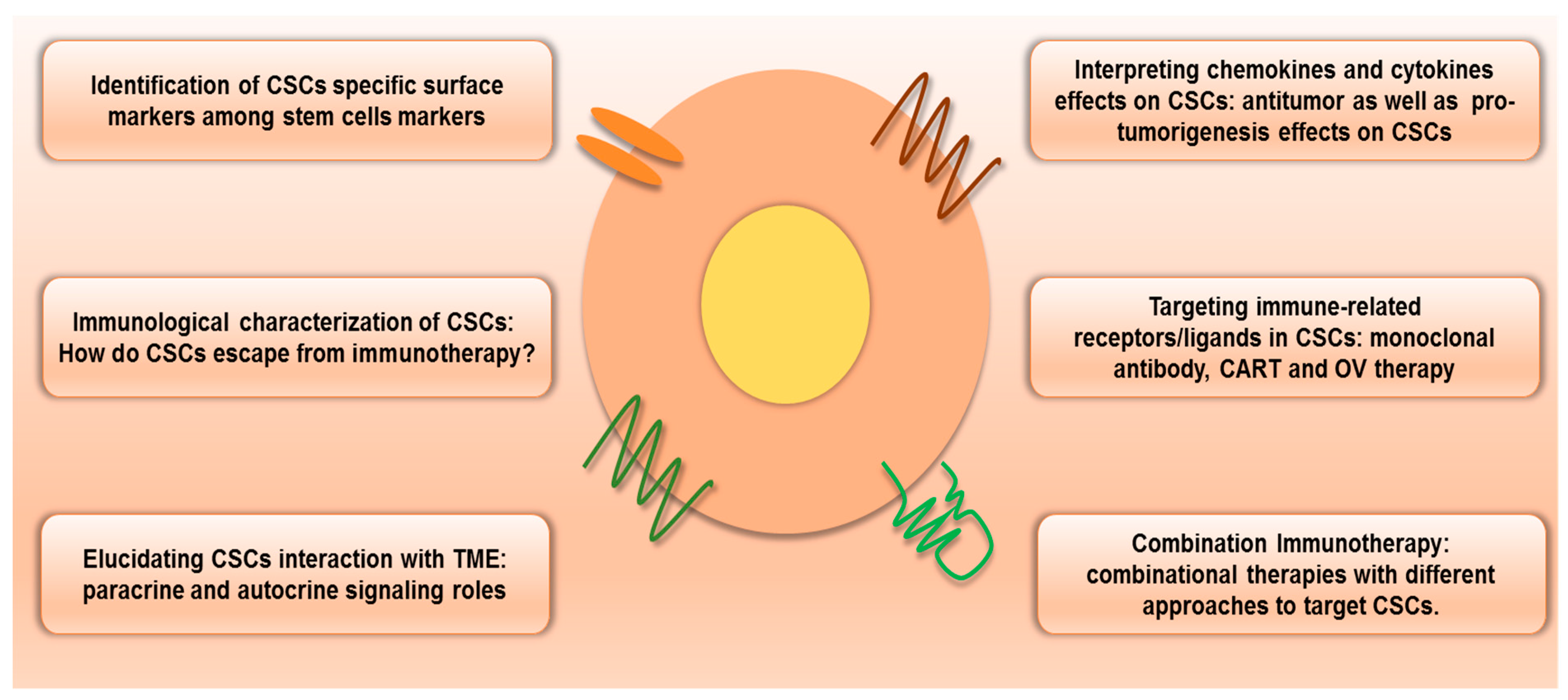 | Cancer | Biomarkers | Reference |
| --- | --- | --- |
| Colorectal Cancer | CD133, CD24, CD29, CD44, CD166, EpCAM, Lgr5 | [41,42] |
| Gastric Carcinoma | CD44, CD133, CD166, EpCAM | [43] |
| Head and Neck Carcinomas | CD44, CD133, CD166 | [44] |
| HCC | CD133, CD44, CD90, CD13, OVC, EpCAM | [45,46] |
| Prostate cancer | Integrins, CD44, CD133, CD166, Trop2, CD117, ABCG2 | [47] |
| Ovarian cancer | CD24, CD44, CD117, CD133, ABCG2, EpCAM | [48] |
Abbreviations: ABCG2, ATP-binding cassette super-family G member 2; EpCAM, Epithelial cell adhesion molecule; HCC, hepatocellular carcinoma.
CSCs in Cancer
Immune Molecules
Immunological Characterization
Mechanism of Action
Reference
Glioblastoma multiforme
MHC-I, MHC-II and NKG2D
Weakly positive for MHC-I, MHC-II, and negative for NKG2D ligand molecules
Lower immunogenicity and higher suppressive activity of GBM CSCs
[56]
MIC-1
MΦ inhibitory cytokine-1 (MIC-1)
Inhibition of MΦ/microglia phagocytosis and T-cell proliferation
[57]
B7-H1 and soluble galectin-3
B7-H1 and soluble galectin-3
Inhibition of T-cell proliferation and induction of T regulatory cell activation
[58]
MIF and Arg1
CSCs produce higher level of macrophage migration inhibitory factor (MIF)
CSCs released MIF induces Arg1 from MDSCs through CXCR mediated mechanism. Arg1 suppresses T-cell antitumor activity
[59]
TLR4
Reduced TLR4 Expression
TBK1 expression through TLR4 signals to suppress RBBP5
[60]
Colon cancer
IL-4
Autocrine production of IL-4
Tumor growth and treatment resistant
[31]
IL-4
High expression of IL-4 and expression of CRC-associated Ag COA-1
IL-4 and CIC-mediated suppression of anti-tumor T-cell responses
[61]
Melanoma
IL-2
Inhibition of IL-2 dependent T-cell action and induction of CD4+ CD25+ FoxP3+ regulatory T-cells
Evasion of antitumor immunity and immunotherapeutic resistance
[62]
Breast cancer
MICA, MICB and NKG2D
Downregulation of ligands, MICA and MICB for stimulatory NK cell receptor NKG2D
Autologous/allogeneic NK cells toxicity resistant
[63]
CD47
Over expression of CD47 on CSCs by HIF-1
HIF-1-induced CD47 expression on CSCs and cancer cells escapes from phagocytosis by bone marrow-derived macrophages
[64]
PD-L1
Enriched PD-L1 expression through EMT/βcatenin/STT3/PD-L1 signaling axis
EMT and MET upregulate PD-L1 through STT3-dependent PD-L1 N-glycosylation
[65]
Pancreatic adenocarcinoma
CXCR4
CD133+ and CD133+ CXCR4+ CSCs
CD133+ CSCs responsible for tumorigenic and highly resistant to standard chemotherapy. CD133+ CXCR4+ CSCs dictate metastatic phenotype of the individual tumor
[66]
TGF-β1
Interaction between hCAP-18/LL-37 expression of stroma of PDAC and TGF- β1
hCAP-18/LL-37 expression of stroma of PDAC and TGF- β1 mediated tumorigenesis
[67]
Ovarian cancer
CXCR4 and CXCL12
CXCR4+CD133+ OVCAR-5 cells were resistant to cisplatin
Overexpression of ABCG2 drug transport and migrates towards CXCR4 ligand and CXCL12
[68]
Abbreviations: ABCG2, ATP-binding cassette super-family G member 2; AgCOA-1, antigen COA1; Arg1, arginase 1; B7-H1, B7 homolog 1; CICs, cancer-initiating cells; CSCs, cancer stem cells; CRC, colorectal cancer; CXCR, C-X-C chemokine receptor; CXCR4, C-X-C chemokine receptor 4; CXCL12, C-X-C motif chemokine 12; EMT, epithelial mesenchymal transition; GBM, glioblastoma multiforme; hCAP-18/LL-37, human cationic antimicrobial protein18 leucine leucine-37; HIF-1, hypoxia-inducible factor; IL-4, interleukin 4; MET, mesenchymal–epithelial transition; MHC I; major histocompatibility complex I; MHC II, major histocompatibility complex II; MICA, MHC class I polypeptide-related sequence A; MICB, MHC class I polypeptide-related sequence B; NK cells, natural killer cells; NKG2D, natural killer group 2D; PDAC, pancreatic ductal adenocarcinoma; PD-L1, programmed death-ligand 1; RBBP5, retinoblastoma binding protein; STT3,dolichyl-diphosphooligosaccharide-protein glycosyltransferase subunit STT3; TBK1, tank-binding kinase 1; TGF- β1, transforming growth factor-beta 1; TLR4, toll-like receptor 4.
Immuno-Therapy
Targeting Approach
Cancer Model
Reference
Adoptive T-cell therapy
CAR T-cells against EpCAM antigen. Peripheral blood lymphocytes expressing EpCAM-specific chimeric antigen receptors targeted EpCAM+ CSCs
Prostate cancer
[72]
CAR T-cells, targeting membrane bound IL-15
Leukemia
[73]
CD8+ cytotoxic T-cells, specific for the CSCs antigen ASB4
Colon cancer
[74]
CIK cells transduced with CAR T- cells against CD123
Acute myeloid leukemia
[75]
Autologous CIK cells
Melanoma
[76]
CIK cells-NKG2D ligands
HCC
[77]
CIK cells- NKG2D ligands
Nasopharyngeal carcinoma
[78]
NK cells from healthy donors
High-grade non-muscle invasive bladder cancer
[79]
NK cells
Pancreatic cancer
[80]
NK cells
Oral squamous carcinoma
[81]
γδ and CD8+ T-cells
Breast cancer
[82]
DC-based vaccine
CSCs lysate-pulsed DCs
Malignant melanoma
[83]
CSCs lysate-pulsed DCs
Squamous cell carcinoma
[84]
DCs charged with total lysates of Panc-1 CSCs
Pancreatic cancer
[85]
DCs loaded with NANOG peptide
Ovarian cancer
[86]
ALDHhigh SCC7 specific CSCs-DCs
Squamous cell cancer
[87]
ALDHhigh D5 CSCs-DCs
Metastatic melanoma
ALDHhigh CSC-pulsed DCs
Metastatic melanoma
[88]
ALDHhigh CSC-pulsed DCs
Squamous cell cancer
Oncolytic virotherapy
Oncolytic herpes simplex virus armed with IL-12
Glioblastoma
[89]
Oncolytic adenovirus targeting CD133+ CSCs
Glioblastoma
[90]
Oncolytic vaccinia virus (GLV-1h68) targeting ALDHhigh stem cell-like cancer cells
Breast cancer
[91]
Oncolytic vaccinia virus targeting ID8-T tumor model that harbors CD44+ CD117+ cancer-initiating cells
Ovarian cancer
[92]
Cancer-favoring oncolytic vaccinia virus: stem-cell-like colon (CD133+ and CD44+) cancer cells
Colon cancer
[42]
Oncolytic measles viruses: targeting CD133+ tumor-initiating cells
HCC
[93]
Cancer-favoring oncolytic vaccinia virus: metastatic hepatocellular carcinoma (CD44+)
HCC
[46]
Others
Monoclonal antibody against Lgr5
Colon cancer
[94]
IFN-β therapy: targeting type I IFN signaling
Triple negative breast cancer
[49]
Blockade of the IL-8 receptor
Breast cancer
[95]
Combination therapy
DC-based vaccine in combination with anti-PD-L1 and anti-CTLA-4
Melanoma
[96]
Oncolytic herpes simplex virus in combination with anti-PD-1 and anti-CTLA-4
Glioblastoma
[97]
STDENVANT (a vaccine comprising of GSC lysate, DCs, and TLR9 agonist CpG motif-containing oligo-deoxynucleotides) in combination with anti-PD-L1
Glioblastoma
[98]
CSCs vaccine (streptavidin-granulocyte-macrophage-colony stimulating factor surface-modified bladder CSCs) in combination with anti-PD-1
Bladder cancer
[99]
Abbreviations: ALDH, aldehyde dehydrogenase; CAR, chimeric antigen receptor; CCR7, CC-chemokine receptor 7; CIK cells, Cytokine-induced killer cells; CRC, colorectal cancer; CSCs, cancer stem cells; CTLA-4, cytotoxic T-lymphocyte–associated antigen 4; CXCR1, C-X-C chemokine receptor 1; DC, dendritic cells; HCC, hepatocellular carcinoma; IFN-β, interferon-beta; IFN-γ, interferon-gamma; IL-8, interleukin 8; IL-12, interleukin 12; NK, natural killer; NKG2D, natural killer group 2D; PD-1, Programmed cell death-1; PD-L1, programmed death-ligand 1; TLR9, toll-like receptor 9.

© 2019 by the authors. Licensee MDPI, Basel, Switzerland. This article is an open access article distributed under the terms and conditions of the Creative Commons Attribution (CC BY) license (http://creativecommons.org/licenses/by/4.0/).