The Cancer Stem Cell Inhibitor Napabucasin (BBI608) Shows General Cytotoxicity in Biliary Tract Cancer Cells and Reduces Cancer Stem Cell Characteristics
1
Institute of Physiology and Pathophysiology, Paracelsus Medical University, 5020 Salzburg, Austria
2
Ludwig Boltzmann Institute for Arthritis and Rehabilitation, Paracelsus Medical University, 5020 Salzburg, Austria
3
Gastein Research Institute, Paracelsus Medical University, 5020 Salzburg, Austria
4
Institute of Pathology, Paracelsus Medical University/Salzburger Landeskliniken (SALK), 5020 Salzburg, Austria
5
Cancer Cluster Salzburg, 5020 Salzburg, Austria
6
Department of Internal Medicine I, Paracelsus Medical University/Salzburger Landeskliniken (SALK), 5020 Salzburg, Austria
*
Author to whom correspondence should be addressed.
Received: 25 January 2019 / Revised: 14 February 2019 / Accepted: 18 February 2019 / Published: 26 February 2019
Abstract
Biliary tract cancer is a devastating disease with limited therapeutic options. The involvement of cancer stem cells in biliary tract cancer is likely. Napabucasin is a previously described cancer stem cell inhibitor that is currently being used in clinical trials. However, data regarding napabucasin and biliary tract cancer are not available yet. We tested the general cytotoxic effect of napabucasin on a comprehensive biliary tract cancer in vitro model, using resazurin assay and Annexin V/7-AAD staining. The effect of napabucasin on functional cancer stem cell characteristics was analyzed via soft agar assay, aldehyde-dehydrogenase-1 assay, measurement of surface CD326 expression, and measurement of clonogenic growth. The evaluation of the effect of napabucasin on cancer stem cell protein and gene expression was performed using Western blot and reverse transcription-PCR-based human cancer stem cell array. Napabucasin showed a concentration- and cell line-dependent cytotoxic effect, and increased the apoptotic and necrotic cell fractions. Treatment with napabucasin significantly reduced the formation of tumor spheres and clonogenic growth, as well as CD326 surface expression. Expression of cancer stem cell markers were reduced following napabucasin treatment on the protein and mRNA levels. Our study provides first data regarding napabucasin as a promising substance for the treatment of biliary tract cancer.
View Full-Text
►

▼

Figures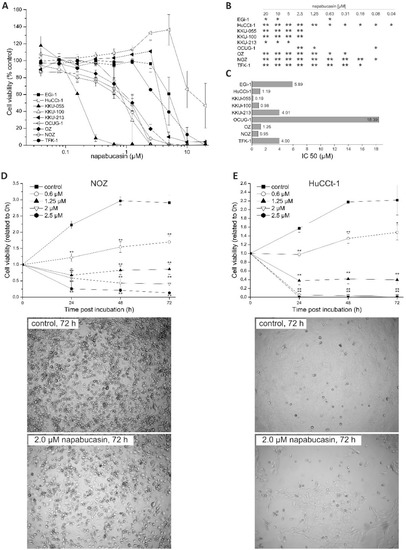 Figure 1
This is an open access article distributed under the
Creative Commons Attribution License
which permits unrestricted use, distribution, and reproduction in any medium, provided the original work is properly cited (CC BY 4.0).

Share & Cite This Article
MDPI and ACS Style
Beyreis, M.; Gaisberger, M.; Jakab, M.; Neureiter, D.; Helm, K.; Ritter, M.; Kiesslich, T.; Mayr, C. The Cancer Stem Cell Inhibitor Napabucasin (BBI608) Shows General Cytotoxicity in Biliary Tract Cancer Cells and Reduces Cancer Stem Cell Characteristics. Cancers 2019, 11, 276.
Note that from the first issue of 2016, MDPI journals use article numbers instead of page numbers. See further details here.
Related Articles
Comments
[Return to top]