Compositional and Functional Differences between Microbiota and Cervical Carcinogenesis as Identified by Shotgun Metagenomic Sequencing
1
Division of Cancer Epidemiology and Prevention, National Cancer Center, 323, Ilsan-ro, Ilsandong-gu, Goyang-si 10408, Korea
2
Center for Uterine Cancer, National Cancer Center, 323, Ilsan-ro, Ilsandong-gu, Goyang-si 10408, Korea
*
Author to whom correspondence should be addressed.
†
These authors contributed equally to this work.
Received: 18 December 2018 / Revised: 27 February 2019 / Accepted: 28 February 2019 / Published: 5 March 2019
Abstract
Recent studies have reported the potential role of microbiomes in cervical disease. However, little is known about the microbiome composition and function in cervical carcinogenesis. We aimed to identify the compositional and functional alterations of cervical microbiomes in cases of cervical carcinogenesis of Korean women using shotgun metagenomic sequencing. In this study, using shotgun sequencing, we sequenced the cervical metagenomes of cervical intraneoplasia 2/3 (
n
= 17), cervical cancer (
n
= 12), and normal controls (
n
= 18) to identify the microbial abundances and enriched metabolic functions in cervical metagenomes. At the genus level, the microbiota of cervical cancer were differentially enriched with genera
Alkaliphilus
,
Pseudothermotoga
, and
Wolbachia
. Cervical intraepithelial neoplasia (CIN) 2/3 were enriched with
Lactobacillus
,
Staphylococcus,
and
Candidatus Endolissoclinum
. The normal group was enriched with
Pseudoalteromonas
and
Psychrobacter
. Further characterization of the functionalities of the metagenomes may suggest that six Kyoto Encyclopedia of Genes and Genomes (KEGG) orthologies (KOs) that are involved in 10 pathways are associated with an increased risk of CIN2/3 and cervical cancer. Specifically, cervical metagenomes were enriched in the course of peptidoglycan synthesis and depleted by dioxin degradation and 4-oxalocrotonate tautomerase. The Cluster of Orthologous Groups (COG) category 'Defense mechanisms' was depleted in cervical cancer patients. Our findings based on shotgun metagenomic sequencing suggest that cervical microbiome community compositions and their metagenomics profiles differed between cervical lesions and normal subjects. Future studies should have larger sample sizes and/or aggregate their results to have sufficient power to detect reproducible and significant associations.
View Full-Text
►

▼

Figures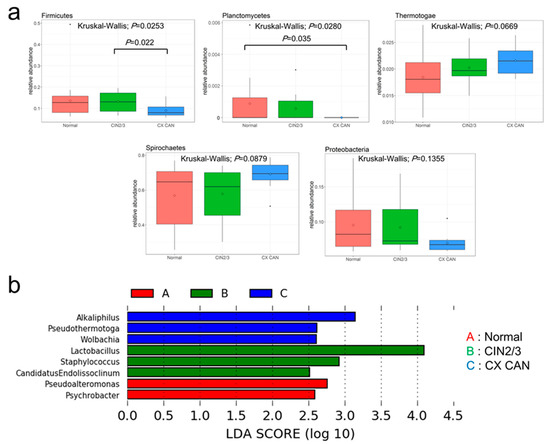 Figure 1
This is an open access article distributed under the
Creative Commons Attribution License
which permits unrestricted use, distribution, and reproduction in any medium, provided the original work is properly cited (CC BY 4.0).

Share & Cite This Article
MDPI and ACS Style
Kwon, M.; Seo, S.-S.; Kim, M.K.; Lee, D.O.; Lim, M.C. Compositional and Functional Differences between Microbiota and Cervical Carcinogenesis as Identified by Shotgun Metagenomic Sequencing. Cancers 2019, 11, 309.
Note that from the first issue of 2016, MDPI journals use article numbers instead of page numbers. See further details here.
Related Articles
Comments
[Return to top]