The OncoAge Consortium: Linking Aging and Oncology from Bench to Bedside and Back Again
1
Laboratory of Clinical and Experimental Pathology/Biobank 0033-00025, CHU Nice, FHU OncoAge, Université Côte d'Azur, 06001 Nice, France
2
Inserm U1081, CNRS UMR7284, Institut de Recherche sur le Cancer et le Vieillissement (IRCAN), FHU OncoAge, Université Côte d'Azur, 06107 Nice, France
3
Epione Team, Inria, FHU OncoAge, Université Côte d'Azur, 06902 Sophia Antipolis, France
4
CNRS UMR7275, Institut de Pharmacologie Cellulaire et Moléculaire, FHU OncoAge, Université Côte d'Azur, 06560 Valbonne, France
5
i3S Sophia Antipolis, FHU OncoAge, Université Côte d'Azur, 06560 Sophia Antipolis, France
6
Centre d'Innovation et d'Usages en Santé (CIUS), FHU OncoAge, Université Côte d'Azur, 06000 Nice, France
7
Laboratoire de Cancérologie Expérimentale, Institut François Jacob, CEA Direction de la Recherche Fondamentale, FHU OncoAge, Université Côte d'Azur, 92265 Fontenay-aux-Roses, France
8
Ville de Nice, Mairie de Nice, FHU OncoAge, Université Côte d'Azur, 06364 Nice, France
9
Nephrology Department, CHU Nice, FHU OncoAge, Université Côte d'Azur, 06001 Nice, France
10
Geriatric Unit, Centre Hospitalier Lyon Sud, Hospices Civils de Lyon, FHU OncoAge, Université Claude Bernard Lyon 1, 69310 Pierre-Benite, France
11
Laboratoire CarMeN, Inserm U1060, INRA U139, INSA Lyon, Ecole de Médecine Charles Mérieux, Université Claude Bernard Lyon 1, 69921 Oullins, France
12
Geriatric Coordination Unit for Geriatric Oncology (UCOG) PACA Est, CHU Nice, FHU OncoAge, Université Côte d'Azur, 06000 Nice, France
13
Oncology Department, Centre Antoine Lacassagne, FHU OncoAge, Université Côté d'Azur, 06189 Nice, France
14
Department of Pulmonary Medicine and Oncology, CHU Nice, FHU OncoAge, Université Côte d'Azur, 06000 Nice, France
15
Département de Médecine, INSERM 1052, CNRS 5286, Centre de recherche en cancérologie de Lyon, Centre Léon Bérard, FHU OncoAge, Université Claude Bernard Lyon 1, 69008 Lyon, France
16
Laboratory of Immunology, CHU Nice, FHU OncoAge, Université Côte d'Azur, 06200 Nice, France
17
CNRS, Inserm, iBV, Centre Antoine Lacassagne, FHU OncoAge, Université Côte d'Azur, 06108 Nice, France
18
CNRS, LP2M, FHU OncoAge, Université Côte d'Azur, 06107 Nice, France
19
Inserm U1065, Centre Méditerranéen de Médecine Moléculaire (C3M), FHU OncoAge, Université Côte d'Azur, 06200 Nice, France
*
Author to whom correspondence should be addressed.
Received: 28 January 2019 / Revised: 17 February 2019 / Accepted: 19 February 2019 / Published: 21 February 2019
Abstract
It is generally accepted that carcinogenesis and aging are two biological processes, which are known to be associated. Notably, the frequency of certain cancers (including lung cancer), increases significantly with the age of patients and there is now a wealth of data showing that multiple mechanisms leading to malignant transformation and to aging are interconnected, defining the so-called common biology of aging and cancer. OncoAge, a consortium launched in 2015, brings together the multidisciplinary expertise of leading public hospital services and academic laboratories to foster the transfer of scientific knowledge rapidly acquired in the fields of cancer biology and aging into innovative medical practice and silver economy development. This is achieved through the development of shared technical platforms (for research on genome stability, (epi)genetics, biobanking, immunology, metabolism, and artificial intelligence), clinical research projects, clinical trials, and education. OncoAge focuses mainly on two pilot pathologies, which benefit from the expertise of several members, namely lung and head and neck cancers. This review outlines the broad strategic directions and key advances of OncoAge and summarizes some of the issues faced by this consortium, as well as the short- and long-term perspectives.
View Full-Text
►

▼

Figures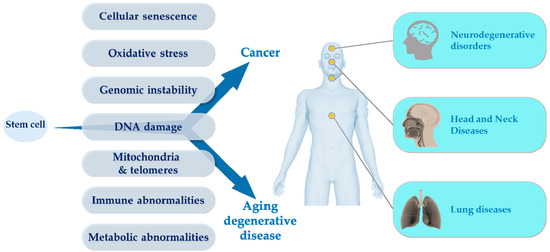 Figure 1
This is an open access article distributed under the
Creative Commons Attribution License
which permits unrestricted use, distribution, and reproduction in any medium, provided the original work is properly cited (CC BY 4.0).

Share & Cite This Article
MDPI and ACS Style
Hofman, P.; Ayache, N.; Barbry, P.; Barlaud, M.; Bel, A.; Blancou, P.; Checler, F.; Chevillard, S.; Cristofari, G.; Demory, M.; Esnault, V.; Falandry, C.; Gilson, E.; Guérin, O.; Glaichenhaus, N.; Guigay, J.; Ilié, M.; Mari, B.; Marquette, C.-H.; Paquis-Flucklinger, V.; Prate, F.; Saintigny, P.; Seitz-Polsky, B.; Skhiri, T.; Van Obberghen-Schilling, E.; Van Obberghen, E.; Yvan-Charvet, L. The OncoAge Consortium: Linking Aging and Oncology from Bench to Bedside and Back Again. Cancers 2019, 11, 250.
Note that from the first issue of 2016, MDPI journals use article numbers instead of page numbers. See further details here.
Related Articles
Comments
[Return to top]