Exosome Analysis in Tumor-Draining Pulmonary Vein Identifies NSCLC Patients with Higher Risk of Relapse after Curative Surgery
1
Molecular Oncology and Embryology Laboratory, Human Anatomy Unit, School of Medicine, University of Barcelona, IDIBAPS, 08036 Barcelona, Spain
2
Department of Thoracic Surgery, Institut Clínic de Respiratori (ICR), Hospital Clínic de Barcelona, University of Barcelona, 08036 Barcelona, Spain
3
Department of Pneumology, Institut Clínic de Respiratori (ICR), Hospital Clínic de Barcelona, University of Barcelona, IDIBAPS, CIBER de Enfermedades Respiratorias (CIBERES), 08036 Barcelona, Spain
4
Department of Medical Oncology, Institut Clínic Malalties Hemato-Oncològiques (ICMHO), Hospital Clínic de Barcelona, University of Barcelona, IDIBAPS, 08036 Barcelona, Spain
5
Department of Pathology, Centro de Diagnóstico Biomédico (CDB), Hospital Clínic de Barcelona, University of Barcelona, IDIBAPS, CIBERES, 08036 Barcelona, Spain
*
Authors to whom correspondence should be addressed.
Received: 21 January 2019 / Revised: 16 February 2019 / Accepted: 18 February 2019 / Published: 21 February 2019
Abstract
Since tumor-draining pulmonary vein blood (PV) is enriched in tumor-secreted products, we hypothesized that it would also be enriched in tumor-derived exosomes, which would be important in the metastasis process. We characterized exosomes from PV of 61 resected non-small cell lung cancer (NSCLC) patients to evaluate its potential as relapse biomarkers. Exosomes were characterized using transmission electron microscopy, western blot and nanoparticle tracking analysis and we examined time to relapse (TTR) and overall survival (OS). Differences between PV and peripheral vein were found. PV was enriched in smaller exosomes than the paired peripheral vein (
p
= 0.01). Moreover, PV exosome size mode was able to identify relapsed patients (Area under the curve [AUC] = 0.781; 95%CI: 0.6641–0.8978), in whom exosome size was smaller (<112 nm;
p
< 0.001). The combination of PV exosome size and N (lymph node involvement) showed an AUC of 0.89 (95%CI: 0.80–0.97). Moreover, smaller PV exosome size was associated with shorter TTR (28.3 months vs. not reached,
p
< 0.001) and OS (43.9 months vs. not reached,
p
= 0.009). Multivariate analyses identified PV exosome size and stage as independent prognostic markers for TTR and OS. PV exosome size is a promising relapse biomarker after surgery that can add valuable information to clinical variables.
View Full-Text
►

▼

Figures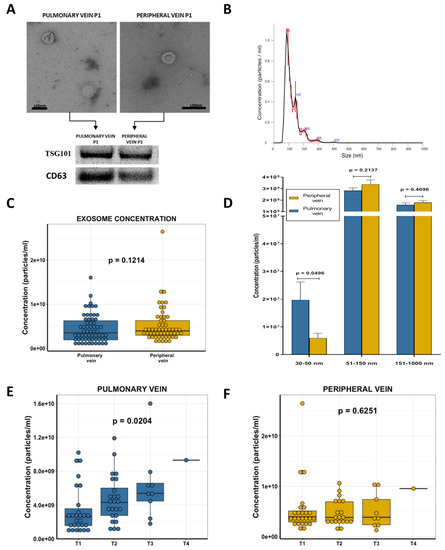 Figure 1
This is an open access article distributed under the
Creative Commons Attribution License
which permits unrestricted use, distribution, and reproduction in any medium, provided the original work is properly cited (CC BY 4.0).

Share & Cite This Article
MDPI and ACS Style
Navarro, A.; Molins, L.; Marrades, R.M.; Moises, J.; Viñolas, N.; Morales, S.; Canals, J.; Castellano, J.J.; Ramírez, J.; Monzo, M. Exosome Analysis in Tumor-Draining Pulmonary Vein Identifies NSCLC Patients with Higher Risk of Relapse after Curative Surgery. Cancers 2019, 11, 249.
Note that from the first issue of 2016, MDPI journals use article numbers instead of page numbers. See further details here.
Related Articles
Comments
[Return to top]