Glioblastoma: Microenvironment and Niche Concept
1
Professore Emerito di Neurologia, Università di Torino, Corso Bramante 88/90, 10126 Torino, Italy
2
Ex Centro Ricerche/Fondazione Policlinico di Monza, Via P. Micca 29, 13100 Vercelli, Italy
3
Istituto Zooprofilattico Sperimentale del Piemonte, Liguria e Valle d'Aosta, Via Bologna 148, 10154 Torino, Italy
4
Dipartimento di Scienze della Salute, Scuola di Medicina, Università del Piemonte Orientale "A. Avogadro", Corso Mazzini 18, 28100 Novara, Italy
5
Fondazione Edo ed Elvo Tempia Valenta—Onlus, Via Malta 3, 13900 Biella, Italy
*
Author to whom correspondence should be addressed.
Received: 17 October 2018 / Revised: 7 December 2018 / Accepted: 7 December 2018 / Published: 20 December 2018
Abstract
The niche concept was originally developed to describe the location of normal neural stem cells (NSCs) in the subependymal layer of the sub-ventricular zone. In this paper, its significance has been extended to the location of tumor stem cells in glioblastoma (GB) to discuss the relationship between GB stem cells (GSCs) and endothelial cells (ECs). Their interaction is basically conceived as responsible for tumor growth, invasion and recurrence. Niches are described as the points of utmost expression of the tumor microenvironment (TME), therefore including everything in the tumor except for tumor cells: NSCs, reactive astrocytes, ECs, glioma-associated microglia/macrophages (GAMs), myeloid cells, pericytes, fibroblasts, etc. and all intrinsic and extrinsic signaling pathways. Perivascular (PVNs), perinecrotic (PNNs) and invasive niches were described from the pathological point of view, highlighting the basic significance of the EC/tumor stem cell couple. PNN development was reinterpreted based on the concept that hyperproliferative areas of GB are composed of GSCs/progenitors. TME was depicted in its function as the main regulator of everything that happens in the tumor. A particular emphasis was given to GAMs, pericytes and reactive astrocytes as important elements affecting proliferation, growth, invasion and resistance to therapies of tumor cells.
View Full-Text
►

▼

Figures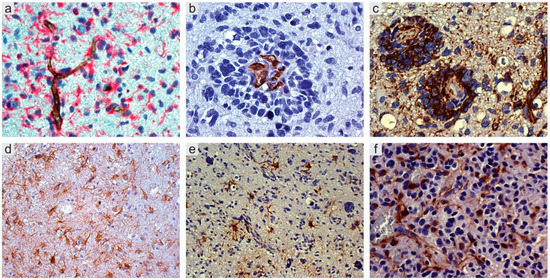 Figure 1
This is an open access article distributed under the
Creative Commons Attribution License
which permits unrestricted use, distribution, and reproduction in any medium, provided the original work is properly cited (CC BY 4.0).

Share & Cite This Article
MDPI and ACS Style
Schiffer, D.; Annovazzi, L.; Casalone, C.; Corona, C.; Mellai, M. Glioblastoma: Microenvironment and Niche Concept. Cancers 2019, 11, 5.
Note that from the first issue of 2016, MDPI journals use article numbers instead of page numbers. See further details here.
Related Articles
Comments
[Return to top]