NGAL is Downregulated in Oral Squamous Cell Carcinoma and Leads to Increased Survival, Proliferation, Migration and Chemoresistance
1
Cancer Biology Laboratory & DBT-AIST International Laboratory for Advanced Biomedicine (DAILAB), Department of Biosciences & Bioengineering, Indian Institute of Technology Guwahati, Assam 781039, India
2
Stem Cell and Cancer Biology Laboratory, School of Biomedical Sciences, Curtin Health Innovation Research Institute, Curtin University, Perth, WA 6009, Australia
3
Department of Botany and Microbiology, College of Science, King Saud University, Riyadh 11451, Saudi Arabia
4
Department of Pediatrics, College of Medicine, and King Khalid University Hospital, King Saud University, Riyadh 11451, Saudi Arabia
5
Department of Pharmacology, Yong Loo Lin School of Medicine, National University of Singapore, Singapore 117600, Singapore
6
Cancer Program, Medical Science Cluster, Yong Loo Lin School of Medicine, National University of Singapore, Singapore 119228, Singapore
7
Cancer Science Institute of Singapore, National University of Singapore, Singapore 117599, Singapore
8
Curtin Medical School, Faculty of Health Sciences, Curtin University, Perth, WA 6009, Australia
*
Authors to whom correspondence should be addressed.
Received: 3 May 2018 / Revised: 15 June 2018 / Accepted: 20 June 2018 / Published: 10 July 2018
Abstract
Oral cancer is a major public health burden worldwide. The lack of biomarkers for early diagnosis has increased the difficulty in managing this disease. Recent studies have reported that neutrophil gelatinase-associated lipocalin (NGAL), a secreted glycoprotein, is upregulated in various tumors. In our study, we found that NGAL was significantly downregulated in primary malignant and metastatic tissues of oral cancer in comparison to normal tissues. The downregulation of NGAL was strongly correlated with both degree of differentiation and stage (I–IV); it can also serve as a prognostic biomarker for oral cancer. Additionally, tobacco carcinogens were found to be involved in the downregulation of NGAL. Mechanistic studies revealed that knockdown of NGAL increased oral cancer cell proliferation, survival, and migration; it also induced resistance against cisplatin. Silencing of NGAL activated mammalian target of rapamycin (mTOR)signaling and reduced autophagy by the liver kinase B1 (LKB1)-activated protein kinase (AMPK)-p53-Redd1 signaling axis. Moreover, cyclin-D1, Bcl-2, and matrix metalloproteinase-9 (MMP-9) were upregulated, and caspase-9 was downregulated, suggesting that silencing of NGAL increases oral cancer cell proliferation, survival, and migration. Thus, from our study, it is evident that downregulation of NGAL activates the mTOR pathway and helps in the progression of oral cancer.
View Full-Text
►

▼

Figures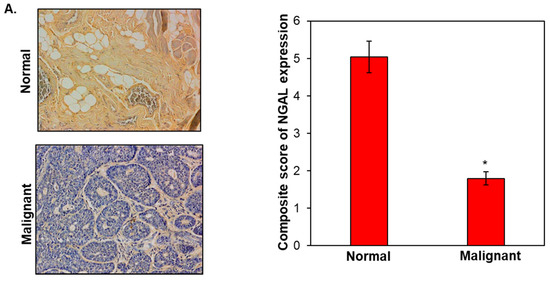 Figure 1
This is an open access article distributed under the
Creative Commons Attribution License
which permits unrestricted use, distribution, and reproduction in any medium, provided the original work is properly cited (CC BY 4.0).

Share & Cite This Article
MDPI and ACS Style
Monisha, J.; Roy, N.K.; Padmavathi, G.; Banik, K.; Bordoloi, D.; Khwairakpam, A.D.; Arfuso, F.; Chinnathambi, A.; Alahmadi, T.A.; Alharbi, S.A.; Sethi, G.; Kumar, A.P.; Kunnumakkara, A.B. NGAL is Downregulated in Oral Squamous Cell Carcinoma and Leads to Increased Survival, Proliferation, Migration and Chemoresistance. Cancers 2018, 10, 228.
Note that from the first issue of 2016, MDPI journals use article numbers instead of page numbers. See further details here.
Related Articles
Comments
[Return to top]