Epithelioid Hemangioendothelioma as a Model of YAP/TAZ-Driven Cancer: Insights from a Rare Fusion Sarcoma
1
Department of Molecular and Cellular Physiology, Albany Medical College, Albany, NY 12208, USA
2
Department of Oncology, University of Illinois College of Medicine, Chicago, IL 60612, USA
3
Department of Anesthesiology, University of Illinois College of Medicine, and Jesse Brown VA Medical Center, Chicago, IL 60612, USA
*
Author to whom correspondence should be addressed.
Received: 1 June 2018 / Revised: 8 July 2018 / Accepted: 9 July 2018 / Published: 10 July 2018
Abstract
Epithelioid hemangioendothelioma (EHE) is a rare soft-tissue sarcoma involving cells with histologic markers that suggest an endothelial origin. Around 90% of EHEs are caused by the fusion of Transcriptional Co-activator with a PDZ-motif (TAZ) with Calmodulin Binding Transcription Activator 1 (CAMTA1), a central nervous system-specific transcription activator. The 10% of EHEs that lack the TAZ–CAMTA1 fusion instead have a fusion of Yes-associated Protein (YAP) and Transcription Factor E3 (TFE3) genes (YAP-TFE3). YAP and TAZ are well-defined downstream effectors in the Hippo pathway that promote cell growth when translocated to the nucleus. The TAZ–CAMTA1 fusion transcript is insensitive to the Hippo inhibitory signals that normally prevent this process and thus constitutively activates the TAZ transcriptome. In EHE, this causes tumors to form in a variety of organs and tissue types, most commonly the liver, lung, and bone. Its clinical course is unpredictable and highly variable. TAZ activation is known to contribute to key aspects of the cancer phenotype, including metastasis and fibrosis, and increased expression of TAZ is thought to be causally related to the progression of many cancers, including breast, lung, and liver. Therefore, understanding TAZ biology and the molecular mechanisms by which it promotes unregulated cell proliferation will yield insights and possibly improved treatments for both EHE as well as much more common cancers.
View Full-Text
►

▼

Figures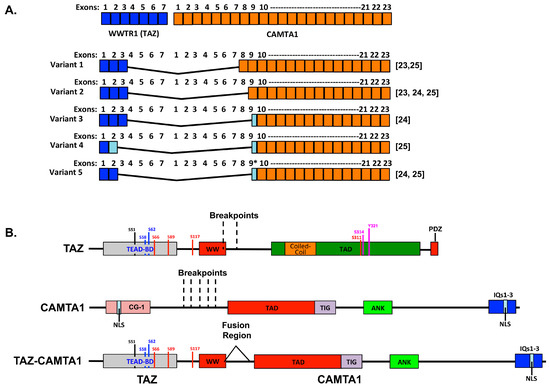 Figure 1
This is an open access article distributed under the
Creative Commons Attribution License
which permits unrestricted use, distribution, and reproduction in any medium, provided the original work is properly cited (CC BY 4.0).

Share & Cite This Article
MDPI and ACS Style
Lamar, J.M.; Motilal Nehru, V.; Weinberg, G. Epithelioid Hemangioendothelioma as a Model of YAP/TAZ-Driven Cancer: Insights from a Rare Fusion Sarcoma. Cancers 2018, 10, 229.
Note that from the first issue of 2016, MDPI journals use article numbers instead of page numbers. See further details here.
Related Articles
Comments
[Return to top]