Oncolytic Reovirus and Immune Checkpoint Inhibition as a Novel Immunotherapeutic Strategy for Breast Cancer
1
Department of Pathology and Laboratory Medicine, University of Calgary, 2500 University Drive NW, Calgary, AB T2N 1N4, Canada
2
Histocompatibility and Immunogenetics, Calgary Lab Services, 3535 Research Road NW, Calgary, AB T2L 2K8, Canada
3
Department of Oncology, University of Calgary, 1331 29 Street NW, Calgary, AB T2N 4N2, Canada
4
Tom Baker Cancer Centre, 1331 29 Street NW, Calgary, AB T2N 4N2, Canada
5
Faculty of Medicine, University of Toronto, King's College Circle, Toronto, ON M5S 1A8, Canada
*
Author to whom correspondence should be addressed.
†
These authors contributed equally to this work.
Received: 17 May 2018 / Revised: 8 June 2018 / Accepted: 8 June 2018 / Published: 15 June 2018
Abstract
As the current efficacy of oncolytic viruses (OVs) as monotherapy is limited, exploration of OVs as part of a broader immunotherapeutic treatment strategy for cancer is necessary. Here, we investigated the ability for immune checkpoint blockade to enhance the efficacy of oncolytic reovirus (RV) for the treatment of breast cancer (BrCa). In vitro, oncolysis and cytokine production were assessed in human and murine BrCa cell lines following RV exposure. Furthermore, RV-induced upregulation of tumor cell PD-L1 was evaluated. In vivo, the immunocompetent, syngeneic EMT6 murine model of BrCa was employed to determine therapeutic and tumor-specific immune responses following treatment with RV, anti-PD-1 antibodies or in combination. RV-mediated oncolysis and cytokine production were observed following BrCa cell infection and RV upregulated tumor cell expression of PD-L1. In vivo, RV monotherapy significantly reduced disease burden and enhanced survival in treated mice, and was further enhanced by PD-1 blockade. RV therapy increased the number of intratumoral regulatory T cells, which was reversed by the addition of PD-1 blockade. Finally, dual treatment led to the generation of a systemic adaptive anti-tumor immune response evidenced by an increase in tumor-specific IFN-γ producing CD8
+
T cells, and immunity from tumor re-challenge. The combination of PD-1 blockade and RV appears to be an efficacious immunotherapeutic strategy for the treatment of BrCa, and warrants further investigation in early-phase clinical trials.
View Full-Text
►

▼

Figures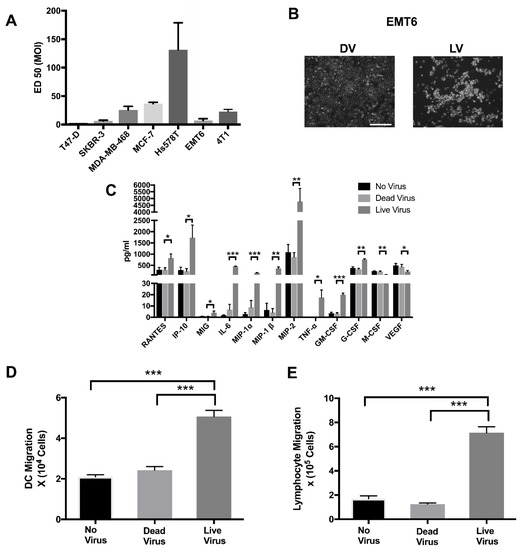 Figure 1
This is an open access article distributed under the
Creative Commons Attribution License
which permits unrestricted use, distribution, and reproduction in any medium, provided the original work is properly cited (CC BY 4.0).

Share & Cite This Article
MDPI and ACS Style
Mostafa, A.A.; Meyers, D.E.; Thirukkumaran, C.M.; Liu, P.J.; Gratton, K.; Spurrell, J.; Shi, Q.; Thakur, S.; Morris, D.G. Oncolytic Reovirus and Immune Checkpoint Inhibition as a Novel Immunotherapeutic Strategy for Breast Cancer. Cancers 2018, 10, 205.
Note that from the first issue of 2016, MDPI journals use article numbers instead of page numbers. See further details here.
Related Articles
Comments
[Return to top]