Selective Inhibition of Histone Deacetylation in Melanoma Increases Targeted Gene Delivery by a Bacteriophage Viral Vector
1
Cancer Phage Therapy Laboratory, Division of Brain Sciences, Burlington Danes Building, Hammersmith Hospital Campus, Imperial College London, Du Cane Road, London W12 0NN, UK
2
Comprehensive Cancer Imaging Centre, Faculty of Medicine, Hammersmith Hospital Campus, Imperial College London, Du Cane Road, London W12 0NN, UK
*
Author to whom correspondence should be addressed.
†
These authors contributed equally to this work.
Received: 2 April 2018 / Revised: 16 April 2018 / Accepted: 19 April 2018 / Published: 21 April 2018
Abstract
The previously developed adeno-associated virus/phage (AAVP) vector, a hybrid between M13 bacteriophage (phage) viruses that infect bacteria only and human Adeno-Associated Virus (AAV), is a promising tool in targeted gene therapy against cancer. AAVP can be administered systemically and made tissue specific through the use of ligand-directed targeting. Cancer cells and tumor-associated blood vessels overexpress the α
ν
integrin receptors, which are involved in tumor angiogenesis and tumor invasion. AAVP is targeted to these integrins via a double cyclic RGD4C ligand displayed on the phage capsid. Nevertheless, there remain significant host-defense hurdles to the use of AAVP in targeted gene delivery and subsequently in gene therapy. We previously reported that histone deacetylation in cancer constitutes a barrier to AAVP. Herein, to improve AAVP-mediated gene delivery to cancer cells, we combined the vector with selective adjuvant chemicals that inhibit specific histone deacetylases (HDAC). We examined the effects of the HDAC inhibitor C1A that mainly targets HDAC6 and compared this to sodium butyrate, a pan-HDAC inhibitor with broad spectrum HDAC inhibition. We tested the effects on melanoma, known for HDAC6 up-regulation, and compared this side by side with a normal human kidney HEK293 cell line. Varying concentrations were tested to determine cytotoxic levels as well as effects on AAVP gene delivery. We report that the HDAC inhibitor C1A increased AAVP-mediated transgene expression by up to ~9-fold. These findings indicate that selective HDAC inhibition is a promising adjuvant treatment for increasing the therapeutic value of AAVP.
View Full-Text
►

▼

Figures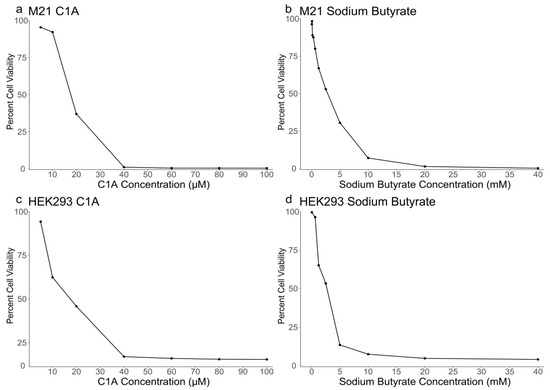 Figure 1
This is an open access article distributed under the
Creative Commons Attribution License
which permits unrestricted use, distribution, and reproduction in any medium, provided the original work is properly cited (CC BY 4.0).

Share & Cite This Article
MDPI and ACS Style
Campbell, S.; Suwan, K.; Waramit, S.; Aboagye, E.O.; Hajitou, A. Selective Inhibition of Histone Deacetylation in Melanoma Increases Targeted Gene Delivery by a Bacteriophage Viral Vector. Cancers 2018, 10, 125.
Note that from the first issue of 2016, MDPI journals use article numbers instead of page numbers. See further details here.
Related Articles
Comments
[Return to top]