Breaking down the Contradictory Roles of Histone Deacetylase SIRT1 in Human Breast Cancer
1
Department of Oncogenetics, Centre Jean Perrin, CBRV, 28 place Henri-Dunant, 63001 Clermont-Ferrand, France
2
INSERM—UMR 1240—Imagerie Moléculaire et Stratégies Théranostiques (IMoST), 58 Rue Montalembert, 63005 Clermont-Ferrand, France
3
Department of Biopathology, Centre Jean Perrin, 58 Rue Montalembert, 63011 Clermont-Ferrand, France
*
Author to whom correspondence should be addressed.
Received: 21 September 2018 / Revised: 23 October 2018 / Accepted: 26 October 2018 / Published: 30 October 2018
Abstract
Breast cancer (BC) is the most common type of cancer in women worldwide; it is a multifactorial genetic disease. Acetylation and deacetylation are major post-translational protein modifications that regulate gene expression and the activity of a myriad of oncoproteins. Aberrant deacetylase activity can promote or suppress tumorigenesis and cancer metastasis in different types of human cancers, including breast cancer. Sirtuin-1 (SIRT1) is a class-III histone deacetylase (HDAC) that deacetylates both histone and non-histone targets. The often-described 'regulator of regulators' is deeply implicated in apoptosis, gene regulation, genome maintenance, DNA repair, aging, and cancer development. However, despite the accumulated studies over the past decade, the role of SIRT1 in human breast cancer remains a subject of debate and controversy. The ambiguity surrounding the implications of SIRT1 in breast tumorigenesis stems from the discrepancy between studies, which have shown both tumor-suppressive and promoting functions of SIRT1. Furthermore, studies have shown that SIRT1 deficiency promotes or suppresses tumors in breast cancer, making it an attractive therapeutic target in cancer treatment. This review provides a comprehensive examination of the various implications of SIRT1 in breast cancer development and metastasis. We will also discuss the mechanisms underlying the conflicting roles of SIRT1, as well as its selective modulators, in breast carcinogenesis.
View Full-Text
►

▼

Figures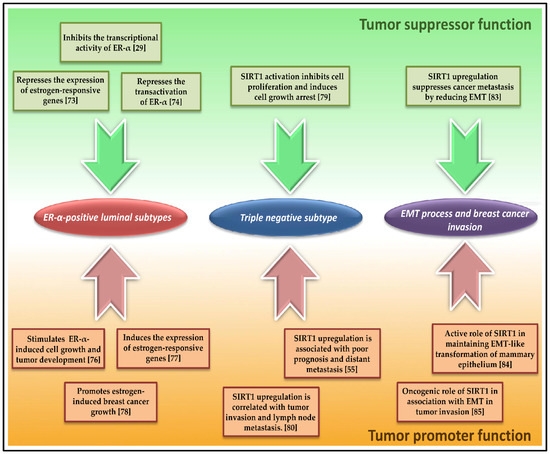 Figure 1
This is an open access article distributed under the
Creative Commons Attribution License
which permits unrestricted use, distribution, and reproduction in any medium, provided the original work is properly cited (CC BY 4.0).

Share & Cite This Article
MDPI and ACS Style
Rifaï, K.; Idrissou, M.; Penault-Llorca, F.; Bignon, Y.-J.; Bernard-Gallon, D. Breaking down the Contradictory Roles of Histone Deacetylase SIRT1 in Human Breast Cancer. Cancers 2018, 10, 409.
Note that from the first issue of 2016, MDPI journals use article numbers instead of page numbers. See further details here.
Related Articles
Comments
[Return to top]