Hypoxia-Induced Cisplatin Resistance in Non-Small Cell Lung Cancer Cells Is Mediated by HIF-1α and Mutant p53 and Can Be Overcome by Induction of Oxidative Stress
1
Center for Oncological Research (CORE), University of Antwerp, Universiteitsplein 1, 2610 Antwerp, Belgium
2
Department of Pathology, Antwerp University Hospital, Wilrijkstraat 10, 2650 Antwerp, Belgium
3
Department of Medical Oncology, Antwerp University Hospital, Wilrijkstraat 10, 2650 Antwerp, Belgium
4
Phase-1 Early Clinical Trials Unit, Antwerp University Hospital, Wilrijkstraat 10, 2650 Antwerp, Belgium
*
Author to whom correspondence should be addressed.
Received: 8 March 2018 / Revised: 12 April 2018 / Accepted: 14 April 2018 / Published: 21 April 2018
Abstract
The compound APR-246 (PRIMA-1
MET
) is a known reactivator of (mutant) p53 and inducer of oxidative stress which can sensitize cancer cells to platinum-based chemotherapeutics. However, the effect of a hypoxic tumor environment has been largely overlooked in this interaction. This study focusses on the role of hypoxia-inducible factor-1α (HIF-1α) and the p53 tumor suppressor protein in hypoxia-induced cisplatin resistance in non-small cell lung cancer (NSCLC) cells and the potential of APR-246 to overcome this resistance. We observed that hypoxia-induced cisplatin resistance only occurred in the p53 mutant NCI-H2228
Q331
* cell line, and not in the wild type A549 and mutant NCI-H1975
R273H
cell lines. Cisplatin reduced HIF-1α protein levels in NCI-H2228
Q331
* cells, leading to a shift in expression from HIF-1α-dependent to p53-dependent transcription targets under hypoxia. APR-246 was able to overcome hypoxia-induced cisplatin resistance in NCI-H2228
Q331
* cells in a synergistic manner without affecting mutant p53
Q331
* transcriptional activity, but significantly depleting total glutathione levels more efficiently under hypoxic conditions. Synergism was dependent on the presence of mutant p53
Q331
* and the induction of reactive oxygen species, with depletion of one or the other leading to loss of synergism. Our data further support the rationale of combining APR-246 with cisplatin in NSCLC, since their synergistic interaction is retained or enforced under hypoxic conditions in the presence of mutant p53.
View Full-Text
►

▼

Figures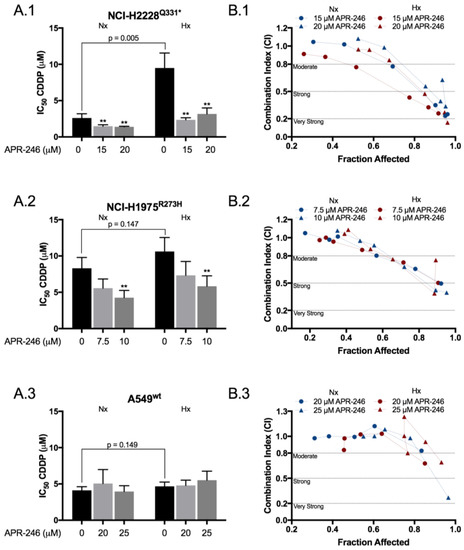 Figure 1
This is an open access article distributed under the
Creative Commons Attribution License
which permits unrestricted use, distribution, and reproduction in any medium, provided the original work is properly cited (CC BY 4.0).

Share & Cite This Article
MDPI and ACS Style
Deben, C.; Deschoolmeester, V.; De Waele, J.; Jacobs, J.; Van den Bossche, J.; Wouters, A.; Peeters, M.; Rolfo, C.; Smits, E.; Lardon, F.; Pauwels, P. Hypoxia-Induced Cisplatin Resistance in Non-Small Cell Lung Cancer Cells Is Mediated by HIF-1α and Mutant p53 and Can Be Overcome by Induction of Oxidative Stress. Cancers 2018, 10, 126.
Note that from the first issue of 2016, MDPI journals use article numbers instead of page numbers. See further details here.
Related Articles
Comments
[Return to top]