Open Access This article is
freely available
re-usable
Review
Epigenetic Modifications as Biomarkers of Tumor Development, Therapy Response, and Recurrence across the Cancer Care Continuum
1
Department of Pathology, Dalhousie University, Halifax, NS B3H 4G7, Canada
2
Department of Microbiology and Immunology, Dalhousie University, Halifax, NS B3H 4G7, Canada
*
Author to whom correspondence should be addressed.
Received: 14 February 2018 / Accepted: 27 March 2018 / Published: 1 April 2018
Abstract
:
Aberrant epigenetic modifications are an early event in carcinogenesis, with the epigenetic landscape continuing to change during tumor progression and metastasis—these observations suggest that specific epigenetic modifications could be used as diagnostic and prognostic biomarkers for many cancer types. DNA methylation, post-translational histone modifications, and non-coding RNAs are all dysregulated in cancer and are detectable to various degrees in liquid biopsies such as sputum, urine, stool, and blood. Here, we will focus on the application of liquid biopsies, as opposed to tissue biopsies, because of their potential as non-invasive diagnostic tools and possible use in monitoring therapy response and progression to metastatic disease. This includes a discussion of septin-9 (
SEPT9
) DNA hypermethylation for detecting colorectal cancer, which is by far the most developed epigenetic biomarker assay. Despite their potential as prognostic and diagnostic biomarkers, technical issues such as inconsistent methodology between studies, overall low yield of epigenetic material in samples, and the need for improved histone and non-coding RNA purification methods are limiting the use of epigenetic biomarkers. Once these technical limitations are overcome, epigenetic biomarkers could be used to monitor cancer development, disease progression, therapeutic response, and recurrence across the entire cancer care continuum.
Keywords:
epigenetics; biomarkers; cancer; liquid biopsy
Acknowledgments
Support was provided by grant funding to P.M. from the Cancer Research Society in partnership with the Institute of Cancer Research of the Canadian Institutes of Health Research (CIHR). M.L.T. is supported by CGS-D award from the CIHR, a Nova Scotia Health Research Foundation studentship, an NS graduate scholarship, and a Killam Laureate scholarship.
Conflicts of Interest
The authors declare no conflict of interest.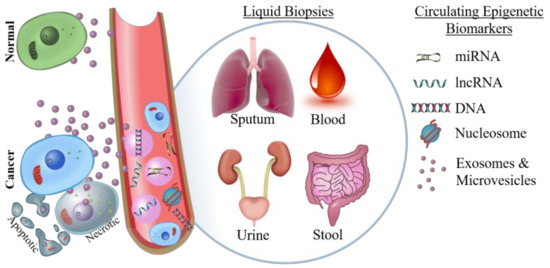 Figure 1. Types of epigenetic biomarkers that can be detected by liquid biopsy. Compared to normal cells, cancer cells shed a disproportionate amount of circulating free nucleic acids, microvesicle/exosome encapsulated nucleic acids, and nucleosomes; as well as shedding whole tumor cells into circulation. Epigenetic biomarkers can be detected in sputum (lung), urine (bladder and prostate), stool (colorectal), and blood (many cancer types). miRNA: microRNAs; lncRNA: long non-coding RNA.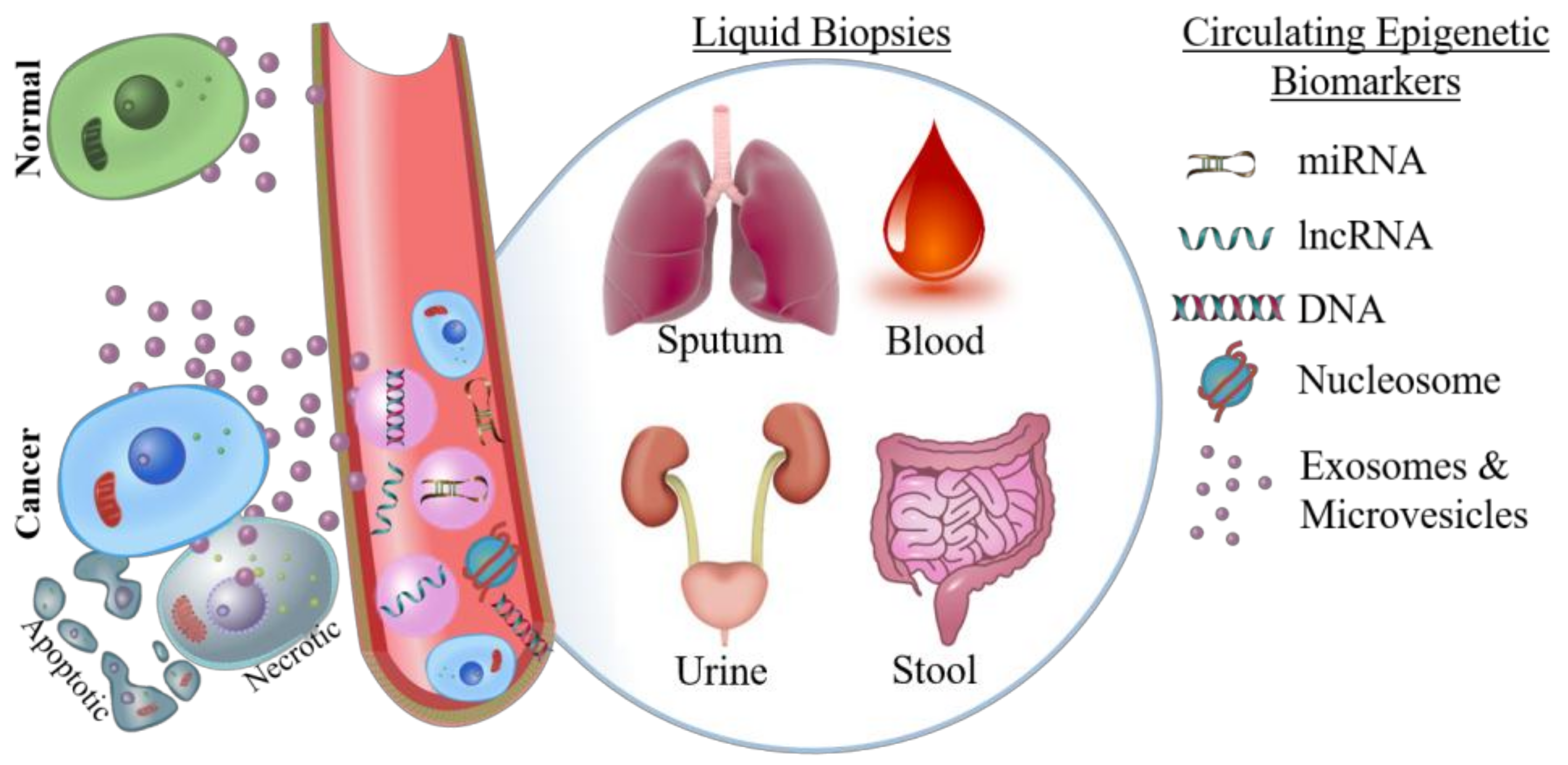 Table 1. Clinical trials using diagnostic, prognostic, or predictive biomarkers based on DNA methylation.
Clinical Trial ID
Marker
Test
Sample
Neoplasm
Biomarker Type
Result/Status
NCT01329718
Hypermethylated Septin-9 (

SEPT9

)
Epi proColon
Blood
Colorectal cancer
Diagnostic
Completed
NCT03218423
Colorectal cancer
Longitudinal (Diagnostic)
Recruiting
NCT00696345
Colorectal cancer
Diagnostic
Completed
NCT02198092
Hereditary colorectal cancer
Diagnostic
Recruiting
NCT03311152
Hepatocellular carcinoma
Diagnostic
Recruiting
NCT02540850
Hypermethylated

SEPT9

Blood
Colorectal cancer
Diagnostic
Completed
NCT00855348
Colorectal cancer
Diagnostic
Completed
NCT02419716
Hypermethylated NDRG family member 4 (

NDRG4

), bone morphogenetic protein 3 (

BMP3

)
ColoGuard
Stool
Colorectal cancer
Diagnostic
Active/Not Recruiting
NCT02715141
Recruiting
NCT01793207
7 Cpgs
Blood
Colorectal cancer
Diagnostic
Completed
NCT03146520
Hypermethylated syndecan 3 (

SDC2

)
EarlyTect
Stool
Colorectal cancer
Diagnostic
Enrolling by invitation
NCT02159339
Hypermethylated cyclin dependent kinase inhibitor 2A (

p16

)
Tumor
Gastric cancer
Prognostic- Metastasis
Completed
NCT00835341
Biopsy
Oral cancer
Diagnostic
Completed
NCT01695018
Mucosal Biopsy
Oral cancer
Diagnostic
Completed
NCT01774266
Hypermethylated TP53-dependent G2 arrest mediator homolog (

REPRIMO

)
Serum
Gastric cancer
Diagnostic
Recruiting
NCT01715233
Hypermethylated checkpoint with forkhead and ring finger domains (

CHFR

)
Biopsy
Esophageal, gastroesophageal, gastric cancer
Predictive-Taxane Response
Recruiting
NCT01372202
Biopsy
Esophageal cancer
Active/Not Recruiting
NCT03217097
Hypermethylated O-6-methylguanine-DNA methyltransferase (

MGMT

)
Biopsy
Neuroendocrine tumors
Predictive-Oxaliplatin/Alkylating Agent Response
Not Yet Recruiting
NCT02700464
15 CpGs
EpiCheck
Urine
Bladder eurothelial cell carcinoma
Recurrence
Recruiting
NCT02647112
Recruiting
NCT02688491
5 CpGs
Surgical Specimen
Clear cell renal carcinoma (Stage III)
Predictive-Sunitinib Response
Not Yet Recruiting

© 2018 by the authors. Licensee MDPI, Basel, Switzerland. This article is an open access article distributed under the terms and conditions of the Creative Commons Attribution (CC BY) license (http://creativecommons.org/licenses/by/4.0/).