EBV+ and MSI Gastric Cancers Harbor High PD-L1/PD-1 Expression and High CD8+ Intratumoral Lymphocytes
1
Department of Pathology, Ospedale di Circolo, 21100 Varese, Italy
2
Department of Surgical and Medical Sciences, University of Insubria, 21100 Varese, Italy
3
Department of Molecular Medicine, University of Pavia and IRCCS S. Matteo Hospital, Pavia 27100, Italy
*
Author to whom correspondence should be addressed.
Received: 28 February 2018 / Revised: 26 March 2018 / Accepted: 29 March 2018 / Published: 1 April 2018
Abstract
Both EBV
+
and MSI gastric cancers (GCs) have high lymphoid infiltration which is rare in MSS/EBV
−
cancers. PD-L1/PD-1 interaction leads to a down-regulated immune response and it is one of the most promising targets for gastric cancer immunotherapy. PD-L1/PD-1 and CD8 expression were immunohistochemically investigated in a series of 169 FFPE GCs, including 33 EBV
+
, 59 MSI and 77 MSS/EBV
−
cases. PD-L1 membrane immunoreactivity in more than 5% of tumor cells was present in 31/169 GCs and was associated with high levels of CD8 intraepithelial lymphocytes (TILs;
p
< 0.001). PD-L1
+
cases were mainly poorly differentiated (71%), intestinal type (85%) and high lymphoid response (HLR; 90%) tumors. PD-L1 expression was only present in EBV⁺ (46%), MSI (24%) and rare MSS/EBV
−
(3%) GCs with high CD8
+
TILs (
p
< 0.001). Despite being associated with a better prognosis both in the whole series (
p
< 0.05) and in the MSI subset, PD-L1 is not an independent prognostic factor. PD-L1 gene amplification was detected in 3/17 cases, including 2/7 EBV
+
and 1/8 MSI GC. PD-1⁺ TILs were significantly higher in EBV⁺ than MSI and MSS/EBV
−
cases. PD-L1/PD-1 pathway is selectively activated in HLR GCs and could be considered an emerging therapeutic target, particularly for EBV and MSI GCs.
View Full-Text
►

▼

Figures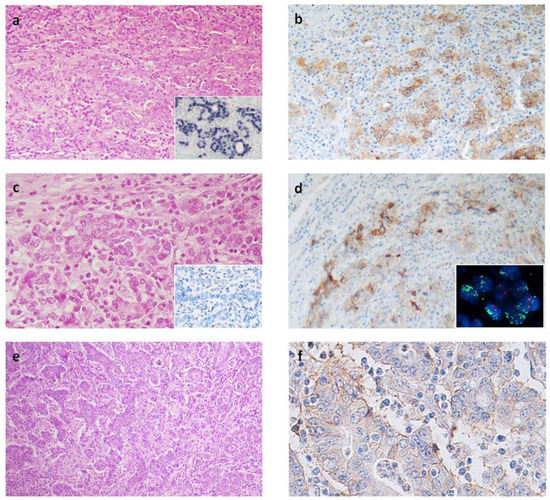 Figure 1
This is an open access article distributed under the
Creative Commons Attribution License
which permits unrestricted use, distribution, and reproduction in any medium, provided the original work is properly cited (CC BY 4.0).

Share & Cite This Article
MDPI and ACS Style
De Rosa, S.; Sahnane, N.; Tibiletti, M.G.; Magnoli, F.; Vanoli, A.; Sessa, F.; Chiaravalli, A.M. EBV+ and MSI Gastric Cancers Harbor High PD-L1/PD-1 Expression and High CD8+ Intratumoral Lymphocytes. Cancers 2018, 10, 102.
Note that from the first issue of 2016, MDPI journals use article numbers instead of page numbers. See further details here.
Related Articles
Comments
[Return to top]