Tackling Cancer Resistance by Immunotherapy: Updated Clinical Impact and Safety of PD-1/PD-L1 Inhibitors
1
College of Pharmacy, University of Sharjah, Sharjah 27272, UAE
2
Sharjah Institute for Medical Research, University of Sharjah, Sharjah 27272, UAE
3
Department of Pharmacology and Toxicology, College of Pharmacy and Health Sciences, Ajman University, Ajman 346, UAE
4
Department of Pharmacology and Toxicology, Faculty of Pharmacy, Beni-Suef University, Beni-Suef 62514, Egypt
*
Author to whom correspondence should be addressed.
Received: 10 December 2017 / Revised: 21 January 2018 / Accepted: 23 January 2018 / Published: 25 January 2018
Abstract
Cancer therapy has been constantly evolving with the hope of finding the most effective agents with the least toxic effects to eradicate tumors. Cancer immunotherapy is currently among the most promising options, fulfilling this hope in a wide range of tumors. Immunotherapy aims to activate immunity to fight cancer in a very specific and targeted manner; however, some abnormal immune reactions known as immune-related adverse events (IRAEs) might occur. Therefore, many researchers are aiming to define the most proper protocols for managing these complications without interfering with the anticancer effect. One of these targeted approaches is the inhibition of the interaction between the checkpoint protein, programmed death-receptor 1 (PD-1), and its ligand, programmed death-ligand 1 (PD-L1), via a class of antibodies known as PD-1/PD-L1 inhibitors. These antibodies achieved prodigious success in a wide range of malignancies, including those where optimal treatment is not yet fully identified. In this review, we have critically explored and discussed the outcome of the latest PD-1 and PD-L1 inhibitor studies in different malignancies compared to standard chemotherapeutic alternatives with a special focus on the clinical efficacy and safety. The approval of the clinical applications of nivolumab, pembrolizumab, atezolizumab, avelumab, and durvalumab in the last few years clearly highlights the hopeful future of PD-1/PD-L1 inhibitors for cancer patients. These promising results of PD-1/PD-L1 inhibitors have encouraged many ongoing preclinical and clinical trials to explore the extent of antitumor activity, clinical efficacy and safety as well as to extend their applications.
View Full-Text
►

▼

Figures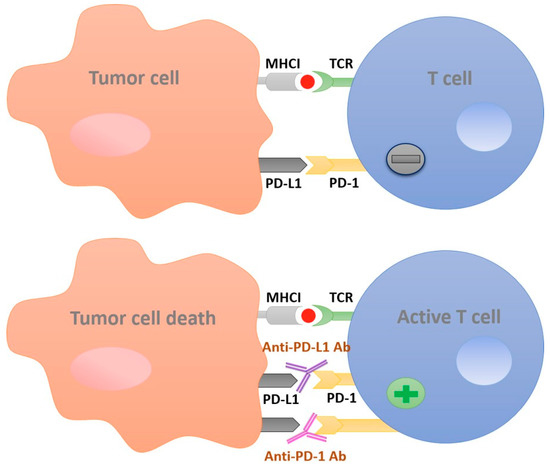 Figure 1
This is an open access article distributed under the
Creative Commons Attribution License
which permits unrestricted use, distribution, and reproduction in any medium, provided the original work is properly cited (CC BY 4.0).

Share & Cite This Article
MDPI and ACS Style
Abdin, S.M.; Zaher, D.M.; Arafa, E.-S.A.; Omar, H.A. Tackling Cancer Resistance by Immunotherapy: Updated Clinical Impact and Safety of PD-1/PD-L1 Inhibitors. Cancers 2018, 10, 32.
Note that from the first issue of 2016, MDPI journals use article numbers instead of page numbers. See further details here.
Related Articles
Comments
[Return to top]