Cell-Penetrating CaCO3 Nanocrystals for Improved Transport of NVP-BEZ235 across Membrane Barrier in T-Cell Lymphoma
1
Dipartimento di Scienze e Tecnologie Biologiche e Ambientali, Università del Salento & UdR INSTM di Lecce, Campus Universitario, Via Monteroni, 73100 Lecce, Italy
2
Dipartimento di Medicina Diagnostica, Clinica e di Sanità Pubblica, Università di Modena & Reggio Emilia, via Campi 287, 41125 Modena, Italy
3
Dipartimento di Scienze della Vita, Università di Modena e Reggio Emilia, Via Campi 103, 41125 Modena, Italy
4
CNR NANOTEC—Istituto di Nanotecnologia c/o Campus Ecotekne, Università del Salento, Via Monteroni, 73100 Lecce, Italy
5
Dipartimento di Scienze e Tecnologie Biologiche e Ambientali, Università del Salento, Via Monteroni, 73100 Lecce, Italy
*
Authors to whom correspondence should be addressed.
Received: 20 November 2017 / Revised: 15 January 2018 / Accepted: 19 January 2018 / Published: 25 January 2018
Abstract
Owing to their nano-sized porous structure, CaCO
3
nanocrystals (CaCO
3
NCs) hold the promise to be utilized as desired materials for encapsulating molecules which demonstrate wide promise in drug delivery. We evaluate the possibility to encapsulate and release NVP-BEZ235, a novel and potent dual PI3K/mTOR inhibitor that is currently in phase I/II clinical trials for advanced solid tumors, from the CaCO
3
NCs. Its chemical nature shows some intrinsic limitations which induce to administer high doses leading to toxicity; to overcome these problems, here we proposed a strategy to enhance its intracellular penetration and its biological activity. Pristine CaCO
3
NCs biocompatibility, cell interactions and internalization in in vitro experiments on T-cell lymphoma line, were studied. Confocal microscopy was used to monitor NCs-cell interactions and cellular uptake. We have further investigated the interaction nature and release mechanism of drug loaded/released within/from the NCs using an alternative approach based on liquid chromatography coupled to mass spectrometry. Our approach provides a good loading efficiency, therefore this drug delivery system was validated for biological activity in T-cell lymphoma: the anti-proliferative test and western blot results are very interesting because the proposed nano-formulation has an efficiency higher than free drug at the same nominal concentration.
View Full-Text
►

▼

Figures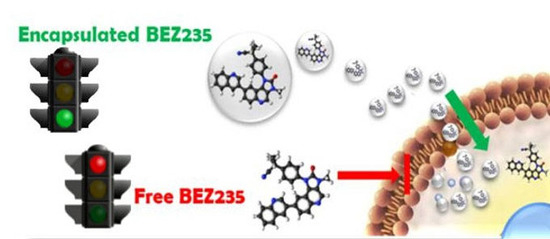 Graphical abstract
This is an open access article distributed under the
Creative Commons Attribution License
which permits unrestricted use, distribution, and reproduction in any medium, provided the original work is properly cited (CC BY 4.0).

Share & Cite This Article
MDPI and ACS Style
Vergaro, V.; Civallero, M.; Citti, C.; Cosenza, M.; Baldassarre, F.; Cannazza, G.; Pozzi, S.; Sacchi, S.; Fanizzi, F.P.; Ciccarella, G. Cell-Penetrating CaCO3 Nanocrystals for Improved Transport of NVP-BEZ235 across Membrane Barrier in T-Cell Lymphoma. Cancers 2018, 10, 31.
Note that from the first issue of 2016, MDPI journals use article numbers instead of page numbers. See further details here.
Related Articles
Comments
[Return to top]