Choline Kinase Alpha Inhibition by EB-3D Triggers Cellular Senescence, Reduces Tumor Growth and Metastatic Dissemination in Breast Cancer
1
Pediatric Hematooncology Laboratory, Department of Women's and Children's health, University of Padova, 35128 Padova, Italy
2
Fondazione Istituto di Ricerca Pediatrica Città della Speranza, 35127 Padova, Italy
3
Experimental Oncology and Immunology, Department of Molecular and Translational Medicine, University of Brescia, 25123 Brescia, Italy
4
In Vivo Cellular Molecular Imaging Center Program, Russell H. Morgan Department of Radiology and Radiological Science, John Hopkins University, Baltimore, MD 21205, USA
5
Department of Pharmaceutical Chemistry and Organic, Faculty of Pharmacy, Cartuja Campus, University of Granada, 18011 Granada, Spain
*
Authors to whom correspondence should be addressed.
Received: 4 September 2018 / Revised: 15 October 2018 / Accepted: 16 October 2018 / Published: 22 October 2018
Abstract
Choline kinase (ChoK) is the first enzyme of the Kennedy pathway leading to the biosynthesis of phosphatidylcholine (PtdCho), the most abundant phospholipid in eukaryotic cell membranes. EB-3D is a novel choline kinase α1 (ChoKα1) inhibitor with potent antiproliferative activity against a panel of several cancer cell lines. ChoKα1 is particularly overexpressed and hyperactivated in aggressive breast cancer. By NMR analysis, we demonstrated that EB-3D is able to reduce the synthesis of phosphocholine, and using flow cytometry, immunoblotting, and q-RT-PCR as well as proliferation and invasion assays, we proved that EB-3D strongly impairs breast cancer cell proliferation, migration, and invasion. EB-3D induces senescence in breast cancer cell lines through the activation of the metabolic sensor AMPK and the subsequent dephosphorylation of mTORC1 downstream targets, such as p70S6K, S6 ribosomal protein, and 4E-BP1. Moreover, EB-3D strongly synergizes with drugs commonly used for breast cancer treatment. The antitumorigenic potential of EB-3D was evaluated in vivo in the syngeneic orthotopic E0771 mouse model of breast cancer, where it induces a significant reduction of the tumor mass at low doses. In addition, EB-3D showed an antimetastatic effect in experimental and spontaneous metastasis models. Altogether, our results indicate that EB-3D could be a promising new anticancer agent to improve aggressive breast cancer treatment protocols.
View Full-Text
►

▼

Figures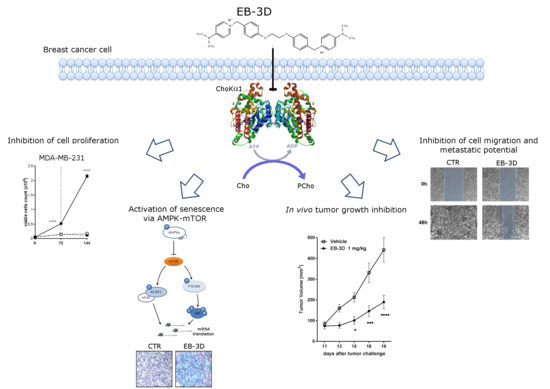 Graphical abstract
This is an open access article distributed under the
Creative Commons Attribution License
which permits unrestricted use, distribution, and reproduction in any medium, provided the original work is properly cited (CC BY 4.0).

Share & Cite This Article
MDPI and ACS Style
Mariotto, E.; Viola, G.; Ronca, R.; Persano, L.; Aveic, S.; Bhujwalla, Z.M.; Mori, N.; Accordi, B.; Serafin, V.; López-Cara, L.C.; Bortolozzi, R. Choline Kinase Alpha Inhibition by EB-3D Triggers Cellular Senescence, Reduces Tumor Growth and Metastatic Dissemination in Breast Cancer. Cancers 2018, 10, 391.
Note that from the first issue of 2016, MDPI journals use article numbers instead of page numbers. See further details here.
Related Articles
Comments
[Return to top]