Open Access This article is
freely available
re-usable
Review
Cancer-Associated Thrombosis: An Overview of Mechanisms, Risk Factors, and Treatment
1
School of Pharmacy and Biomedical Sciences, Curtin University, Perth 6100, Australia
2
Curtin Health Innovation Research Institute, Curtin University, Perth 6100, Australia
3
Fiona Stanley Hospital, Perth 6150, Australia
4
School of Medicine, Curtin University, Perth 6100, Australia
*
Author to whom correspondence should be addressed.
Received: 11 September 2018 / Accepted: 7 October 2018 / Published: 11 October 2018
Abstract
:
Cancer-associated thrombosis is a major cause of mortality in cancer patients, the most common type being venous thromboembolism (VTE). Several risk factors for developing VTE also coexist with cancer patients, such as chemotherapy and immobilisation, contributing to the increased risk cancer patients have of developing VTE compared with non-cancer patients. Cancer cells are capable of activating the coagulation cascade and other prothrombotic properties of host cells, and many anticancer treatments themselves are being described as additional mechanisms for promoting VTE. This review will give an overview of the main thrombotic complications in cancer patients and outline the risk factors for cancer patients developing cancer-associated thrombosis, focusing on VTE as it is the most common complication observed in cancer patients. The multiple mechanisms involved in cancer-associated thrombosis, including the role of anticancer drugs, and a brief outline of the current treatment for cancer-associated thrombosis will also be discussed.
Keywords:
venous thromboembolism; thrombosis; cancer
1. Introduction
Armand Trousseau first reported on the relationship between thrombosis and cancer in 1865. Since then, numerous studies have established that thrombosis is a common complication for cancer patients, contributing to the second-leading cause of mortality in cancer patients [
1
,
2
]. Thrombotic complications in cancer can vary from arterial or venous thromboembolism to disseminated intravascular coagulation [
3
,
4
]. Despite the well-known association between cancer and thromboembolic disease, the mechanisms that promote thromboembolic events in cancer patients are not clear and appear to be multifaceted [
5
]. Cancer patients are generally in a hypercoagulable or prothrombotic state, as they usually present with abnormalities in each component of Virchow's triad, thus contributing to thrombosis. The three components are a stasis of blood flow, endothelial injury, and hypercoagulability, the latter including abnormalities in the coagulation and fibrinolytic pathway and platelet activation. The specific mechanisms leading to abnormalities in Virchow's triad in cancer patients, particularly the effect on the host haemostatic system to promote the prothrombotic state, are not well understood and may be tumour specific as different cancer types have varying risk rates for cancer-associated thrombosis. This review will give an overview of the main thrombotic and bleeding disorders in cancer (arterial and venous thrombosis and chronic disseminated intravascular coagulation), the risk factors for developing cancer-associated thrombosis, and the multiple mechanisms (direct and indirect) thought to promote cancer-associated thrombosis. A brief outline of the current treatment of cancer-associated thrombosis will also be discussed.
2. Types of Cancer-Associated Thrombosis
2.1. Venous Thromboembolism
Venous thromboembolism (VTE) comprises deep vein thrombosis (DVT) and pulmonary embolism (PE). The development of VTE is often initiated in the valve sinus where a number of features surrounding these valves make the site prone to thrombosis. These include abnormal and reduced blood flow, reduced shear stress, and hypoxia leading to an intact but dysfunctional endothelium [
6
]. In addition, platelets and leukocytes tend to become trapped in valve pockets [
7
]. In cancer patients, tumours can compress veins, resulting in venous stasis, thus encouraging thrombosis. VTE contributes significantly to morbidity and mortality of cancer patients, with a fatal PE being 3 times more common in cancer patients compared to non-cancer patients [
8
,
9
]. Cancer patients have a 5- to 7-fold increased risk of developing VTE [
10
,
11
] and those who develop VTE at diagnosis of cancer or within the year tend to have a significantly worse prognosis compared with cancer patients without VTE [
12
]. A diagnosis of VTE is a serious complication of cancer that adversely affects a patient's quality of life and reduces overall survival rates [
13
,
14
]. It is estimated that approximately 4–20% of cancer patients will experience VTE at some stage, the rate being the highest in the initial period following diagnosis. Annually, 0.5% of cancer patients will experience thrombosis compared with a 0.1% incidence rate in the general population [
15
].
2.2. Arterial Thrombosis
Although there are fewer data available on arterial thrombosis in cancer compared with on VTE, it is nonetheless observed in cancer. There have been multiple case reports suggesting acute arterial thrombosis in the setting of a new malignancy [
16
]. Navi et al. recently investigated the association between cancer patients and risk of arterial thrombosis in a large retrospective matched-cohort study. The incidence rate of arterial thrombosis at 6 months was 4.7% in cancer patients compared with 2.2% in the matched controls [
17
].
The pathogenesis of arterial thrombosis differs substantially from venous thrombosis as it typically occurs with endothelial damage. An atherosclerotic plaque is prone to thrombosis when it presents as a lipid-rich core with a thin fibrous cap. A thrombus can form over a ruptured plaque or an intact plaque that has superficial endothelial erosion [
18
]. Platelet activation that is persistent at the site of rupture promotes thrombosis by the exposure of procoagulant molecules within the plaque core. In contrast to the low venous shear rates in VTE development, the high shear rates in stenosed arteries contribute to a thrombus that is predominantly composed of platelets, as they are the only blood component capable of adhering at high shear. The high shear rates can also activate platelets, thus further promoting thrombosis [
19
]. The resulting intraluminal thrombosis often manifests as myocardial infarction or stroke. Furthermore, tissue factor found in atherosclerotic plaques appears to play an important role in the initial development of thrombosis following plaque rupture [
18
]. It should be noted, however, that arterial thrombosis in cancer can occur in the absence of an atherosclerotic plaque such as that observed in cardiovascular patients, where systemic hypercoagulation is induced by several secreted factors from cancer cells, such as thrombin and vascular endothelial growth factor (VEGF), thereby promoting platelet activation and coagulation [
20
].
Many chemotherapeutic agents are known to be prothrombotic and there are multiple case reports documenting an association between chemotherapy and arterial thrombosis. Platinum-based agents (cisplatin), vascular endothelial growth factor (VEGF) inhibitors (bevacizumab), and VEGF tyrosine kinase receptor inhibitors (sorafenib/sunitinib/pazopanib) have been associated with increased rates of arterial thrombosis [
20
]. Other major risk factors for arterial thrombosis include vessel damage which results from hypertension, atherosclerosis, or vascular anomalies. These factors contribute to arterial thrombosis by inducing turbulence and altering blood flow, hence allowing for platelet adhesion which plays an important role in pathogenesis [
18
]. Furthermore, a recent meta-analysis has shown that the major risk factors for arterial thrombosis are significantly associated with VTE [
21
], suggesting that the two thrombotic disorders are simultaneously activated by biological stimuli.
2.3. Chronic Disseminated Intravascular Coagulation
Thrombotic complications observed in cancer are not limited to VTE or arterial thrombosis, with other more severe manifestations of the procoagulant state such as disseminated intravascular coagulation (DIC) and thrombotic microangiopathy (TMA) [
12
,
22
,
23
]. DIC is a severe yet rare complication of cancer that manifests itself as a consumptive coagulopathy resulting in microvascular thrombosis with tendency for severe bleeding, thrombocytopaenia, and organ failure [
24
,
25
]. Bleeding is thought to be due to hyperfibrinolysis that dominates microvascular thrombosis [
26
]. The incidence of DIC in solid tumours reported in a clinical study was 7% [
27
], with other reports indicating high incidence of up to 85% in acute promyelocytic leukaemia [
28
] Treating cancer patients with acute DIC is often very difficult with the majority of patients dying within 1–4 weeks [
24
]. DIC and thrombogenesis in cancer patients tends to involve defects in the three constituents of normal host defense against thrombosis: (1) blood flow leading to stasis, (2) balance of the procoagulant and anticoagulant proteins within the blood, resulting in the activation of circulating procoagulant proteins, and (3) vessel wall activation, resulting in an increase in its procoagulant contribution [
12
]. The clinical presentation of DIC in cancer patients is often less severe and has a more delayed onset, but following the clinical presentation, DIC progresses in a gradual yet chronic manner whereby systemic activation of coagulation occurs [
22
]. Eventually, this process can result in the exhaustion of coagulation factors and platelets, and bleeding may occur as the first clinical symptom to indicate DIC [
22
].
DIC is often difficult to distinguish from thrombotic microangiopathy (TMA), which manifests as thrombotic purpura and haemolytic uremic syndrome [
23
]. TMA shares the same clinical consequences as DIC and, thus, also leads to microvascular thrombosis with increased tendency for bleeding and organ failure. However, although DIC and TMA are similar and associated with each other, it is important that they be differentially diagnosed as treatments for TMA and DIC are different [
25
]. DIC is brought about by the marked activation and consumption of the coagulation system (triggered by substances like tissue factor, inflammatory cytokines, and activation leukocytes) which subsequently activates secondary fibrinolysis [
25
]. However, TMA onset is initiated by the marked activated and consumption of platelets in response to numerous factors which in turn lead to activation and subsequent injury to vascular endothelial cells [
25
].
3. Risk Factors for Cancer-Associated Thrombosis
Cancer is a well-known and established risk factor for thromboembolic events; however, there are several other risk factors known to increase a cancer patient's risk of developing thrombosis. In cancer patients, arterial and venous thrombosis are considered clinical manifestations of a multifactorial systemic disease and result from a number of risk factors which can be divided into the individual patient and cancer-associated risks [
29
]. Such risk factors include age, ethnicity, immobility, cancer type, and chemotherapy, will be discussed briefly below. Due to VTE being much more frequently clinically observed in cancer patients relative to arterial thrombosis, this section will concentrate on risk factors for VTE.
3.1. Individual Patient Risk Factors
3.1.1. Age
In the general population, incidence rates for VTE increase exponentially with age [
30
,
31
]. A large prospective study found that individuals aged 85 years and older have an almost 10-fold higher incidence rate (6.96 per 1000 person-years) compared with those aged 45 to 54 years of age (0.72 per 1000 person-years) [
31
]. Likewise, increasing age is a risk factor for VTE in the cancer population. In retrospective cohort studies, cancer patients aged ≥65 years old have a greater likelihood of developing VTE compared with younger patients [
32
,
33
]. Similarly, in patients undergoing cancer surgery, the risk of VTE increased with age, compared with those aged less than 60 years (OR = 2.6, 95% CI: 1.2–5.7). In a retrospective cohort study undertaken by Vergati and colleagues that included cancer patients that were undergoing chemotherapy, the elderly patients (>70 years) had an almost 2-fold increased risk of developing VTE compared with the young to middle-aged patients (≤70 years), with incidence rates of 11% and 6%, respectively [
34
]. Increasing age, irrespective of cancer, is accompanied by factors that increase one's risk of thrombosis, including decreased exercise, increased immobility, and systemic activation of coagulation (reviewed in [
35
]).
3.1.2. Sex
Few studies have looked at the overall effect of sex in a cancer cohort and the risk of developing VTE. Retrospective studies show that females are at greater risk for VTE [
32
], while male patients are more likely to develop arterial thromboembolism [
33
]. In contrast, Chew et al. [
36
] found that sex did not predict thromboembolism in any of the cancers included in their study.
3.1.3. Race
In a large retrospective study by Khorana et al. [
32
], the rates of VTE occurrence in cancer patients of different ethnicities were examined. A significant association with VTE was found in black patients, who had the highest rate of VTE (5.1%), followed by whites and Hispanic patients (4.0%). The lowest rates were observed in Asian/Pacific Islander patients (3.3%), consistent with Chew et al. [
36
]. Moreover, the rate of VTE in black patients increased at a greater rate (36.7%) than in other ethnicities (26.8%). In contrast, a large retrospective study found no significant differences in the incidence rates of PE and DVT between blacks and whites [
37
].
3.1.4. Comorbidities
Multiple studies have identified an association between medical comorbidities and an increased risk of cancer-associated thrombosis. Comorbid conditions such as renal failure, respiratory disease, heart disease, obesity, and acute infection have been found to be associated with an increased risk of developing VTE in cancer patients, with infection identified as one of the most strongly associated risk factors for VTE [
9
,
32
].
3.1.5. Immobility
Immobility plays a role in predisposing cancer patients to VTE. Mobility in cancer patients is clinically assessed by performance status, and higher rates of VTE were observed in cancer patients with poor performance status [
38
,
39
]. In another study, bed rest of greater than 3 days was associated with significantly higher rates of VTE [
40
]. It is believed that immobility increases the chance of VTE through stasis of the venous blood flow [
41
].
3.1.6. Previous History of VTE
3.2. Cancer-Associated Risk Factors
The rates of cancer-associated thrombosis (CAT) can be impacted by a number of cancer-related risk factors including cancer site, stage, histological subtype, and time since diagnosis. It is important to note that comparison of VTE rates amongst different patients in the literature is often difficult due to varying differences in study design, patient populations, methods for data collection, and follow-up periods [
42
].
3.3. Cancer-Treatment-Associated Risk Factors
4. Mechanisms of Cancer-Associated Thrombosis
The molecular mechanisms leading to the predisposition of cancer patients to thromboembolic events are poorly understood. However, several mechanisms that can promote a hypercoagulable state are seen in cancer patients, thereby increasing the risk of thromboembolic events. This section will focus on both direct (
Figure 1
) and indirect (
Figure 2
) mechanisms where a number of studies which the readers are referred to are pancreatic or stomach cancer studies.
4.1. Direct Mechanisms for Cancer-Associated Thrombosis
4.2. Indirect Mechanisms of Cancer-Associated Thrombosis
Both cancer-derived factors and associated mechanisms that can activate or facilitate interactions with host cells can subsequently promote thromboembolic events. The host cells that have main roles in promoting thrombosis in cancer include platelets, leukocytes, and endothelial cells. A summary of indirect mechanisms that can promote thrombosis in cancer is depicted in
Figure 2
.
5. Patient Management
Cancer patients have a significantly higher risk of developing VTE as compared to non-cancer patients. This is due to a combination of cancer-related, treatment-related, and patient-related factors. The pathophysiology of cancer-associated thrombosis is multifactorial and poorly understood. Patients with cancer-associated thrombosis have significantly shorter overall survival than cancer patients without thrombosis. All cancer patients should be periodically assessed for VTE risk. The risks of cancer-associated thrombosis increase with hospitalisation, infection, chemotherapy, blood transfusions, erythropoiesis-stimulating agents, the presence of medical comorbidities, and the presence of central venous catheters. Cancer patients undergoing major abdominal or pelvic surgery should be offered postoperative VTE prophylaxis for up to 4 weeks. Healthcare professionals should educate patients about the signs and symptoms of VTE. A high index of suspicion is required for the early diagnosis of cancer-associated thrombosis, and early initiation of treatment can improve survival.
6. Cancer-Associated Thrombosis Therapy
A detailed discussion concerning therapeutic management of cancer-associated thrombosis is beyond the scope of this review. The reader is referred to several exhaustive reviews on this topic, which cover the use and appropriateness of thromboprophylaxis in cancer patients undergoing surgery and in the ambulatory patient setting, as well as clinical strategies for acute and extended treatment (>6 months) and treatment issues within special populations (patients with recurrent VTE while on anticoagulation, patients with thrombocytopenia, patients with brain tumours, catheter-related thrombosis, and incidental cancer-related thrombosis) [
142
,
143
]. Low-molecular-weight heparin has been shown to be superior to warfarin in reducing the risk of current VTE in patients with cancer-associated thrombosis and is the recommended current standard thromboprophylactic treatment [
142
,
143
,
144
] and first-line therapy for acute cancer-associated thrombosis in several existing major clinical guidelines [
145
,
146
]. For VTE and cancer, the CHEST guideline and expert panel report [
146
] suggests usage of low-molecular-weight heparin over vitamin K antagonists (moderate-quality evidence, grade 2B), and low-molecular-weight heparin over direct-acting oral anticoagulants, dabigatran (Grade 2C), rivaroxaban (Grade 2C), apixaban (Grade 2C), or edoxaban (Grade 2C). Until recently there has been a paucity of evidence with respect to the use of direct-acting oral anticoagulants for treating cancer-associated thrombosis and whilst their use relative to low-molecular-weight heparin would have practical advantages, concerns remain around the lack of reversal agents to rapidly allow haemostasis and the lack of widely available assays to monitor their anticoagulant activity [
142
]. Recently, the first large randomised prospective clinical trial, the Hokusai VTE Cancer study, was published comparing the safety and efficacy of dalteparin (low-molecular-weight heparin) with edoxaban (a direct-acting Factor Xa inhibitor) [
147
]. Oral edoxaban was non-inferior to subcutaneous dalteparin with respect to a composite outcome of recurrent VTE or major bleeding. The rate of recurrent VTE was lower with edoxaban but with a higher rate of major bleeding. In a smaller clinical trial with a similar patient profile to Hokusai VTE Cancer study, Young et al. published the results of SELECT-D trial in which they compared oral Factor Xa inhibitor (rivaroxaban) with low-molecular-weight heparin in cancer patients with VTE. They concluded that rivaroxaban was associated with low VTE recurrence but higher clinically relevant nonmajor bleeding [
131
].
7. Conclusions
In recent years there have been significant advances in our understanding of the molecular mechanisms associated with the increased risk of VTE in cancer, although there remain significant gaps in our knowledge of the causes of and best approaches for thromboprophylaxis in cancer-associated thrombosis. More research in this field should lead to a better understanding of the pathophysiology and optimal therapeutic approaches for the prevention of cancer-related thrombosis.
Author Contributions
Conceptualisation, P.M.; Original draft preparation, N.B.A.R.; Writing—review and editing, N.B.A.R., G.J., M.B., M.C.B. and P.M.; Visualisation, P.M.; Supervision, P.M.
Funding
This research received no external funding.
Acknowledgments
The authors acknowledge financial and infrastructure support from the Faculty of Health Sciences, Curtin Health Innovation Research Institute and School of Pharmacy and Biomedical Sciences, Curtin University. We also gratefully acknowledge the support from the Australian Rotary Health/Jane Loxton PhD Scholarship for N.B.A.R. and the contribution of an Australian Government Research Training Program Scholarship supporting this research.
Conflicts of Interest
The authors declare no conflict of interest.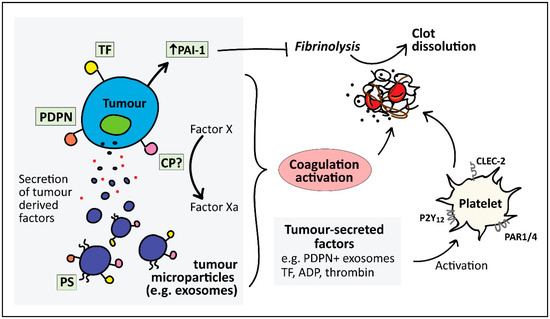 Figure 1. Direct mechanisms involved in cancer-associated thrombosis. Direct activation of coagulation and platelets can occur through several factors expressed on or released from cancer cells. These include the expression of tissue factor (TF), the key initiator of the coagulation cascade, which can also be released by TF-positive microparticles. Podoplanin (PDPN) expression can directly cause platelet activation and aggregation via the C-type lectin-like receptor 2 (CLEC-2) receptor on platelets. Plasminogen activation inhibitor-1 (PAI-1), a key inhibitor of fibrinolysis, is highly expressed in cancer cells. Cancer cells also secrete platelet agonists such as ADP and thrombin, thus further promoting platelet activation through P2Y12 and protease-activated receptors 1 and 4 (PAR1/4), respectively. Phosphatidyl serine (PS) expressed on tumour microparticles may also promote coagulation as PS serves as a surface for formation of coagulation complexes. Cancer procoagulant (CP) has been shown to directly activate coagulation by activating Factor X.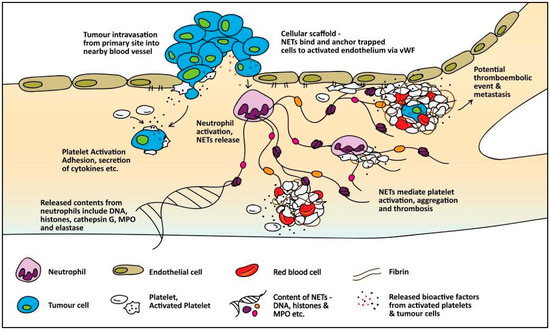 Figure 2. Indirect mechanisms promoting thrombosis in cancer. Tumours can be highly metastatic, resulting in cancer cell dissemination and intravasation into nearby blood vessels. Inflammatory cytokine secretion from tumour cells can cause activation of platelets and promote a procoagulant phenotype in endothelial cells. Cancer-derived factors also stimulate neutrophils to release neutrophil extracellular traps (NETs). NETs serve as a scaffold that can physically entrap platelets, or activate platelets through NET-associated histones, ultimately leading to profound platelet activation, fibrin deposition, and entrapment of red blood cells, exacerbating clot formation.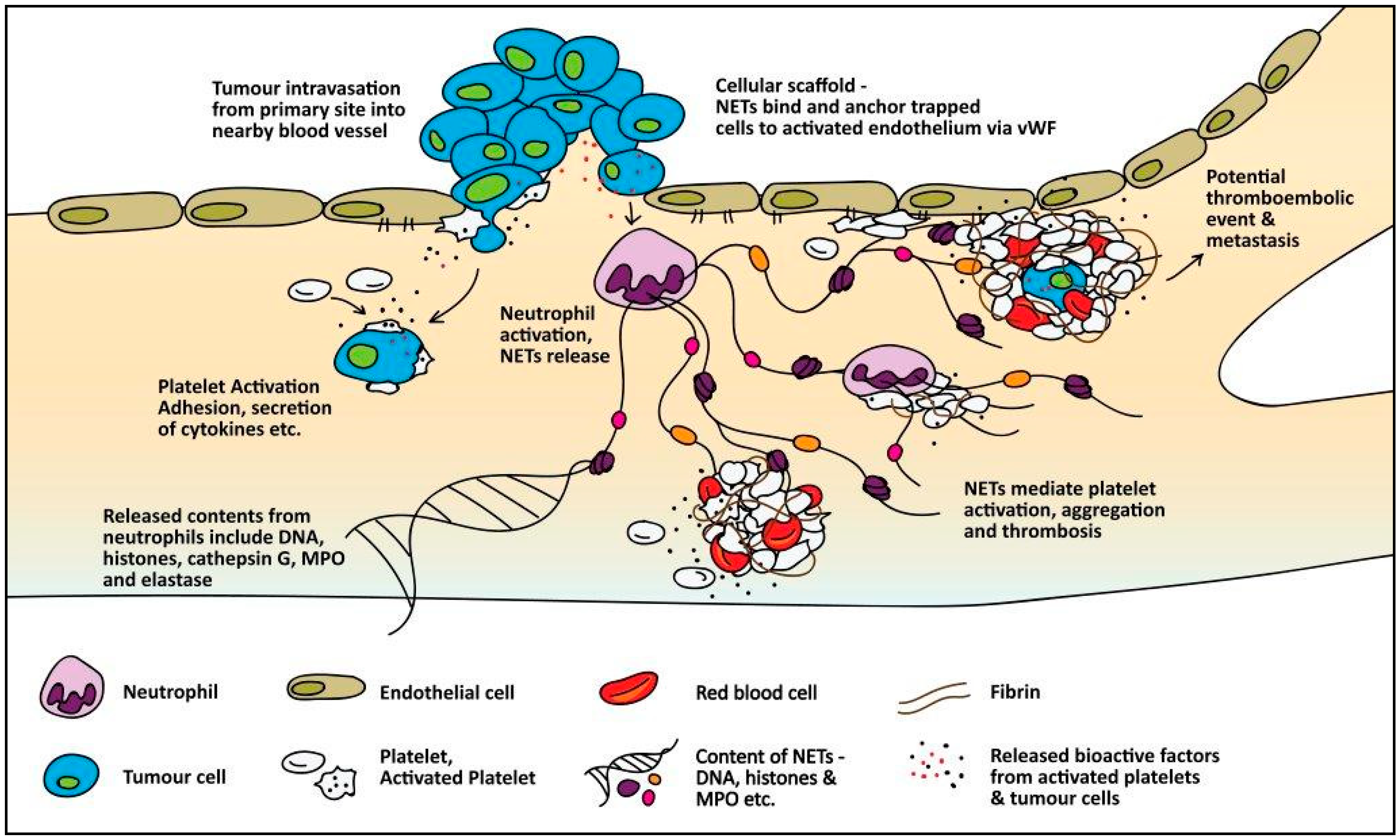 © 2018 by the authors. Licensee MDPI, Basel, Switzerland. This article is an open access article distributed under the terms and conditions of the Creative Commons Attribution (CC BY) license (http://creativecommons.org/licenses/by/4.0/).