Identification of the Transcription Factor Relationships Associated with Androgen Deprivation Therapy Response and Metastatic Progression in Prostate Cancer
1
Genetics and Molecular Biology PhD Program, Emory University, Atlanta 30322, Georgia
2
Department of Urology, Emory University School of Medicine, Atlanta 30322, Georgia
3
Centre de Recherche du Centre Hospitalier de l'Université de Montréal (CRCHUM)/Institut du cancer de Montréal, Montreal, QC H2X 0A9, Canada
4
MSTP/MD PhD, Emory University, Atlanta 30322, Georgia
5
Pathology and Laboratory Medicine, Emory University School of Medicine, Atlanta 30322, Georgia
6
Division of Cancer Biology and Therapeutics, Departments of Surgery & Biomedical Sciences, Samuel Oschin Comprehensive Cancer Institute, Cedars-Sinai Medical Center, Los Angeles, CA 90048, USA
7
Department of Radiation Oncology, Emory University School of Medicine, Atlanta 30322, Georgia
8
Winship Cancer Institute of Emory University, Atlanta 30322, Georgia
9
Department of Human Genetics, Emory University, Atlanta 30322, Georgia
10
Atlanta VA Medical Center, Decatur, GA 30033, USA
11
Department of Pathology and Cellular Biology, Université de Montréal, Montreal, QC H3C 3J7, Canada
12
Department of Medicine, Université de Montréal, Montreal, QC H3C 3J7, Canada
13
Department of Surgery, Université de Montréal, Montreal, QC H3C 3J7, Canada
14
Université de Montréal Endowed Chair in Prostate Cancer, Montreal, QC H3C 3J7, Canada
*
Author to whom correspondence should be addressed.
Received: 31 August 2018 / Revised: 25 September 2018 / Accepted: 2 October 2018 / Published: 11 October 2018
Abstract
Background: Patients with locally advanced or recurrent prostate cancer typically undergo androgen deprivation therapy (ADT), but the benefits are often short-lived and the responses variable. ADT failure results in castration-resistant prostate cancer (CRPC), which inevitably leads to metastasis. We hypothesized that differences in tumor transcriptional programs may reflect differential responses to ADT and subsequent metastasis. Results: We performed whole transcriptome analysis of 20 patient-matched Pre-ADT biopsies and 20 Post-ADT prostatectomy specimens, and identified two subgroups of patients (high impact and low impact groups) that exhibited distinct transcriptional changes in response to ADT. We found that all patients lost the AR-dependent subtype (PCS2) transcriptional signatures. The high impact group maintained the more aggressive subtype (PCS1) signal, while the low impact group more resembled an AR-suppressed (PCS3) subtype. Computational analyses identified transcription factor coordinated groups (TFCGs) enriched in the high impact group network. Leveraging a large public dataset of over 800 metastatic and primary samples, we identified 33 TFCGs in common between the high impact group and metastatic lesions, including SOX4/FOXA2/GATA4, and a TFCG containing JUN, JUNB, JUND, FOS, FOSB, and FOSL1. The majority of metastatic TFCGs were subsets of larger TFCGs in the high impact group network, suggesting a refinement of critical TFCGs in prostate cancer progression. Conclusions: We have identified TFCGs associated with pronounced initial transcriptional response to ADT, aggressive signatures, and metastasis. Our findings suggest multiple new hypotheses that could lead to novel combination therapies to prevent the development of CRPC following ADT.
View Full-Text
►

▼

Figures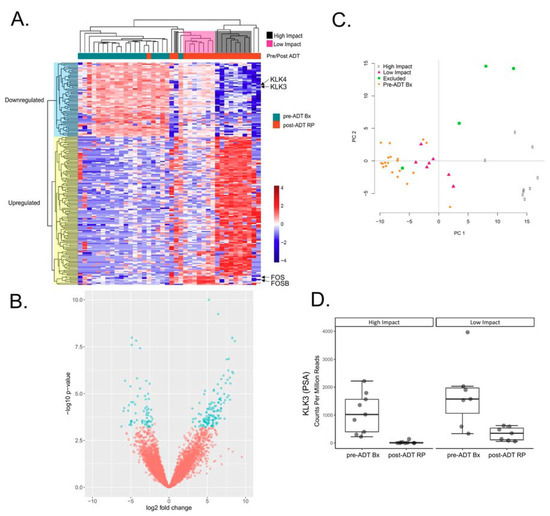 Figure 1
This is an open access article distributed under the
Creative Commons Attribution License
which permits unrestricted use, distribution, and reproduction in any medium, provided the original work is properly cited (CC BY 4.0).

Share & Cite This Article
MDPI and ACS Style
Sharma, N.V.; Pellegrini, K.L.; Ouellet, V.; Giuste, F.O.; Ramalingam, S.; Watanabe, K.; Adam-Granger, E.; Fossouo, L.; You, S.; Freeman, M.R.; Vertino, P.; Conneely, K.; Osunkoya, A.O.; Trudel, D.; Mes-Masson, A.-M.; Petros, J.A.; Saad, F.; Moreno, C.S. Identification of the Transcription Factor Relationships Associated with Androgen Deprivation Therapy Response and Metastatic Progression in Prostate Cancer. Cancers 2018, 10, 379.
Note that from the first issue of 2016, MDPI journals use article numbers instead of page numbers. See further details here.
Related Articles
Comments
[Return to top]