Open Access This article is
freely available
re-usable
Review
Alcohol-Derived Acetaldehyde Exposure in the Oral Cavity
1
Masonic Cancer Center, University of Minnesota, Minneapolis, MN 55455, USA
2
Division of Environmental Health Sciences, University of Minnesota, Minneapolis, MN 55455, USA
*
Author to whom correspondence should be addressed.
Received: 27 November 2017 / Accepted: 10 January 2018 / Published: 14 January 2018
Abstract
:
Alcohol is classified by the International Agency for Research on Cancer (IARC) as a human carcinogen and its consumption has been associated to an increased risk of liver, breast, colorectum, and upper aerodigestive tract (UADT) cancers. Its mechanisms of carcinogenicity remain unclear and various hypotheses have been formulated depending on the target organ considered. In the case of UADT cancers, alcohol's major metabolite acetaldehyde seems to play a crucial role. Acetaldehyde reacts with DNA inducing modifications, which, if not repaired, can result in mutations and lead to cancer development. Despite alcohol being mainly metabolized in the liver, several studies performed in humans found higher levels of acetaldehyde in saliva compared to those found in blood immediately after alcohol consumption. These results suggest that alcohol-derived acetaldehyde exposure may occur in the oral cavity independently from liver metabolism. This hypothesis is supported by our recent results showing the presence of acetaldehyde-related DNA modifications in oral cells of monkeys and humans exposed to alcohol, overall suggesting that the alcohol metabolism in the oral cavity is an independent cancer risk factor. This review article will focus on illustrating the factors modulating alcohol-derived acetaldehyde exposure and effects in the oral cavity.
Keywords:
acetaldehyde; alcohol; ethanol; oral cavity; cancer; exposure; microbiome; ALDH2; DNA adduct
1. Introduction
A clear identification of the various factors influencing acetaldehyde exposure and assessment of their importance in increasing acetaldehyde levels in the oral cavity may provide crucial information to better understand the key events characterizing alcohol-induced carcinogenesis in the UADT. This article will cover this topic by discussing all factors that can influence ethanol-derived oral acetaldehyde exposure (with a particular focus on the microbiome), and review ethanol pharmacokinetics, metabolism, as well as acetaldehyde-induced DNA damage and its biological consequences.
2. Ethanol Pharmacokinetics and Metabolism
2.1. Ethanol Pharmacokinetics
2.2. Genetic Variants and Enzyme Induction Influencing Ethanol Metabolism
3. Factors Influencing Acetaldehyde Exposure in the Oral Cavity
3.1. Genetic Polymorphisms
There is clear evidence that genetic polymorphisms of ALDH and ADH enzymes are associated to a modulation of acetaldehyde exposure in the oral cavity. Subjects drinking alcohol exhibiting genotypes that result in less efficient or deficient ALDH are exposed to higher acetaldehyde levels than drinkers with active ALDH. Even if a link between salivary acetaldehyde and oral cancer has only been hypothesized, it is important to identify subjects with ALDH/ADH polymorphisms through genetic testing and to make them aware of the potential risks related to alcohol consumption and high acetaldehyde exposure in the oral cavity. On the other hand, there is currently no knowledge of the role of CYP2E1 polymorphisms on acetaldehyde levels in the oral cavity, and further investigation is needed to cover this gap.
3.2. Poor Oral Hygiene
The link between poor oral hygiene and levels of microbial-derived acetaldehyde in the oral cavity has been investigated, but only in a few studies. The role of dental health status on acetaldehyde production from ethanol in saliva was investigated in 132 volunteers. Poor dental status assessed by a measurable score derived from factors such as dentition, tooth brush frequency, denture wear, tooth loss, and frequencies of oral infections and sores was associated with a two fold increase in the salivary acetaldehyde production from ethanol in vitro by exposing saliva to ethanol for 90 min, underlying the possible role of dental hygiene and status in the risk of developing oral cancer in association with ethanol consumption [
36
]. Most of acetaldehyde in saliva comes from microbial metabolism [
25
], therefore, these findings suggest that the correlation between poor dental status and increased acetaldehyde levels may result from changes in the oral microflora (e.g., bacterial overgrowth or growth of super acetaldehyde-producing bacteria) caused by poor oral hygiene [
36
].
Another study investigated if poor dental health and oral hygiene could influence in vitro salivary acetaldehyde production in oral cancer patients and healthy volunteers [
97
]. For this purpose, 66 individuals were divided in three groups: oral cancer patients (group 1), poor dental health status (group 2), and good dental health status (group 3). Saliva samples were collected from all subjects and incubated in vitro with ethanol to assess salivary acetaldehyde production by head space gas chromatography [
97
]. Salivary acetaldehyde production was significantly higher in group 1 and 2 compared to group 3, underlying the role played by poor dental health, poor oral hygiene, and infrequent dental appointments on the levels of salivary acetaldehyde produced in vitro, and suggesting a possible link between salivary acetaldehyde production and oral cancer [
97
]. However, this study was limited by lacking information about the dental health and oral hygiene status of the cancer patients in group 1 [
97
]. Nevertheless, there seem to be a correlation between poor oral hygiene and increased salivary acetaldehyde, as hypothesized previously.
3.3. Nutritional and Environmental Factors
3.4. Other Factors
The factors discussed above are among the most studied known contributors of acetaldehyde modulation in the oral cavity. Additionally, due to the highly reactive nature of acetaldehyde, influences of its reactions with other biological molecules present in saliva or gingival crevicular fluid such as constituents of phase II metabolism (e.g., glutathione) should be considered as factors that may modulate acetaldehyde's local concentration. For example, there is evidence of acetaldehyde being able to conjugate in vitro with cysteinylglycine, the first metabolite in the glutathione breakdown [
119
], suggesting that such a conjugation could decrease the level of free acetaldehyde in the oral cavity. Studies performed in animal models found decreased glutathione levels in gingival tissues of rats [
120
] and oral tissues of mice [
121
] after chronic alcohol consumption, further suggesting that the levels of acetaldehyde in the oral cavity may be influenced by glutathione and potentially by other components of phase II metabolism. Nevertheless, since little is known about the reactivity of acetaldehyde with such molecules and human studies are currently lacking, the influence of phase II metabolism on acetaldehyde levels in the oral cavity can only be hypothesized, and further investigation is needed to elucidate their impact.
4. Ethanol Metabolism by Oral Mucosa Cells, Salivary Glands, and Oral Microbiome
There is enough evidence to prove that salivary acetaldehyde derives mostly from microbial metabolism, and that the composition of the oral microbiome is critical for assessing individual acetaldehyde exposure in the oral cavity. Therefore, not only bacterial counts, but rather a sequencing approach to identify microbial species should be used when investigating the microbial composition of the oral cavity, in order to identify if the predominant and prevalent bacterial species are known acetaldehyde-producers. More studies are needed to identify more bacteria and yeasts with acetaldehyde production capacity that may contribute to ethanol-derived acetaldehyde production in the oral cavity. Factors such as heavy drinking, smoking, and dental status can modify the composition of the oral microbiome and therefore indirectly influence the microbial production of acetaldehyde in the saliva to levels that are known to be mutagenic. All of these factors contribute to define different exposure scenarios and therefore have to be considered when assessing microbial-derived acetaldehyde exposure in the oral cavity.
5. Acetaldehyde-Induced DNA Damage
The toxicity of acetaldehyde is related to its reactivity. Acetaldehyde is an electrophilic molecule and it can react with nucleophilic centers in cellular constituents, including DNA, RNA, and proteins [
142
]. In particular, acetaldehyde carbonyl carbon reacts with DNA nucleosides generating DNA adducts. Experimental evidence reported that nucleobase reactivity with acetaldehyde decreases from deoxyguanosine (dG) to deoxyadenosine (dA) and deoxycitosine (dC) [
143
].
5.1. N2-Ethyl-dG: A Biomarker of Acetaldehyde-Induced DNA Damage
The direct reaction product between acetaldehyde and the nucleoside dG,
N
2
-ethylidene-dG (
Figure 2
), was originally identified by Vaca and colleagues [
143
]. This DNA modification is an instable Schiff base (half-life of 24 h at 37 °C in vivo), which can be stabilized through reduction with NaBH
3
CN resulting in
N
2
-ethyl-dG (
Figure 2
) [
142
].
N
2
-ethyl-dG is also found in vivo, potentially due to the reducing action on
N
2
-ethilydene-dG of GSH or vitamin C [
143
].
Vaca and colleagues first developed a
32
P-postlabelling method that was able to detect an increase of
N
2
-ethyl-dG in liver DNA of rats given 10% ethanol in water (1 adduct per 10
8
nucleosides) [
143
]. This study was followed by several other studies focused on the detection of
N
2
-ethyl-dG in vivo. Robust and sensitive analytical methods using isotope dilution mass spectrometry were developed in order to quantify
N
2
-ethyl-dG in complex biological samples [
27
,
28
]. It was found that the adduct is already relatively abundant in human liver DNA in levels of 1 adducts per 10
7
nucleotides [
144
]. The presence of the adduct could result from reaction of DNA with endogenous acetaldehyde produced through metabolism of threonine, alanine, and deoxyribose phosphate [
145
], or as a result of oxidative stress, possibly due to the inhibition of acetaldehyde oxidation [
146
]. On the other hand, increased levels of
N
2
-ethyl-dG were found in the oral cavity, liver, stomach, brain, and esophagus of animals exposed to alcohol [
18
,
147
,
148
,
149
,
150
], and in human blood and oral cells of subjects ingesting alcohol [
27
,
28
]. An increase in
N
2
-ethyl-dG was also observed in blood of ALDH2-deficient drinkers [
66
]. This study reported a significant increase of
N
2
-ethyl-dG in ALDH2-deficient drinkers and supported the classification of acetaldehyde related to alcohol consumption as carcinogenic to humans [
66
].
The mechanistic role of
N
2
-ethyl-dG in carcinogenesis still remains unclear, but is possibly related to the DNA damage accumulating in the body due to inefficient DNA repair [
148
,
151
]. The absence of repair and accumulation of
N
2
-ethyl-dG adducts was observed in ALDH2-knockout mice treated with ethanol, where an increase of
N
2
-ethyl-dG was observed over time during ethanol administration [
148
]. In addition, the study of nucleotide incorporation opposite
N
2
-ethyl-dG by DNA polymerases reported a different behavior in bacterial vs. mammalian cells. A study by Shibutani and colleagues highlighted that both dC and dG can be incorporated opposite
N
2
-ethyl-dG by
Escherichia Coli
DNA polymerase I in vitro [
152
]. Differently, in mammalian cells DNA polymerases exert a diverse action on the modification.
N
2
-ethyl-dG strongly blocks replication by DNA polymerase α, but is bypassed by DNA polymerase η by incorporation of dC opposite the lesion [
153
]. On the other hand, Pence and colleagues reported that DNA polymerase ι can bypass
N
2
-ethyl-dG by changing its position into a
syn
configuration [
154
]. Finally, another study demonstrated that
N
2
-ethyl-dG in DNA exerts its principal biological activity by blocking translesion DNA synthesis in human cells, resulting in either failure of replication or frameshift deletion mutations [
155
]. On the other hand,
N
2
-ethyl-dGTP incorporation by DNA polymerases was only studied in the presence of the replicative DNA polymerase δ, which only incorporated
N
2
-ethyl-dGTP opposite the dC template, the correct base [
156
]. However, all these studies have been performed on the stable reduced analog of
N
2
-ethylidene-dG and how these results translate to the original adduct remains to be elucidated.
For what concerns the oral cavity, the hypothesis that ethanol-derived acetaldehyde exposure may result in DNA damage was supported by recent results showing the presence of
N
2
-ethyl-dG in oral tissues and cells of non-human primates and humans exposed to alcohol [
18
,
28
]. In a first study, Balbo et al. measured
N
2
-ethyl-dG in DNA derived from human oral exfoliating cells from ten healthy non-smokers at several time points after consumption of increasing doses of alcohol [
28
]. Results showed a 100-fold increase in
N
2
-ethyl-dG compared to baseline values within four hours after each dose and in a dose response manner in all subjects. Despite the small number of participants, the results were significant even after the first dose and indicated a direct link between alcohol consumption and DNA damage as well as provided the first evidence of the kinetics of formation and increase
N
2
-ethyl-dG in the oral cavity of humans exposed to alcohol [
28
].
In a second study,
N
2
-ethyl-dG was quantified in DNA from oral, esophageal, and mammary gland tissues of Rhesus monkeys exposed to alcohol drinking over their lifetime [
18
].
N
2
-ethyl-dG levels in the oral mucosa, but not in the esophageal mucosa and mammary glands of female animals, were significantly higher in the exposed animals compared to unexposed controls, supporting the previous findings of acetaldehyde being able to damage the DNA of the oral mucosa if exposed to alcohol, as well as the importance of evaluating oral ethanol metabolism independently form liver ethanol metabolism when investigating alcohol as oral cancer risk factor [
18
]. These results were crucial also because they demonstrated measurement and presence of this DNA modification as a consequence of alcohol-derived acetaldehyde at the oral tissue level and not only in superficial exfoliating cells, which represent the first layers of cells covering the oral cavity and therefore those that are directly exposed to alcohol.
In summary, the mutagenic role of
N
2
-ethyl-dG and its carcinogenicity still need to be assessed. In particular, it is yet unclear how
N
2
-ethyl-dG levels are affected by repair mechanisms. However, the development of validated, quantitative, rigorous, and sensitive analytical methods for
N
2
-ethyl-dG, and their application in epidemiological studies make this adduct an excellent biomarker for studying acetaldehyde derived DNA damage.
5.2. Other Acetaldehyde-Induced DNA Adducts
The reaction between two molecules of acetaldehyde and DNA leads to the formation of another class of adducts: crotonaldehyde-derived propano-dGs (CrPdGs,
Figure 2
). Garcia and colleagues postulated the formation of CrPdGs to result from two subsequent reactions between acetaldehyde and DNA instead of by the reaction of DNA and crotonaldehyde, based on the absence of crotonaldehyde in their cell media [
157
]. However, another possible mechanism of CrPdG formation could involve the condensation of two molecules of acetaldehyde into crotonaldehyde followed by reaction of crotonaldehyde with DNA [
158
]. The ultimate formation mechanisms have not been clarified yet.
CrPdGs are, as
N
2
-ethyl-dG, Schiff bases on the same amino group of dG. Differently from
N
2
-ethyl-dG, studies demonstrated that CrPdGs may be repaired and not accumulated [
148
]. However, despite being repaired, CrPdGs adducts have multiple biological effects. They promote DNA miscoding in human cells by G→T transversion mutations and they can inhibit DNA synthesis [
159
]. Moreover, this class of adducts can change conformation into a ring opening form, leading to the formation of another aldehyde carbonyl center, which can react with another dG creating a DNA interstrand crosslink that could inhibit DNA replication [
151
].
Etheno-dG (
N
εdG,
Figure 2
) is considered by Brooks and Zakhari a secondary acetaldehyde adduct due to the fact that it cannot be formed by a direct interaction between acetaldehyde and DNA. However, Garcia and colleagues found a high concentration of
N
εdG in human cells after acetaldehyde exposure [
157
]. This evidence highlighted that
N
εdG could result from a dose-dependent increase in lipid peroxidation induced by acetaldehyde exposure, which leads to the formation of
N
εdG by interaction of DNA and lipid peroxides [
157
].
N
εdG can lead to a wide spectrum of biological responses. It can block replicative polymerases δ, meanwhile different translesion polymerases can bypass the DNA modification leading to mutagenic consequences [
160
]. In summary, CrPdGs and
N
εdG are two other classes of adducts found to be directly or indirectly related with acetaldehyde exposure. They are less studied than
N
2
-ethyl-dG and their biological relevance in carcinogenesis is not completely assessed yet.
Overall, information is available on the levels of
N
2
-ethyl-dG in several organs or tissues, as well as information about its bypass by DNA polymerases and repair. Studies about levels and bypass for the other two DNA adducts resulting from exposure to acetaldehyde are scarce. In addition, knowledge regarding their repair in cells is lacking. Information about the efficiency of repair of these adducts could be useful for assessing their biological significance and could help provide evidence of their role in acetaldehyde-related carcinogenesis. Furthermore, these studies focused on the reaction of acetaldehyde and guanine, and studies evaluating adducts induced by reaction with other nucleosides that could have biological significance are missing.
6. Future Developments and Challenges
The oral cavity is a complex environment characterized by a variety of endogenous and exogenous exposures, and inhabited by millions of microbes. Due to its complexity, assessing exposures in the oral cavity is a challenging task, and requires simultaneous consideration of as many factors as possible, which may be involved or modulate the levels of the chemical/biomarker to be measured. In the case of assessing ethanol-derived acetaldehyde exposure in the oral cavity, the principal factors to be considered are those who could influence ethanol metabolism and acetaldehyde levels such as genetic polymorphisms (ADH, ALDH, and CYP2E1), oral hygiene status, nutritional, lifestyle and environmental factors (e.g., type of alcoholic beverage, smoking, and drinking habits), and metabolism of individual oral mucosa cells, salivary glands, and microbiome.
In the past, the influence of these factors on assessing salivary ethanol-derived acetaldehyde exposure has been mostly only individually considered, resulting in many studies distributed over 20 years that investigated how one or just a few factors modulated acetaldehyde levels in the oral cavity. The development of high-throughput screening and highly sensitive techniques in the field of analytical chemistry, as well as advancements in genome sequencing for the characterization of microbial species in the past decade may be of great advantage in performing a comprehensive evaluation of the contribution of these factors to acetaldehyde exposure in the oral cavity. Nevertheless, the output of such an exposure assessment will result in the combined contribution of these factors, and will account also for synergistic effects, such as those resulting from a combination of alcohol drinking and tobacco smoking [
37
].
Of great importance when evaluating alcohol-derived acetaldehyde exposure in the oral cavity is the contribution of the oral microbiome. In fact, it has been shown that most of the ethanol-derived acetaldehyde in the oral cavity results from microbial metabolism. Several yeasts and bacterial strains with ADH capability and able to produce acetaldehyde have been previously identified (
Table 2
), however, it is not known how many other microbial strains constituting a normal or diseased oral cavity are able to metabolize ethanol into acetaldehyde, and to which extent. Therefore, more research is needed to identify microbial strains with acetaldehyde-producing capabilities and to assess their prevalence in the individual oral microbiome in order to identify the strains that mostly contribute to acetaldehyde production in the oral cavity. For these reasons, sequencing approaches that result in the characterization of the microbiome at the strain level should be preferred to identify those strains that are already known to be able to produce acetaldehyde, and to select relevant strains that are either more abundant or related to one of the known producing strains. Selected strains can then be investigated for their acetaldehyde-producing capacity in vitro, and for their expression and activity of acetaldehyde-metabolizing enzymes.
A strategy for evaluating acetaldehyde exposure in the oral cavity that would allow simultaneous consideration of all the factors influencing acetaldehyde production and levels involves the quantitation of acetaldehyde-derived DNA adducts. In fact, an increase in the level of acetaldehyde in the oral cavity is only the first step in the manifestation of ethanol toxicity, and measuring acetaldehyde-induced DNA adducts would provide results of a further step in the evaluation of the role of acetaldehyde in oral cancer development, since acetaldehyde-derived DNA modifications may lead to incorrect, incomplete or inhibited repair and ultimately result in mutations. Additionally, DNA adducts as biomarkers of acetaldehyde exposure could be used to set cut-off levels to derive the risk of developing cancer of the oral cavity and identify susceptible individuals, as well as evaluate the implementation of preventive strategies.
N
2
-ethyl-dG, the most abundant acetaldehyde-induced DNA adduct, has been successfully quantified in DNA isolated from the oral cells of healthy non-smokers and smokers [
28
], and from tissue samples of Rhesus monkeys exposed to alcohol [
18
]. Recently, Balbo and co-workers developed several DNA adductomic approaches for the identification and relative quantitation of several adducts resulting from many types of exposures in biological samples [
161
,
162
,
163
,
164
]. Such an approach is planned to be used for measuring not only
N
2
-ethyl-dG, but also other DNA adducts induced by acetaldehyde, to potentially identify new acetaldehyde-derived DNA adducts to be targeted during the overall exposure assessment.
In conclusion, there is enough evidence to support the hypothesis that alcohol metabolism in the oral cavity has to be evaluated as an independent cancer risk factor and not as part of alcohol liver metabolism. Assessment of ethanol-derived acetaldehyde exposure in the oral cavity is a challenging task due to the multiple factors, which can play a role in acetaldehyde production from alcohol consumption. The identification, validation, and use of biomarkers able to evaluate the influence of each factor separately or in combination is necessary to provide a solid base for investigating the role of alcohol-derived acetaldehyde in increasing the risk of UADT cancers.
Acknowledgments
This work was supported by University of Minnesota start-up funds for Silvia Balbo.
Conflicts of Interest
The authors declare no conflict of interest.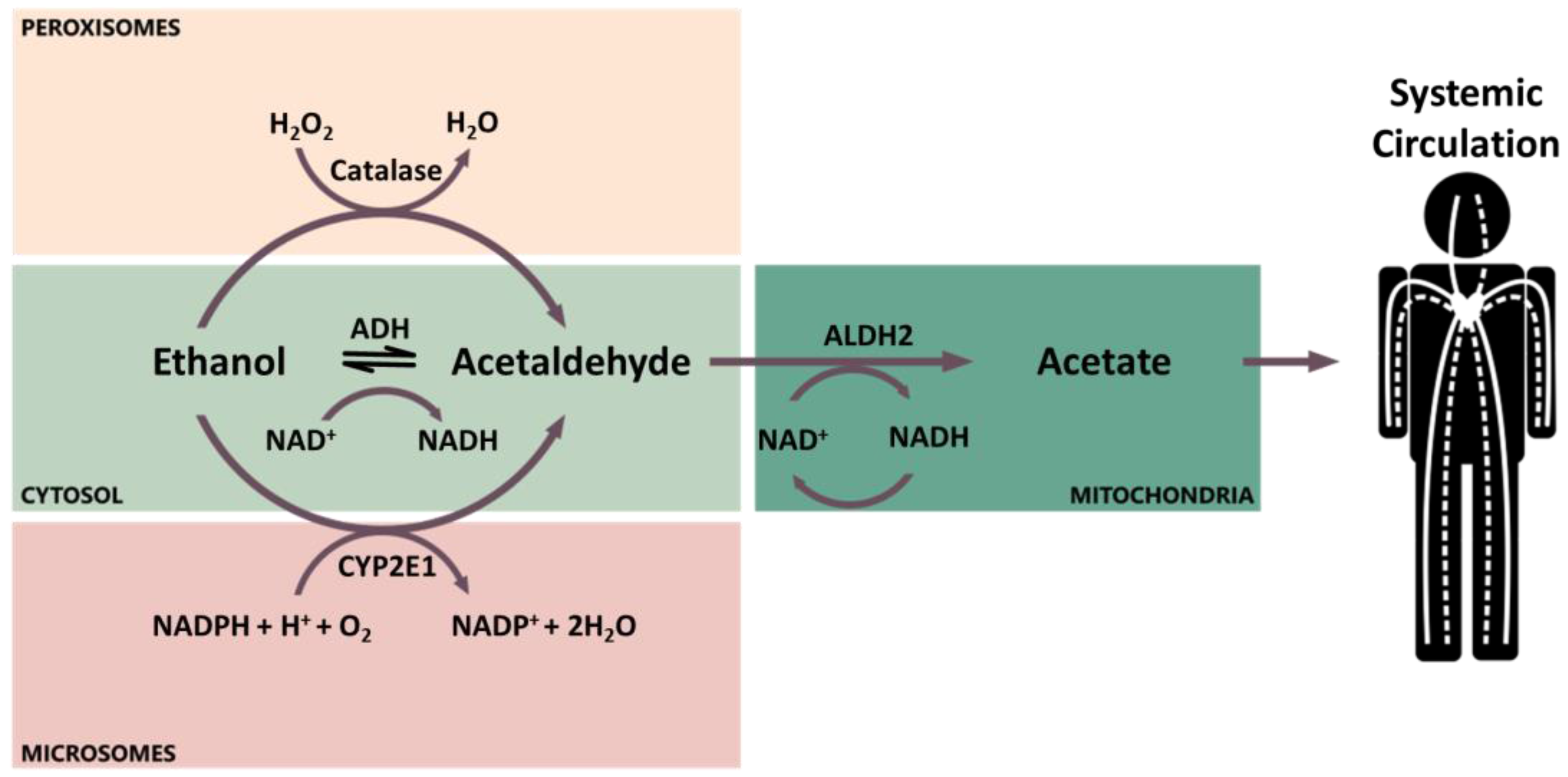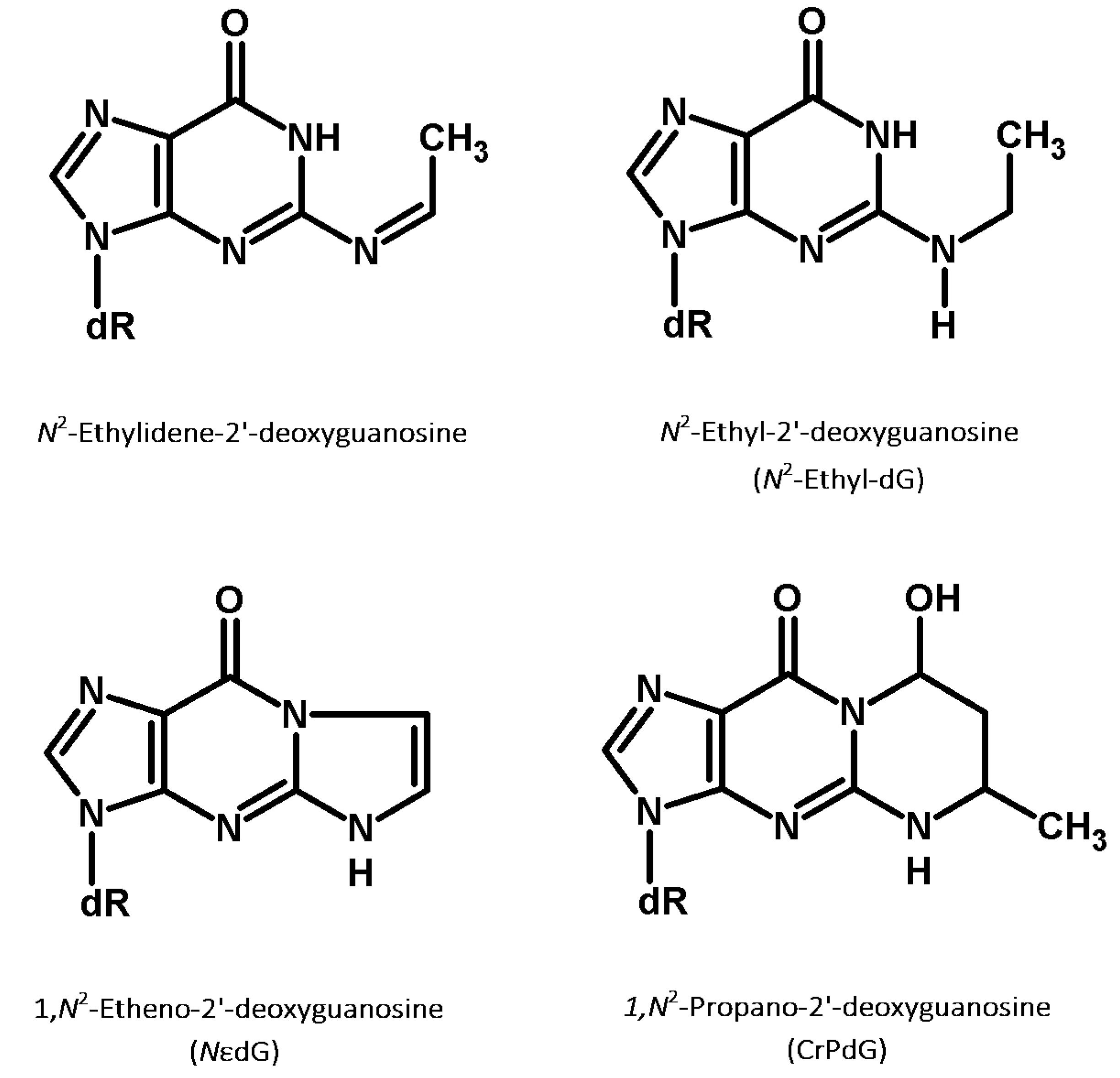 Type of Alcoholic Beverage
Subcategory (If Present)
Acetaldehyde (µM) 1

n

2
Ref.
Apple wine/cider
1123 ± 932
11
[100]
2529
1
[23]
Beer
140
1
[22]
120
1
[23]
205 ± 150
364
[100]
233 ± 281
6
[101]
172 ± 67
3
[102]
192
12
[40] 8
Fortified wines
586
7
[40] 8
2686 ± 2728
133
[100]
2231 ± 2450
53
[100]
Cherry spirit
8522
1
[23]
Port
1909 ± 3306
27
[100]
Sherry
2583
1
[23]
3537 ± 2482
53
[100]
Liquors and spirits
1251 ± 1155
12
[101]
1541 ± 2344
834
[100]
972
61
[40] 8
Bacanora 3
7711 ± 5061
13
[100]
Brandy/Cognac
1704 ± 1096
82
[100]
Cachaça 4
1149 ± 491
21
[100]
Calvados
1781 ± 861
25
[101]
600
1
[22]
753 ± 342
2
[23]
870 ± 334
27
[100]
Chinese spirits
7419 ± 3955
30
[100]
Fruit-based
1953 ± 2704
315
[100]
1414
17
[40] 8
Gin
21
3
[40] 8
Grape mark spirit
12,903 ± 2697
4
[23]
Grappa 5
11,327
13
[40] 8
Herb and spice-based
638
11
[40] 8
Mezcal
2103 ± 2024
10
[100]
Rum
3110
3
[40] 8
403 ± 321
38
[100]
Sake
717 ± 359
5
[102]
Shochu 6
600
1
[22]
Sotol 7
1876 ± 1346
16
[100]
Tequila
530
1
[23]
1371 ± 1960
70
[100]
Vodka
48
3
[40] 8
61 ± 70
72
[100]
Whiskey
1746
3
[40] 8
1410 ± 715
3
[102]
627 ± 448
37
[100]
Wine
275 ± 236
6
[101]
474
1
[23]
773 ± 760
213
[100]
1140 ± 308
3
[102]
1544
60
[40] 8
Red wine
1267
21
[40] 8
250
1
[22]
Rose wine
1855
3
[40] 8
Sparkling wine
2792
15
[40] 8
White wine
1521
21
[40] 8
Pure alcohol
56
1
[40] 8
1 Amounts (ppm, mg/L, etc.) were converted to concentrations and reported in µM. They correspond to the average and standard deviation resulting from measurement of replicate samples; 2

n

corresponds to the number of samples used to derive average and standard deviation values; 3 Bacanora is an agave-derived liquor made in the Mexican state of Sonora. 4 Grappa is a grape-based alcoholic beverage of Italian origin that contains 35% to 60% alcohol by volume; 5 Cachaça is a distilled spirit made from fermented sugarcane juice; 6 Shochu is a Japanese distilled beverage with less than 45% alcohol by volume typically distilled from rice, barley, sweet potatoes, buckwheat, or brown sugar; 7 Sotol is a distilled spirit made from the

Dasylirion wheeleri, Asparagaceae

, a plant that grows in Northern Mexico, New Mexico, west Texas, and the Texas Hill Country; 8 Values reported from reference [40] correspond to the medians calculated from replicate samples.

Table 2. Oral microbial strains possessing ADH activity and able to metabolize ethanol or glucose into acetaldehyde in vitro.
Type
Species
Isolate
In Vitro Acetaldehyde Production from Ethanol
In Vitro Acetaldehyde Production from Glucose
Ref.
Yeasts

Candida albicans

Culture and subject strains
157.43 ± 1.57 µM (ATCC 90029), 247.9 ± 4.2 µM (APECED), 280.2 ± 11.8 µM (cancer), 299.1 ± 12.7 (controls) µM
38.02 ± 2.06 µM (ATCC 90029), 53.5 ± 2.3 µM (APECED), 33.7 ± 3.5 µM (cancer), 34.6 ± 1.9 µM (controls)
[129]
Subject strains
-
619.4 µM (APECED), 716.6 µM (cancer), 654.0 µM (controls)
[130]
ATCC90029
235.1 ± 2.8 µM
18.7 ± 2.9 µM
[131]
Subject strains
73.7 ± 55.4 µM (high-producing saliva), 43.2 ± 22.3 µM (low-producing saliva)
-
[132]

C. dubliniensis

Isolates from culture collection strains
139.0 ± 7.1 µM
4.6 ± 1.1 µM
[131]

C. glabrata

Isolates from culture collection strains
185.6 ± 8.6 µM
5.4 ± 1.1 µM
[131]
TIMM 5512
-
83.1 ± 24.8 µM
[131]

C. guilliermondii

Isolates from culture collection strains
190.2 ± 12.4 µM
7.3 ± 1.7 µM
[131]

C. kefyr

TIMM 0298
299.3 ± 80.9 µM
80.1 ± 16.8 µM
[133]

C. krusei

Isolates from culture collection strains
54.6 ± 2.9 µM
2.6 ± 0.9 µM
[131]

C. parapsilosis

Isolates from culture collection strains
243.3 ± 8.8 µM
45.2 ± 2.1 µM
[131]

C. tropicalis

isolates from culture collection strains
252.3 ± 14.9 µM
81.8 ± 2.9 µM
[131]
TIMM 0313
248.9 ± 49.9 µM
-
[133]
Bacteria

Neisseria flava

ATCC 14221
94.4 ± 2.1 µM
-
[133]

N. flavescens

ATCC 13120
168.4 ± 8.6 µM
-
[133]

N. mucosa

ATCC 19695
272.8 ± 65.5 µM
-
[133]

N. sicca

ATCC29256
174.9 ± 39.4 nmol/min/1011 CFU
-
[127]

N. subflava

9903683
23,050.4 ± 1624.7 nmol/min/1011 CFU
-
[127]

Prevotella histicola

JCM 15637
53.2 ± 10.1 µM
-
[133]

Rothia mucilaginosa

JCM 10910
95.9 ± 5.9 µM
-
[133]

Streptococcus australis

-
-
[133]

S. gordonii

-
-
[134]

S. intermedius

-
-
[128]

S. mitis

JCM 12971
90.2 ± 31.3 µM
-
[133]
-
-
[128]

S. oralis

-
-
[134]

S. parasanguis

-
-
[133]

S. salivarius

T-42104
135.0-426.3 µM
-
[128]

S. sanguinis

-
-
[134]

© 2018 by the authors. Licensee MDPI, Basel, Switzerland. This article is an open access article distributed under the terms and conditions of the Creative Commons Attribution (CC BY) license (http://creativecommons.org/licenses/by/4.0/).