IRF4 Mediates the Oncogenic Effects of STAT3 in Anaplastic Large Cell Lymphomas
1
Department of Molecular Biotechnology and Health Sciences, University of Torino, Torino 10126, Italy
2
Center for Experimental Research and Medical Studies (CeRMS), University of Torino, Torino 10126, Italy
3
Department of Oncology and Hemato-Oncology, University of Milan, Milan 20122, Italy
4
Department of Experimental and Health Sciences, University Pompeu Fabra, Barcelona 08003, Spain
5
Division of Hematology, Department of Translational Medicine, University of Eastern Piedmont, Novara 28100, Italy
6
Department of Pathology and Laboratory Medicine, Weill Cornell Medical College, New York, NY 10065, USA
7
Candiolo Cancer Institute, FPO-IRCCS, Candiolo 10060, Italy
8
Lymphoma and Genomics Research Program, IOR Institute of Oncology Research, Bellinzona 6500, Switzerland
9
Center for Translational Genomics and Bioinformatics, San Raffaele Scientific Institute, Milan 20132, Italy
10
Neuroscience Institute Cavalieri Ottolenghi, University of Turin, Turin 10043, Italy
11
Molecular Biotechnology Center, University of Torino, Torino 10126, Italy
12
Department of Oncology, University of Torino, Candiolo 10060, Italy
†
These authors contributed equally to this study.
*
Author to whom correspondence should be addressed.
Received: 27 November 2017 / Revised: 9 January 2018 / Accepted: 12 January 2018 / Published: 18 January 2018
Abstract
Systemic anaplastic large cell lymphomas (ALCL) are a category of T-cell non-Hodgkin's lymphomas which can be divided into anaplastic lymphoma kinase (ALK) positive and ALK negative subgroups, based on ALK gene rearrangements. Among several pathways aberrantly activated in ALCL, the constitutive activation of signal transducer and activator of transcription 3 (STAT3) is shared by all ALK positive ALCL and has been detected in a subgroup of ALK negative ALCL. To discover essential mediators of STAT3 oncogenic activity that may represent feasible targets for ALCL therapies, we combined gene expression profiling analysis and RNA interference functional approaches. A shRNA screening of STAT3-modulated genes identified interferon regulatory factor 4 (IRF4) as a key driver of ALCL cell survival. Accordingly, ectopic IRF4 expression partially rescued STAT3 knock-down effects. Treatment with immunomodulatory drugs (IMiDs) induced IRF4 down regulation and resulted in cell death, a phenotype rescued by IRF4 overexpression. However, the majority of ALCL cell lines were poorly responsive to IMiDs treatment. Combination with JQ1, a bromodomain and extra-terminal (BET) family antagonist known to inhibit MYC and IRF4, increased sensitivity to IMiDs. Overall, these results show that IRF4 is involved in STAT3-oncogenic signaling and its inhibition provides alternative avenues for the design of novel/combination therapies of ALCL.
View Full-Text
►

▼

Figures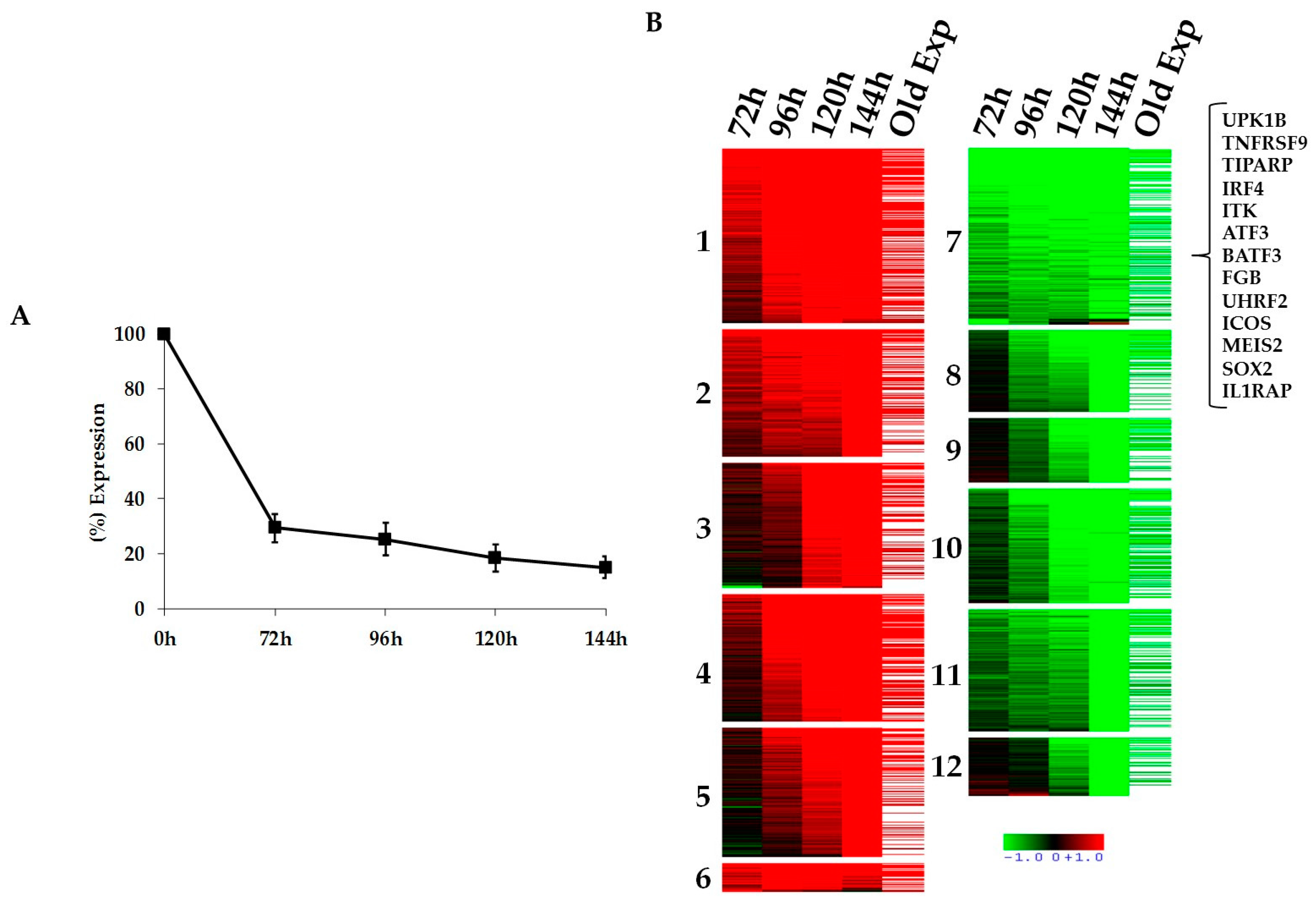 Figure 1
This is an open access article distributed under the
Creative Commons Attribution License
which permits unrestricted use, distribution, and reproduction in any medium, provided the original work is properly cited (CC BY 4.0).

Share & Cite This Article
MDPI and ACS Style
Bandini, C.; Pupuleku, A.; Spaccarotella, E.; Pellegrino, E.; Wang, R.; Vitale, N.; Duval, C.; Cantarella, D.; Rinaldi, A.; Provero, P.; Di Cunto, F.; Medico, E.; Bertoni, F.; Inghirami, G.; Piva, R. IRF4 Mediates the Oncogenic Effects of STAT3 in Anaplastic Large Cell Lymphomas. Cancers 2018, 10, 21.
Note that from the first issue of 2016, MDPI journals use article numbers instead of page numbers. See further details here.
Related Articles
Comments
[Return to top]