Open Access This article is
freely available
re-usable
Article
Rapid Laser Manufacturing of Microfluidic Devices from Glass Substrates
1
Research Centre for Carbon Solutions (RCCS), Institute of Mechanical, Process and Energy Engineering, School of Engineering and Physical Sciences, Heriot-Watt University, Edinburgh, EH14 4AS, UK
2
Institute of Photonics and Quantum Sciences, School of Engineering and Physical Sciences, Heriot-Watt University, Edinburgh, EH14 4AS, UK
*
Author to whom correspondence should be addressed.
Received: 29 June 2018 / Accepted: 14 August 2018 / Published: 17 August 2018
Abstract
:
Conventional manufacturing of microfluidic devices from glass substrates is a complex, multi-step process that involves different fabrication techniques and tools. Hence, it is time-consuming and expensive, in particular for the prototyping of microfluidic devices in low quantities. This article describes a laser-based process that enables the rapid manufacturing of enclosed micro-structures by laser micromachining and microwelding of two 1.1-mm-thick borosilicate glass plates. The fabrication process was carried out only with a picosecond laser (Trumpf TruMicro 5×50) that was used for: (a) the generation of microfluidic patterns on glass, (b) the drilling of inlet/outlet ports into the material, and (c) the bonding of two glass plates together in order to enclose the laser-generated microstructures. Using this manufacturing approach, a fully-functional microfluidic device can be fabricated in less than two hours. Initial fluid flow experiments proved that the laser-generated microstructures are completely sealed; thus, they show a potential use in many industrial and scientific areas. This includes geological and petroleum engineering research, where such microfluidic devices can be used to investigate single-phase and multi-phase flow of various fluids (such as brine, oil, and CO2) in porous media.
Keywords:
microfluidic devices; laser materials processing; ultrafast laser micromachining; ultrafast laser welding; enclosed microstructures; glass; porous media; fluid displacement
3. Results and Discussion
4. Conclusions
This paper describes a laser-based process suitable for the rapid manufacturing of glass microfluidic devices. Using this process, it is possible to generate almost arbitrary enclosed microfluidic structures. The lateral resolution of the patterns, however, is limited to the laser spot size used for micromachining. The fluid flow tests performed for the microfluidic devices proved that a good sealing of the laser-generated microstructures can be obtained using the picosecond laser microwelding process. Weld seams generated by the laser not only eliminate any existing gaps between two glass plates, bringing the materials into close contact, but they also confine the flow of fluids to the designated areas. Hence, the laser microwelding process seems to be an attractive alternative to processes such as anodic bonding and thermal bonding.
Continuing work will focus on the investigation of the flow of different fluids through a range of pore network patterns generated by the laser. Currently, we are building a workstation dedicated to such experiments. The workstation will be equipped with a high-resolution camera with a high-zoom objective lens in order to observe the flow of fluids in microchannels, while fluids will be injected to the microfluidic devices at controlled flow rates using syringe pumps. In this way, it will be possible to investigate various fluid transport processes and to determine conditions at which injected fluids follow the microfluidic patterns, as well as identifying the limit beyond which fluids start flowing through small gaps between the glass plates, bypassing the microchannels.
Finally, it should be highlighted that the laser microwelding process has some limitations. One of the limitations is the lateral dimension of weld seams that determines the minimum size of the areas suitable for welding. In our case, two parallel microchannels cannot be isolated from each other by producing weld seams between them if the clearance between the microchannels is less than 100 μm. Weld seams of smaller dimensions, however, should be possible to generate using a different combination of laser welding parameters, i.e., using a different scan speed, pulse energy, repetition rate, and pulse duration. Unfortunately, the last two parameters cannot be changed in our laser system. In addition, equipping the laser microwelding system with a visualization system would simplify the necessary precise positioning of the welding samples. Using such a system, weld seams could be readily generated in specific locations, even in small areas between individual microchannels. Another limitation of our laser microwelding system is a welding speed (currently 2 mm/s). Higher welding speeds, however, can be achieved using ultrafast lasers operating at higher PRFs. For instance, using a laser with a PRF of 2 MHz, it should be possible to increase the welding speed to 10 mm/s, reducing the total welding time of microfluidic devices by a factor of five.
Supplementary Materials
The following are available online at
https://www.mdpi.com/2072-666X/9/8/409/s1
, Table S1: Generation of narrow grooves on Borofloat
®
33 glass using PRF = 20 kHz. This dataset was used to plot graphs in
Figure 5
. Table S2: Generation of narrow grooves on Borofloat
®
33 glass using PRF = 10 kHz. Data not presented in the article. Table S3: Generation of 1 mm × 1 mm areas on Borofloat
®
33 glass. This dataset was used to plot graphs in
Figure 6
.
Author Contributions
K.L.W. performed all experiments and wrote this article; R.M.C designed the laser welding system and provided technical support during the laser welding experiments; A.J. assisted during the tests of the microfluidic devices; A.A.L. developed an efficient method for the micromachining of glass; M.D.M. performed HF etching; R.R.J.M. provided scientific and technical advice; D.P.H. provided scientific and technical advice, together with access to the laser facilities; M.M.M.-V. supervised the entire work.
Funding
This project received funding from the European Research Council (ERC) under the European Union's Horizon 2020 Research and Innovation program (MILEPOST, Grant agreement No.: 695070). The received fund also covers the publication costs in open access. The paper reflects only the authors' view and ERC is not responsible for any use that may be made of the information it contains. The authors also thank the EPSRC Centre for Innovative Manufacturing in Laser-based Production Processes (EP/K030884/1) for providing access to the laboratory space and laser facilities.
Conflicts of Interest
The authors declare no conflict of interest. The funding sponsors (ERC and EPSRC) had no role in the design of the study; in the collection, analyses, or interpretation of data; in the writing of the manuscript, and in the decision to publish the results.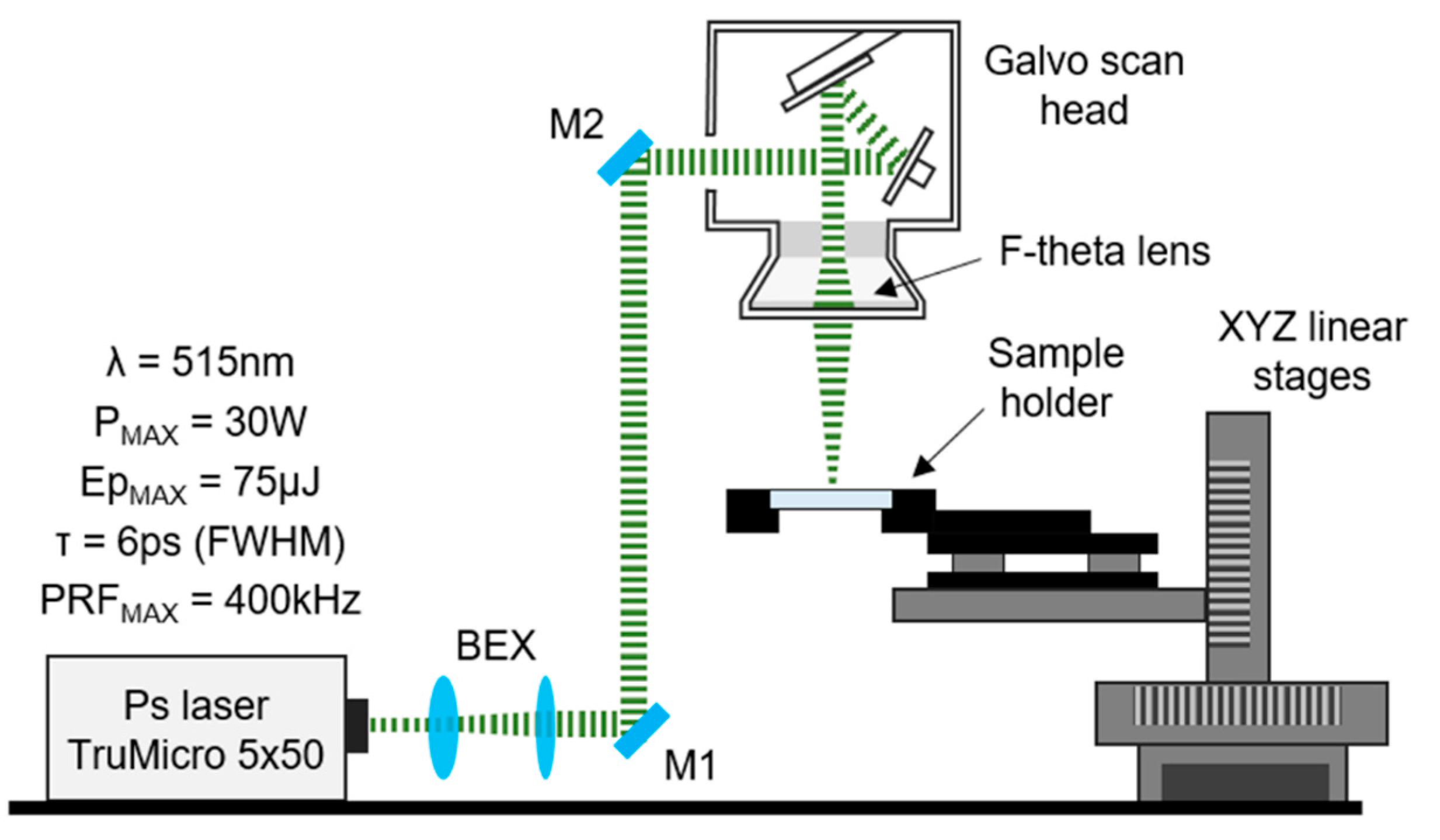 Figure 5. (a) 13.5-µm deep and 14-µm wide groove (channel) generated by the picosecond laser using a 21-µm-diameter spot; (b) Depth and (c) width (measured at full width at half maximum (FWHM)) of the channels generated with a pulse repetition frequency (PRF) of 20 kHz and a laser beam scan velocity (v) of 40 mm/s. Channels were measured using a three-dimensional (3D) surface profilometer (Alicona InfiniteFocus®).
Figure 6. (a) Example of a 1 mm × 1 mm area generated by a moving 21-µm-diameter laser spot; (b) Ablation depth and (c) average surface roughness (Sa) of the 1 mm × 1 mm areas generated using a different combination of laser fluence and hatch distance. The laser machining was performed with PRF = 100 kHz and a scan velocity of 150 mm/s. Surfaces were measured using a 3D surface profilometer (Alicona InfinityFocus®).

Figure 7. (a) Photograph taken during the laser welding of two 1.1-mm-thick glass plates; (b) cross-section of the weld seams generated at P = 2 W and v = 2 mm/s.
Figure 8. Example of laser-manufactured microfluidic device: (a) design; (b) 3D surface profile of its internal structure; (c,d) microfluidic device before and after laser microwelding, respectively.
Figure 9. Optical microscope image of the laser-generated structure: (a) before and (b) after the cleaning in 5% hydrogen fluoride (HF) solution. The glass sample was etched for 2 min.
Figure 10. (a) Photograph taken during the testing of a laser-manufactured microfluidic device; (b) zoomed image of the microstructure partially filled in with water. This image was obtained using a Leica optical microscope.

Table 1. Laser beam diameters (2 ω0) and M2 values measured at the focal points. Measurements were performed using a scanning slit beam profiler (DataRay Beam-Map 2 sensor). The 2 ω0 values were measured at 1/e2 of the peak intensity. Output average power (P), pulse energy (EP), and peak fluence (F) calculated for each wavelength are also given here.
| Wavelength (nm) | P (W) | Ep (μJ) | 2 ω0 (μm) | M2 (value) | F (J/cm2) 1 |
| --- | --- | --- | --- | --- | --- |
| 1030 | 50 | 125 | 35 ± 1 | 1.3 ± 0.1 | 26.0 ± 1.5 |
| 515 | 30 | 75 | 21 ± 1 | 1.4 ± 0.1 | 36.3 ± 3.5 |
| 343 | 18 | 45 | 20 ± 1 | 2.1 ± 0.1 | 28.9 ± 2.9 |
1 Peak fluence was calculated as follows: F = 2 EP/(πω02), where EP is pulse energy and ω0 is the beam radius.

© 2018 by the authors. Licensee MDPI, Basel, Switzerland. This article is an open access article distributed under the terms and conditions of the Creative Commons Attribution (CC BY) license (http://creativecommons.org/licenses/by/4.0/).