Open Access This article is
freely available
re-usable
Communication
Fabrication of MoO3 Nanowire-Based Membrane Devices for the Selective Adsorption of Cationic Dyes from Aqueous Solutions with High Performance and Reusability
Department of Chemistry and Chemical Engineering, Inha University, 100 Inharo, Incheon 22212, Korea
*
Author to whom correspondence should be addressed.
Received: 23 July 2019 / Accepted: 30 August 2019 / Published: 31 August 2019
Abstract
:
A series of ultralong (up to tens of micrometers) MoO3 nanowire-based membranes were synthesized for the treatment of aqueous solutions containing the cationic dyes methylene blue (MB) and rhodamine B (RhB). This treatment method possesses extremely rapid and superhigh adsorbability (up to 521 and 321 mg/g for MB and RhB, respectively), as well excellent selective adsorption ability of cationic dyes with respect to the anionic dye methyl orange (MO). Moreover, the cationic dyes on the membrane can be desorbed easily, and reusability is good.
Keywords:
MoO
3
; nanowires; cationic dyes; repeatability
1. Introduction
Recently, water contamination by dyes has been attracting much attention. Among the contaminating dyes, cationic dyes, such as methylene blue (MB) and rhodamine B (RhB), are widely used in dying cotton, printing, and dying textiles [
1
,
2
,
3
]. Although MB and RhB are not regarded as very toxic dyes, they also can produce some harmful effects to human health. Consequently, industrial effluent containing MB and RhB has to be treated before discharge. Recently, various methods have been developed to solve this issue, such as photocatalytic degradation, flocculation–coagulation, precipitation, and filtration [
4
,
5
,
6
,
7
,
8
,
9
,
10
]. Comparatively speaking, membrane filtration has received more attention because of its low cost, high efficiency, and flexible design. To date, although many nanomaterials including activated carbon, carbon nanotube, and graphene [
11
,
12
,
13
] have been explored to remove dyes from wastewater, there are still some disadvantages in their use that need to be overcome, such as high cost, unrecyclability, and possible secondary pollution [
14
,
15
,
16
,
17
,
18
]. Therefore, it is necessary to develop desirable materials that not only can adsorb dyes with high efficiency but also can be reused with good recyclability. Molybdenum oxide (MoO
3
), a prominent material among metal oxides, has been regarded as a suitable choice owing to its chemical stability, nontoxicity, high adsorbability, and low price [
19
,
20
,
21
,
22
,
23
]. Up till now, MoO
3
has been used in various applications including photocatalysis, supercapacitors, photovoltaics, batteries, and electrocatalysis [
24
,
25
,
26
,
27
]. However, research about dye adsorption by MoO
3
nanowire-based membranes is still limited. With this in mind, we designed and synthesized a type of MoO
3
nanowire-based membrane to investigate its adsorption properties and recyclability behavior for dye removal.
2. Experimental Section
In this research, we synthesized a novel MoO
3
nanowire-based membrane at various thicknesses. The MoO
3
nanowires could be prepared by a hydrothermal method. The procedure is explained in detail in the Electronic
Supporting Information
. This kind of nanowire could easily be assembled into a flexible film by a vacuum and pressing procedure. This MoO
3
nanowire-based membrane exhibited a superhigh adsorbability, as well as excellent selective adsorption of cationic dyes (Figure 2 and Figure 3).
3. Results and Discussion
4. Conclusions
In conclusion, we have developed a facile method to synthesize a MoO3 nanowire-based membrane, which was used for the selective adsorption of cationic dyes from aqueous solutions of mixed dyes. The adsorption rate and adsorption capacities of the new membrane are higher than those of traditional commercial membranes. Notably, the recyclability of this material is outstanding, as its adsorption ability is maintained after four cycles. Moreover, a limited loss of performance during the recycling procedure can reduce the costs, and suggests a bright future for the practical application of this system. Lastly, we hope this system can be of inspiration for the design of similar materials for the selective separation of other organics with low molecular weight.
Supplementary Materials
The following are available online at
https://www.mdpi.com/2072-666X/10/9/586/s1
, Figure S1: (a) As prepared MoO
3
nanowires sonicated for 30 min in the water; (b) Standing for one day, Figure S2: Front side and back side of as-synthesized MoO
3
nanowires membrane after filtrating with various dyes, Figure S3: (a) Variation of MB solution flux with different membrane thickness; (b) Adsorption percentage of 5 μm membrane under different pH, Figure S4: Contact angle tendency of as-prepared MoO
3
nanowires based membrane (34.12°), Table S1: Comparison of MB adsorption capacity of the as prepared MoO
3
nanowires with other reported adsorbents, Video S1: Methylene blue (MB), Video S2: Rhodamine B (RhB), Video S3: Methyl orange (MO), Video S4: Methylene blue (MB) + Methyl orange (MO), Video S5: Rhodamine B (RhB) + Methyl orange (MO).
Author Contributions
Conceptualization, Y.Z. and S.-J.P.; methodology, Y.Z. and S.-J.P.; validation, Y.Z. and S.-J.P.; data curation, Y.Z. and S.-J.P.; writing-original draft, Y.Z. and S.-J.P.; visualization, Y.Z. and S.-J.P.; supervision, S.-J.P.; project administration, S.-J.P.; funding acquisition, S.-J.P.
Funding
This research was supported by Korea Evaluation institute of Industrial Technology (KEIT) through the Carbon Cluster Construction project (10083586, Development of petroleum based graphite fibers with ultra-high thermal conductivity) funded by the Ministry of Trade, Industry and Energy (MOTIE, Korea) and the Commercialization Promotion Agency for R and D Outcomes (COMPA) funded by the Ministry of Science and ICT(MSIT) (2018_RND_002_0064, Development of 800 mA h/g pitch carbon coating materials).
Conflicts of Interest
The authors declare no conflict of interest.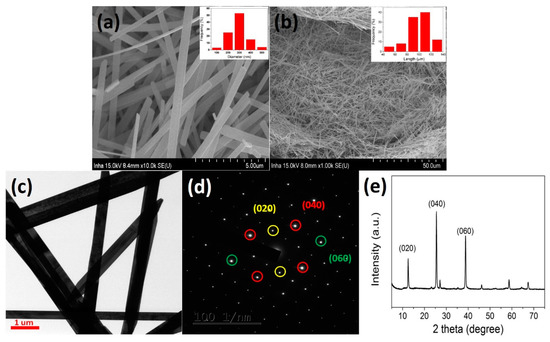 Figure 1. (a) Scanning electron microscope (SEM) of molybdenum oxide (MoO3) nanowires at high resolution (diameter distribution inset); (b) SEM of MoO3 nanowires at low resolution (length distribution inset); (c) Transmission electron microscope (TEM) of MoO3 nanowires; (d) corresponding selected-area electron diffraction (SAED) pattern; (e) X-ray diffraction (XRD) patterns of MoO3 nanowires.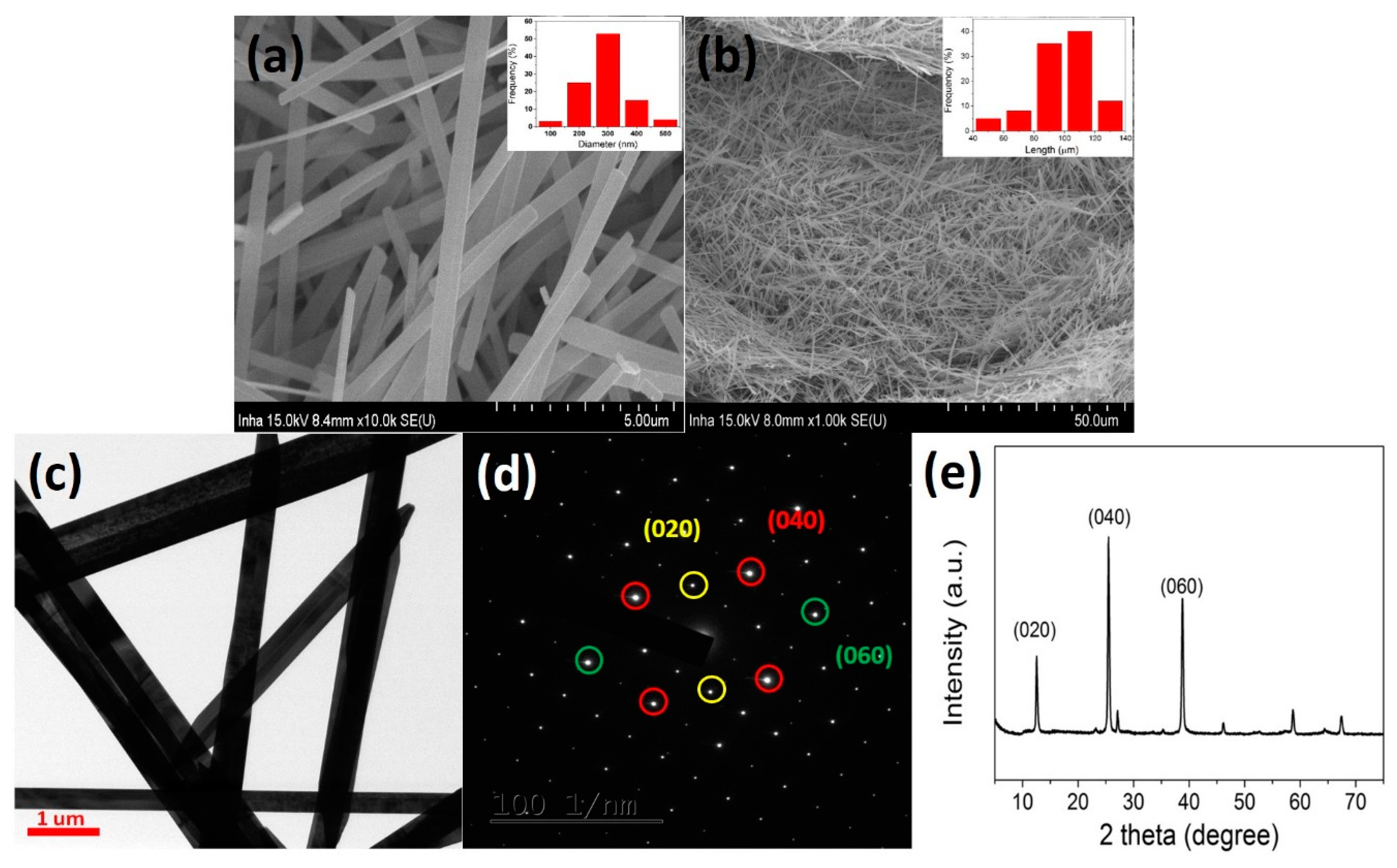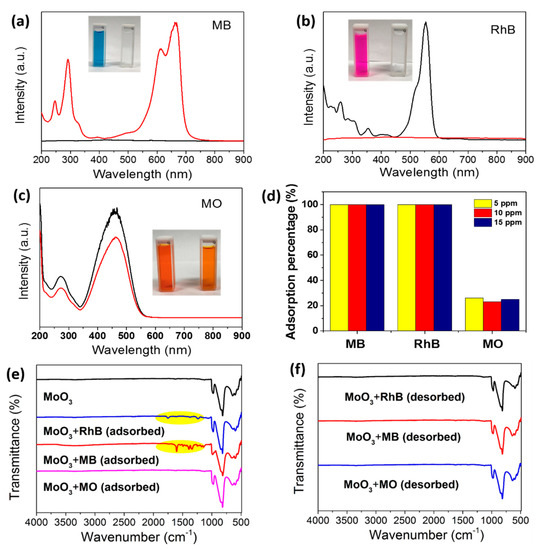 Figure 2. The prepared MoO3-based membrane (5 μm) was used to vacuum-filtrate the dyes at different concentrations (ppm): (a) 10 ppm of methylene blue (MB); (b) 10 ppm of rhodamine B (RhB); (c) 10 ppm of methyl orange (MO); (d) adsorption percentage in ppm for different dyes; (e) FT-IR spectrum of the membrane: dyes adsorbed; (f) FT-IR spectrum of the membrane: dyes desorbed.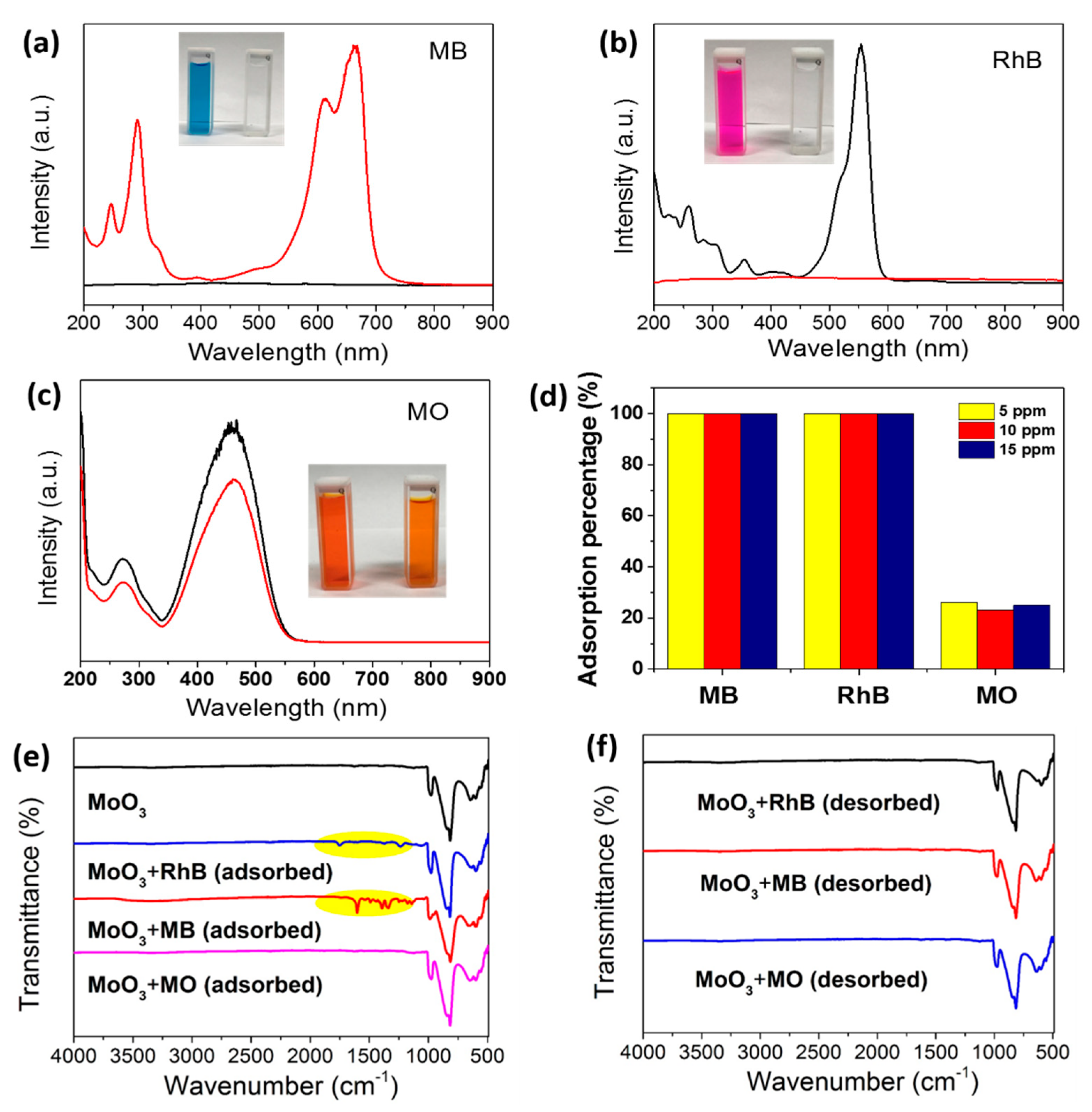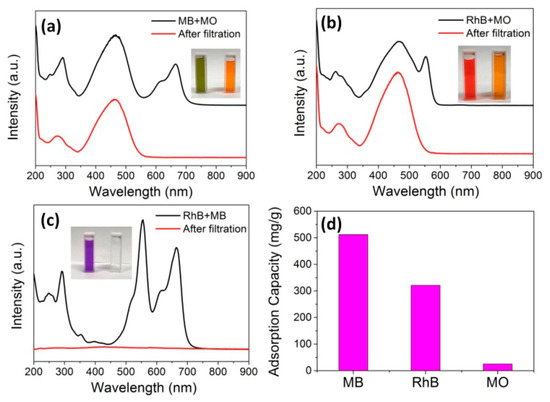 Figure 3. The MoO3-based membrane (5 μm) was tested to measure its ability to selectively separate various dyes at 10 ppm: (a) MB + MO; (b) RhB + MO; (c) MB + RhB; (d) Adsorption capacity for various dyes.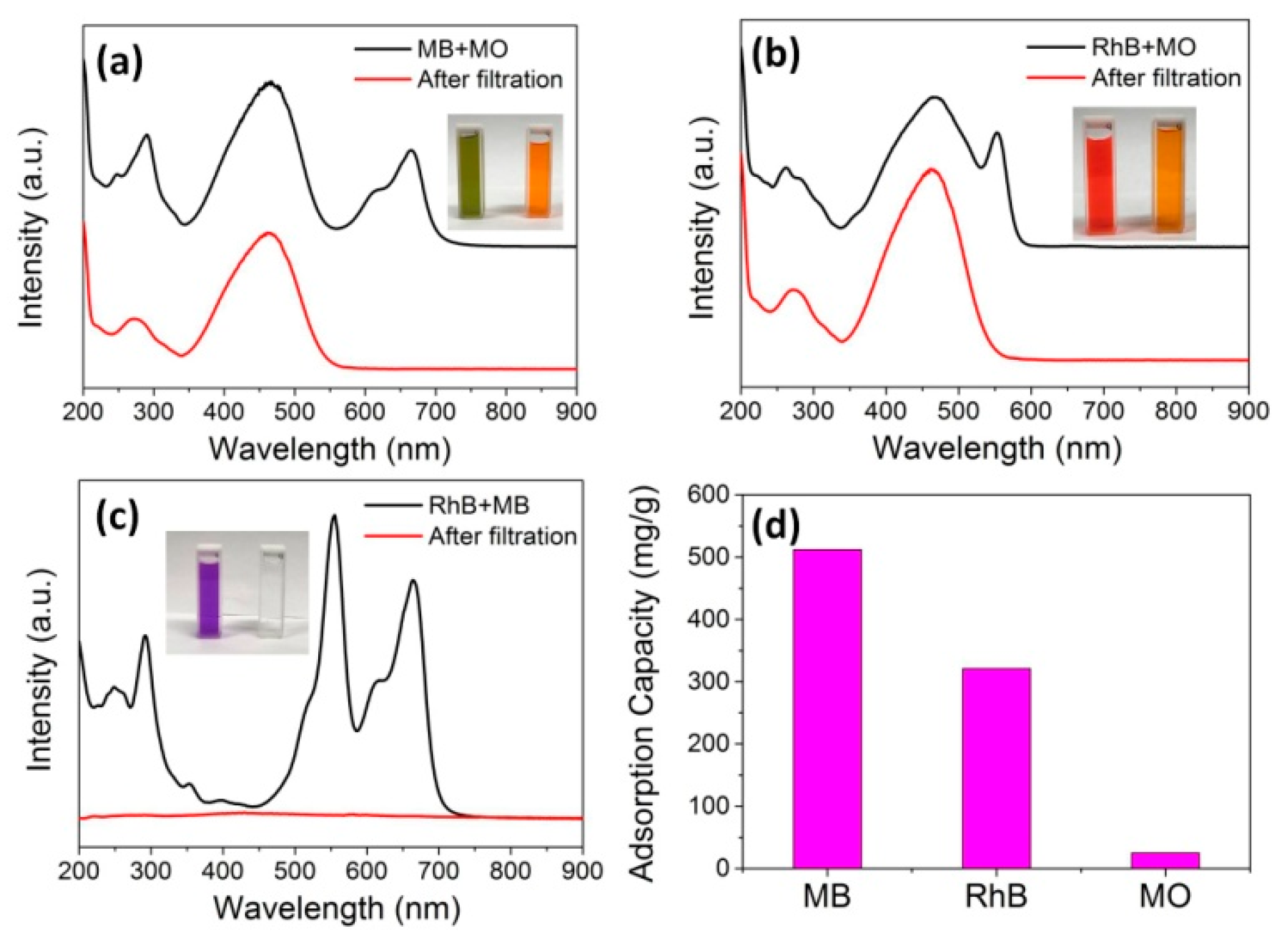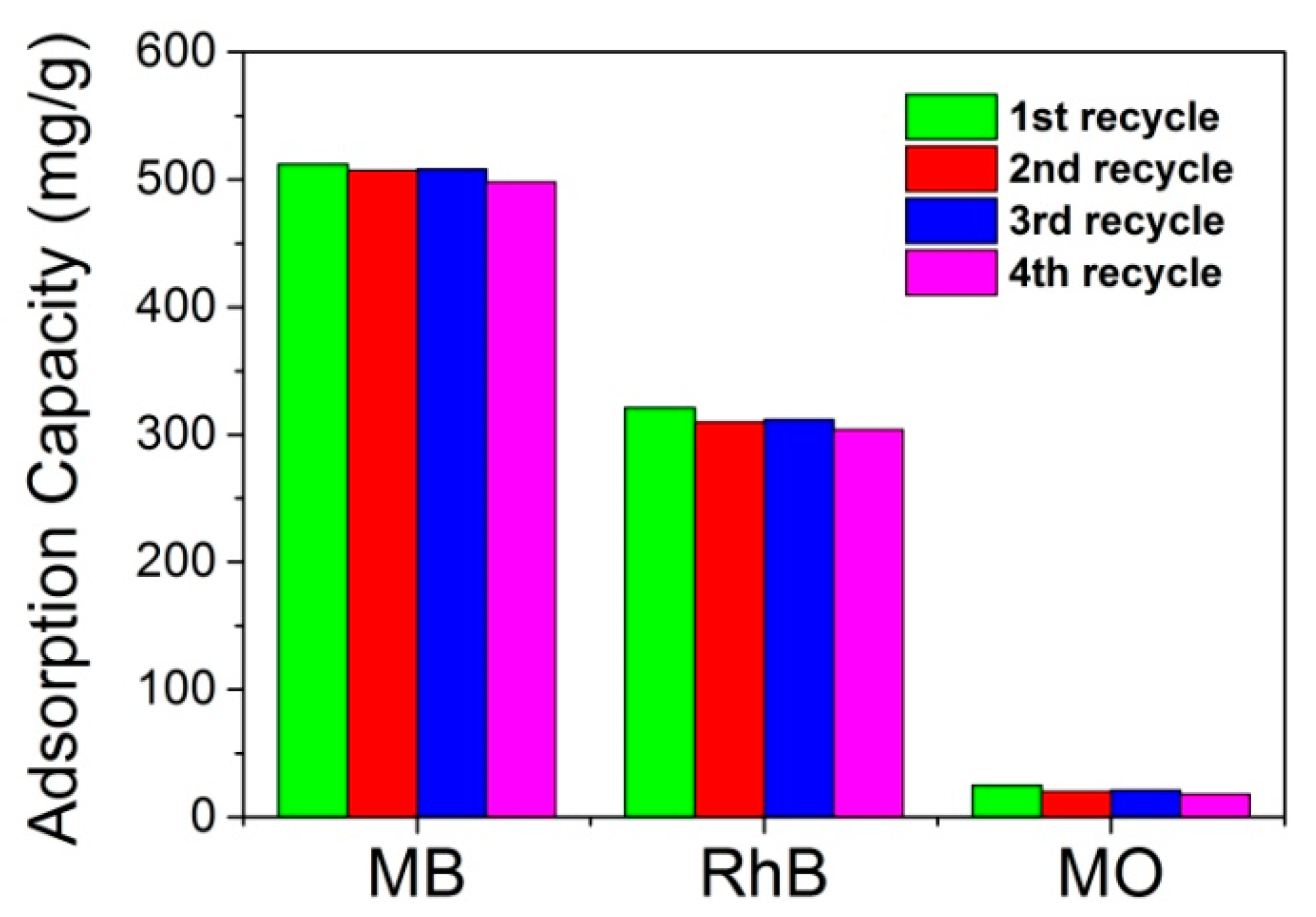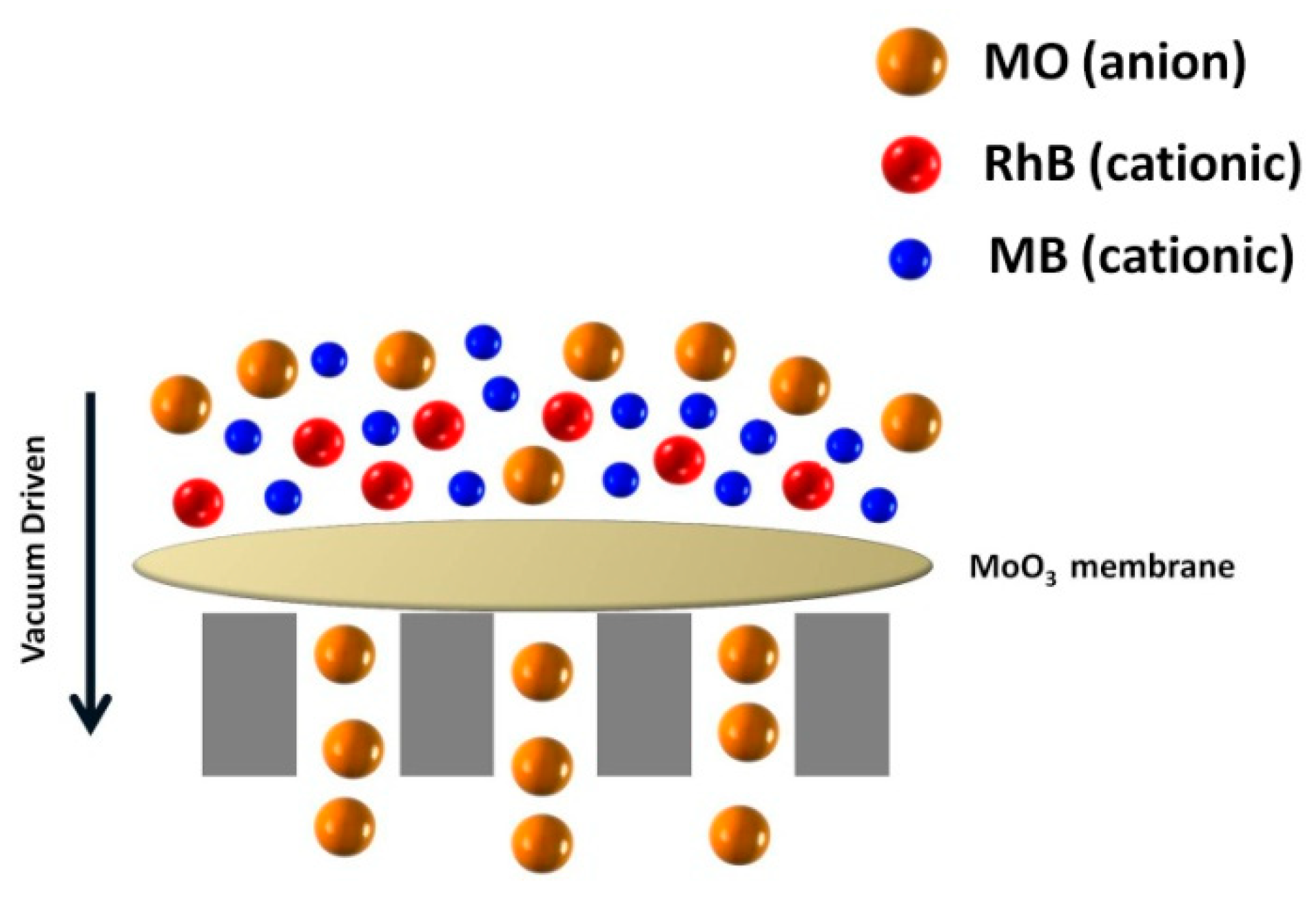 © 2019 by the authors. Licensee MDPI, Basel, Switzerland. This article is an open access article distributed under the terms and conditions of the Creative Commons Attribution (CC BY) license (http://creativecommons.org/licenses/by/4.0/).