Open Access This article is
freely available
re-usable
Article
Gas Pressure Sensor Based on BDK-Doped Polymer Optical Fiber
1
Photonics Research Centre, Department of Electrical Engineering, The Hong Kong Polytechnic University, Kowloon, Hong Kong SAR, China
2
Photonics Research Centre, Department of Electronic Information Engineering, The Hong Kong Polytechnic University, Kowloon, Hong Kong SAR, China
*
Author to whom correspondence should be addressed.
Received: 28 September 2019 / Accepted: 21 October 2019 / Published: 24 October 2019
Abstract
:
This paper presents a high sensitivity gas pressure sensor with benzyl-dimethylketal (BDK)-doped polymer optical fiber Bragg grating (POFBG), whose sensitivity is up to 8.12 pm/kPa and 12.12 pm/kPa in positive and negative pressure atmosphere, respectively. The high sensitivity can be explained by its porous chemical structure. The stability and response behavior under air pressure atmosphere has also been investigated. The new understanding of the air pressure response principle and sensitivity difference for the presented sensor can be a worthy reference.
Keywords:
polymers; fiber Bragg gratings; photosensitive material; pressure sensitivity
1. Introduction
Recently, optical fiber sensors (OFS) have attracted increasing attention because they are small and immune to electromagnetic interference. However, because of the high instinctive Young's modulus, the deformation of silica fiber under pressure is very small, which results in low sensitivity. Therefore, silica-based OFS is not the best choice in many applications, such as large-strain and high-sensitivity measurements, except when a modified structure is used to enhance sensitivity [
1
,
2
,
3
]. These complex structures are not easy to fabricate and will increase the size of the sensor. Polymer-based optical fiber provides a different solution [
4
,
5
] due to its different mechanical and chemical properties. Compared to other POF sensors, the polymer optical fiber Bragg grating (POFBG) sensor has received more attention, especially the POFBG based on polymethyl methacrylate (PMMA) [
6
]. Due to a lower Young's modulus of PMMA, which is 25 times lower than that of silica [
7
], the POFs based on PMMA are more flexible. They exhibit higher failure strain sensitivity and greater elasticity [
8
]. When they are used for strain, stress, pressure, and temperature monitoring, they show much better performance [
9
,
10
,
11
,
12
]. In addition, they are biocompatible, which can lead to applications in the biomedical sector [
6
,
13
,
14
], and PMMA can be used for detecting temperature profiles [
15
], combining with surface plasmon resonance (SPR) technology in bio-sensing applications [
16
], and tunable dispersion [
17
].
PMMA is a polymer which means that it is macromolecular, and there should be many intervals inside the polymer which allow air or other gas molecules to enter [
18
]. This process can be used to detect gas pressure. In this paper, we fabricate a pressure sensor based on a homemade POF to measure the air pressure both in the positive and negative range. As there are no commercially available step-index single-mode polymer optical fibers and acknowledging that only a few groups globally are currently fabricating their own POFs using their own procedures, the present characterizations and results will be specific to our fibers but will give valuable information. The results shown in this work are much better compared to previous experimental results. We endeavor to explain the phenomenon and results observed in our experiments based on the specific chemical structure of the PMMA fabricated from our laboratory by our methods.
2. Preform Fiber Fabrication and Sensing System
From the description above, the cladding preform needed to be heated once before drawing the fiber. However, the method reported by other researchers requires the core material to be poured into the cladding preform and the core material cured by heating at a certain temperature to prepare the full preform. Therefore, it takes twice as long to heat the cladding preform before drawing it. One more temperature treatment process of heating and cooling may significantly influence the mechanical properties and the profile of the reflective index in the core.
3. Experimental Results and Discussions
4. Conclusions
To the best of our knowledge, this is the first time the negative pressure measurement based on bare POFBG has been demonstrated. The sensitivity was much higher than previously reported with a maximum of up to 10 times larger than that in positive pressure [
20
]. The sensitivity of POFBG under a negative atmosphere was higher than that in positive. This is due to the porous chemical structure of PMMA, which makes sense when viewing the results. In addition, stability and response time were investigated under two different air atmospheres. The reasonable explanation from the perspective of a porous chemical structure can be useful in understanding the response principle. The sensitivity under lower pressure range could be detected based on the presented sensor, which has potential in the small pressure change detection area, such as subcutaneous tissue pressure measurement [
27
].
Author Contributions
Conceptualization, X.C. and Y.L.; methodology, X.C.; formal analysis, X.C.,Y.L.; investigation, X.C. and Y.L.; resources, C.Y.; data curation, X.C.; writing—original draft preparation, X.C., Y.L.; writing—review and editing, X.C., Y.L., and C.Y.; visualization, Y.L.; supervision, C.Y.; funding acquisition, C.Y.
Funding
This work was supported by the Hong Kong General Research Fund Project 15211317 and PolyU Central Grant project 1-ZVGB.
Conflicts of Interest
The authors declare no conflict of interest.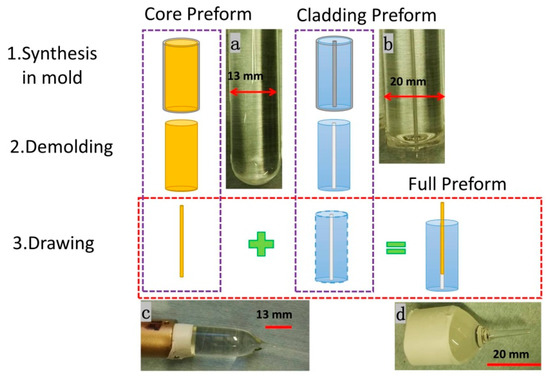 Figure 1. Preparation process of the polymer optical fiber (POF) preform; Subfigure (a–d) are the photos of the core preform, cladding preform with a hole, the drawn core cane, and the full preform.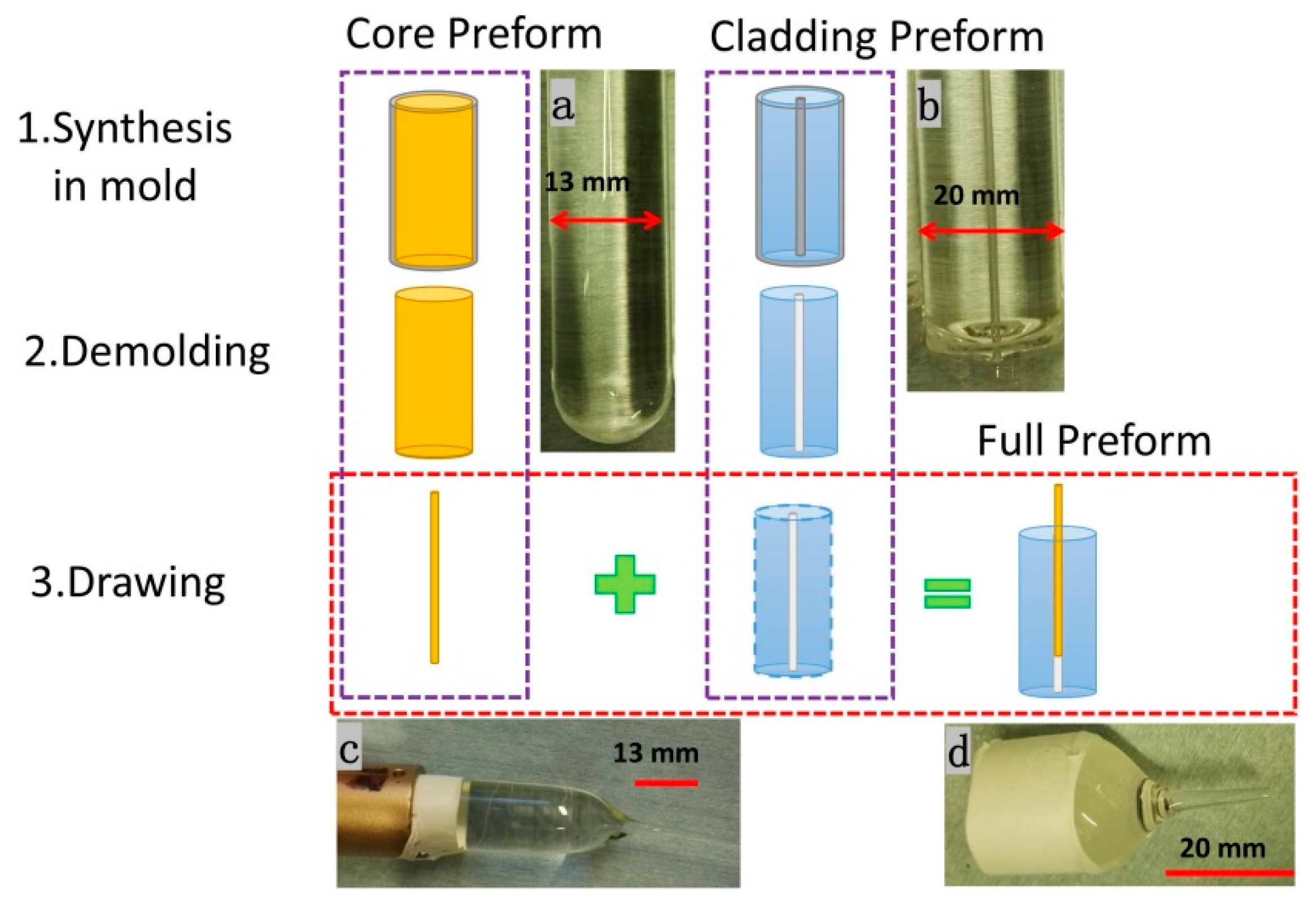 Figure 2. Microscope images of the fibers before/after etching. (a) Freshly prepared sample; (b) 3 min etching; (c) 7 min etching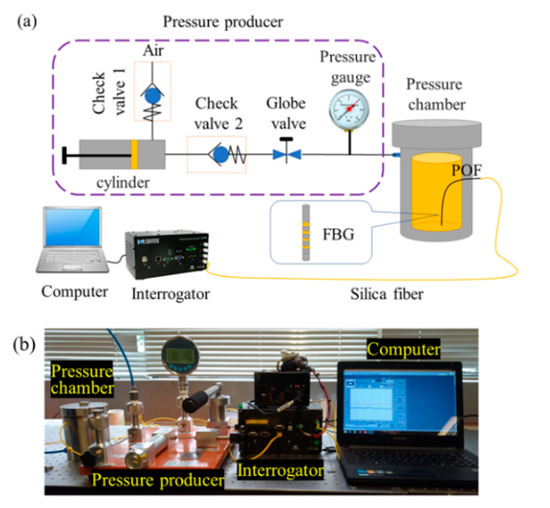 Figure 3. (a) The schematic diagram and (b) the experimental photo of the gas pressure calibration system.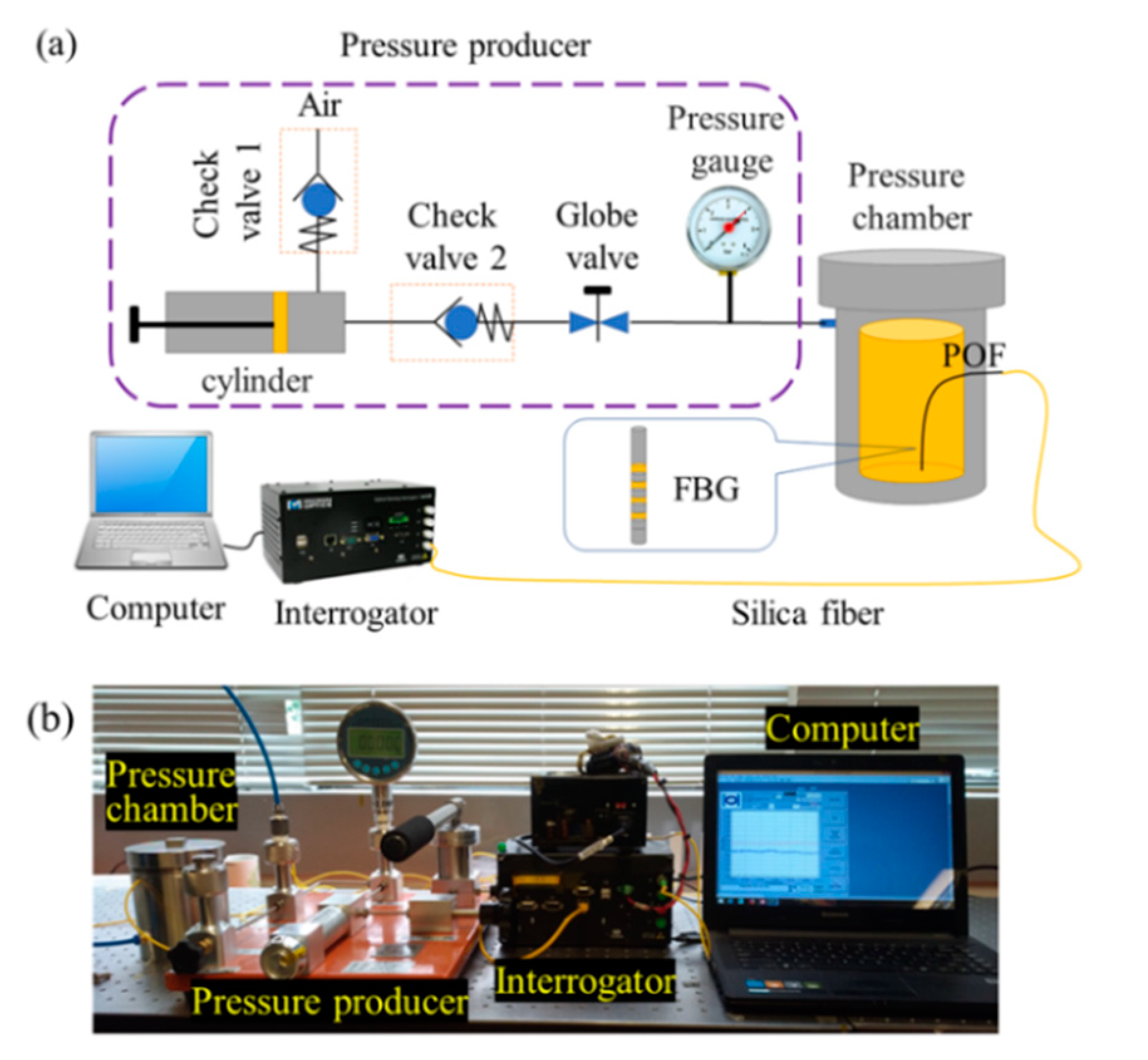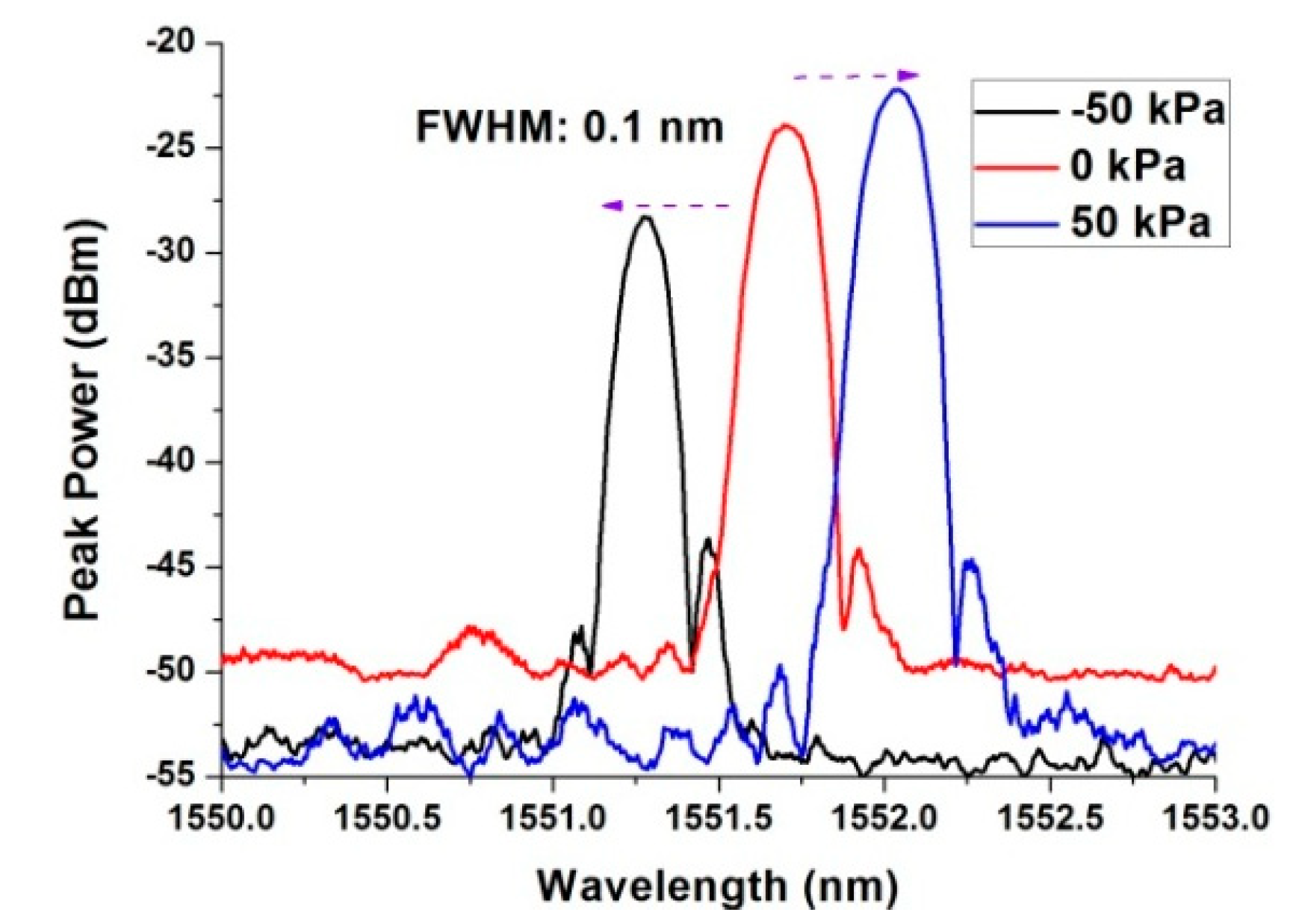 Figure 5. (a) Positive pressure sensitivities and (b) negative pressure sensitivities of the sensors with different diameters.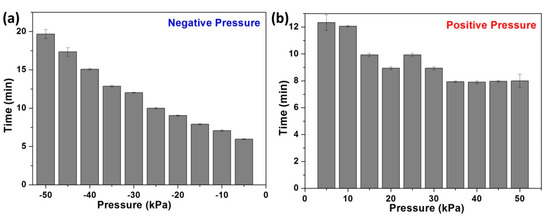 Figure 6. Evaluation of response time in two different pressure atmospheres—negative (a) and positive (b).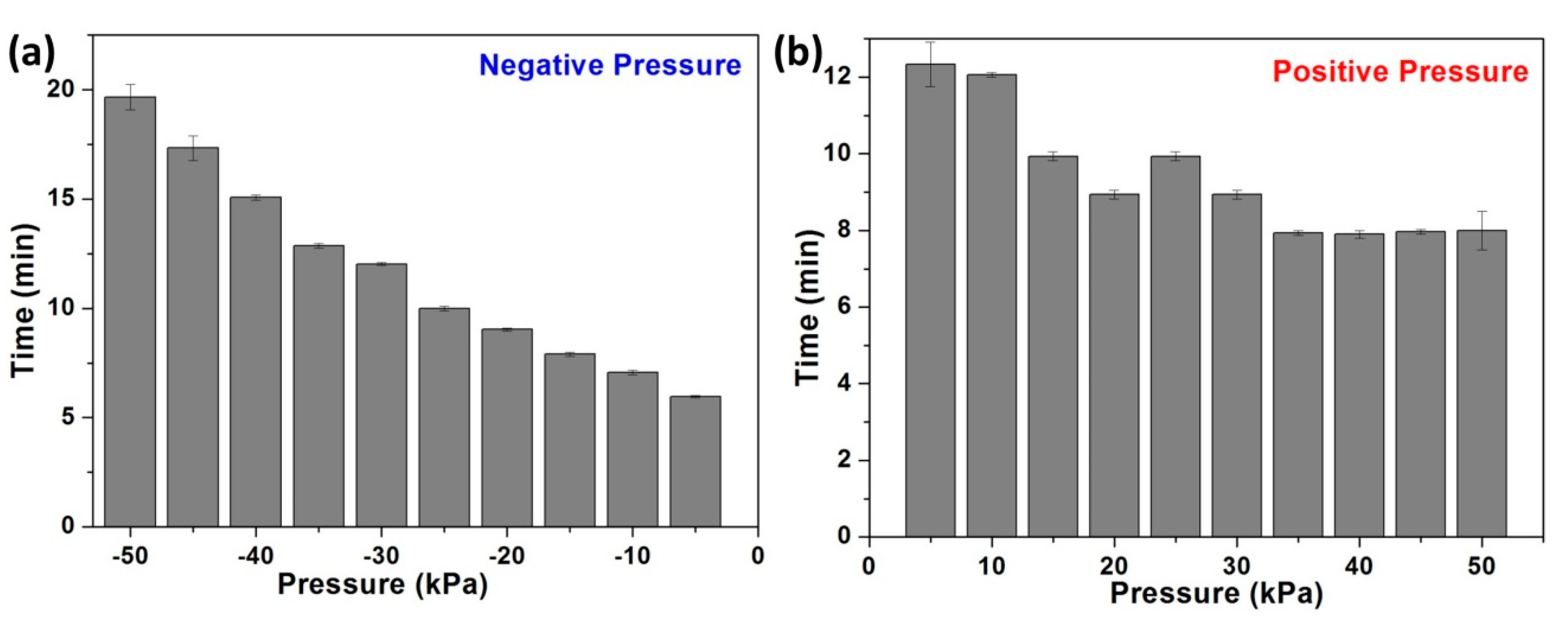 Figure 7. Step response of the sensor in negative/positive pressure atmosphere—positive (a) and negative (b).


Table 1. Sensitivity of different diameter fiber Bragg grating (FBG) sensors under positive and negative pressure.
Diameter
Sensitivity
Positive Pressure
Negative Pressure
125 µm
7.82 pm/kPa
10.79 pm/kPa
102 µm
7.97 pm/kPa
11.71 pm/kPa
83 µm
8.12 pm/kPa
12.12 pm/kPa

© 2019 by the authors. Licensee MDPI, Basel, Switzerland. This article is an open access article distributed under the terms and conditions of the Creative Commons Attribution (CC BY) license (http://creativecommons.org/licenses/by/4.0/).