Narrative Review: Nutrient Deficiencies in Adults and Children with Treated and Untreated Celiac Disease
1
Department of Paediatrics and NUTRIM School of Nutrition and Translational Research in Metabolism, Maastricht University Medical Centre, P. Debyelaan 25, 6229 HX Maastricht, The Netherlands
2
Department of Dietetics, Maastricht University Medical Centre, P. Debyelaan 25, 6229 HX Maastricht, The Netherlands
[email protected]
*
Author to whom correspondence should be addressed.
Received: 3 January 2020 / Revised: 5 February 2020 / Accepted: 13 February 2020 / Published: 15 February 2020
Nutrient deficiencies are well recognized as secondary consequences of celiac disease (CD) and closely related to the clinical presentation of affected patients. Despite their clinical significance, consensus is lacking on the pattern and frequency of nutrient deficiencies in CD, the usefulness of their assessment at the time of diagnosis and during follow-up. This review aims to provide an overview of nutrient deficiencies among pediatric and adult CD patients at diagnosis and on a gluten-free diet (GFD), and their potential causes in CD. Secondly, we review their impact on CD management strategies including the potential of nutrient supplementation. A search of Medline, Pubmed and Embase until January 2019 was performed. Despite a high variability between the reported deficiencies, we noted that nutrient deficiencies occur frequently in children and adults with CD at diagnosis and during treatment with a GFD. Both inadequate dietary intake and/or diminished uptake due to intestinal dysfunction contribute to nutrient deficiencies. Most deficiencies can be restored with (long-term) treatment with a GFD and/or supplementation. However, some of them persist while others may become even more prominent during GFD. Our results indicate a lack of comprehensive evidence on the clinical efficacy of nutrient supplementation in CD management highlighting the need for further studies.
1. Introduction
Celiac disease (CD) is a common immune-enteropathy triggered by dietary gluten in genetically susceptible individuals [
1
]. In CD, the immunologic response to gluten peptides causes histological abnormalities in the small intestine. These histological aberrations such as villous atrophy reduce the functional capacity of the intestine [
1
]. A clinically relevant consequence is malabsorption resulting in an increased risk for nutritional deficiencies. These deficiencies can contribute to clinically important comorbidities such as anemia, osteoporosis and depression [
2
,
3
,
4
]. Nutritional deficiencies do not only play a role at the time of diagnosis, but also during treatment with a gluten-free diet (GFD).
The functional absorptive surface of the intestine in CD is expected to restore after treatment with a GFD, thereby reestablishing nutrient absorption. However, studies reveal that full histological recovery requires long-term treatment, especially in adult patients. This makes CD patients prone to nutrient deficiencies in the first period after initiation of a GFD, even when strictly adhering to the diet [
5
,
6
,
7
,
8
]. Another complicating factor that may trigger development of deficiencies while treating the disease with a GFD is the diet itself. Withdrawing gluten-containing foods from the diet and substituting them with cereals that are less rich in nutrients may lead to a nutritional imbalance contributing to an overall impaired nutrient status [
9
,
10
,
11
]. Currently, it is unclear which types of nutrient deficiencies are frequently present in CD patients at diagnosis and during treatment with a GFD. Moreover, there is a lack of knowledge on the clinical relevance of nutrient deficiencies and hence the potential impact of nutrient supplementation on the clinical outcome in CD. To answer the main research question that forms the basis of this narrative review, we reviewed the published scientific evidence for nutrient deficiencies in pediatric and adult CD patients at diagnosis and during treatment with a GFD. Moreover, the review provides an appraisal of underlying causes of deficiencies and the clinical relevance of nutrient supplementation. Currently, the clinical impact of nutrient deficiencies and the effectiveness of their treatment are currently poorly defined. Besides, the assessment of nutrient deficiencies can be executed by different approaches, including measuring the values of individual nutrients in blood or urine, or by indirect evaluation of putative clinical consequences of deficiencies. Both of the latter approaches are addressed in this review. Finally, the review aims to evaluate whether the currently available evidence is of sufficient quality to provide recommendations for clinical practice.
2. Materials and Methods
For this narrative literature review, as defined by Grant et al., a search of Medline, Pubmed and Embase from 1960 until January 2019 was performed to identify potentially relevant publications [
12
]. The following search terms were used to search in titles and abstracts using "All fields", as well as MeSH terms when available: 'celiac disease', 'coeliac disease', 'nutrient status', 'dietary intake', 'vitamins', 'minerals', 'nutrients', 'gluten-free diet', 'histology', and 'histological recovery'. Additionally, a search with relevant nutrients was conducted including the search terms 'iron', 'ferritin', 'vitamin D', 'vitamin B6', 'vitamin B12', 'calcium', 'folic acid', 'zinc', 'magnesium'. The search was limited to studies in the English language and full-text availability. This approach resulted in a total of 8478 articles for potential inclusion in this review. The search was not narrowed down further, to make sure as many eligible articles as possible were included in this overview. All potentially relevant original articles were screened for inclusion by two researchers in a step-wise approach; first, based on title, then on screening of the abstracts, and then by full-text screening of the remaining articles. Reference lists from the selected articles were also screened manually for relevant publications. The cited articles were selected based on the relevancy to the review objectives. Included were original studies on histological recovery in celiac patients on a GFD; nutrient intake of celiac patients; and nutrient deficiencies in untreated or treated celiac patients. As there is currently no clear consensus on the definition of nutrient deficiencies and how these should be evaluated, studies were included that measured serum nutrient values. Furthermore literature describing the link between nutrient levels and associated symptoms and comorbidities in CD were added to provide a general overview. Articles describing nutrient deficiencies were only included when they reported either the percentage or total number of patients with a nutrient deficiency. An appraisal of the quality of the studies was conducted to select articles of high quality which were summarized in the results of this review. The tables report the percentages of patients or of a reference population with nutrient levels below reference point and nutrient intake below recommendation (
Table 1
and
Table 2
respectively). For both the reference values for nutrient concentrations and reference values for recommended nutrient intake, the values chosen by the individual studies were used, meaning that the cut-off values vary between studies. Furthermore, this entails that no distinction was made in the severity of the nutritional deficit. This means, that the reported percentage of patients with a deficiency include those with severe deficiencies as well as sub-optimal values below the cut-off value. No selection was made based on the technique chosen to measure nutrient values and an overview of the selected methods was included when reported by the authors (see
Supplementary Table S1
).
Only recent studies, not older than 15 years, were included in the tables. Furthermore, the study population had to be well defined with sound confirmation of CD diagnosis, as well as the moment of assessment, specifically differentiating between the moment of CD diagnosis and assessment of follow-up. Only those articles were selected that presented the results in a way that they could be extracted for this review. This included a clear differentiation between groups and definition of the moment of measurements. Furthermore, the results had to provide either percentages or numbers of subjects with nutrient deficiencies or insufficient intake of certain nutrients. Consequentially, articles only providing mean or median values of nutrient levels or nutrient intake within the groups were excluded. Single-case reports were not included. Level of evidence was assessed according to the 2009 Oxford Centre for Evidence-Based Medicine (OCEBM) [
13
,
14
]. The evidence level could be graded down based on the researchers' assessment of study quality and relevance and could be graded up in case of a large or very large effect size. An overview of all studies included in
Table 1
and
Table 2
is provided in the
Supplementary Material
of this review. The overview includes subject characteristics and demographics of each study, as well as outcome parameters and details on the information provided by the authors concerning chosen diagnostic tests chosen and cut-off values for nutrient assessment. Lastly, the level of evidence was provided according to the 2009 OCEBM (see
Supplementary Table S1
). Due to the small number of recent, high-quality publications on several nutrient values that met all the aforementioned criteria, other studies that did not meet these criteria were included in the review as well. These studies were included as the best available evidence and were highlighted within the text and tables as being of lower quality.
3. Nutritional Deficiencies in Celiac Disease at Diagnosis and on a Gluten-Free Diet
An overview of the most important nutrient and mineral deficiencies reported in CD at diagnosis and on a GFD are summarized in
Table 1
. Percentages of nutrient deficiency in healthy reference populations are mentioned in
Table 1
as well. The majority (69%) of the studies summarized in this review were conducted in Europe, 13% in North America, and 9% in India, the remaining studies being conducted in Israel, Australia and South America. Half of the studies were conducted prospectively, while the other half were mainly retrospective chart reviews or cross-sectional studies (see
Supplementary Table S1
).
3.1. Nutritional Deficiencies at Moment of Diagnosis in Untreated Celiac Disease
Taken together, nutrient deficiencies are highly prevalent at time of CD diagnosis in the pediatric and adult population, although there is a variance in reported fractions of nutrient deficiencies. Importantly, not only routinely measured nutrients such as iron and vitamin B12 are deficient, but also less recognized and studied nutrients such as zinc appear to be deficient frequently in patients with active CD.
3.2. Nutritional Deficiencies While on a Gluten-Free Diet in Treated Celiac Disease
3.3. Comorbidities Potentially Related to Nutrient Deficiencies in Celiac Disease
3.4. Role of Nutrient Supplementation in Celiac Disease Management
Overall, only few studies have systematically assessed the impact of nutrient supplementation as an additional therapy next to a GFD in CD. Some studies have suggested that nutrient supplementation may positively influence recovery, whereas others describe no difference between patients receiving supplementation and patients who do not.
4. Causes of Nutritional Deficiencies in Celiac Disease
As shown above, nutritional imbalances are present in a substantial number of patients diagnosed with CD [
99
,
100
,
101
]. Nutrient deficiencies result from an imbalance between nutrient supply and biological need. In CD, nutrient supply can be insufficient due to impaired uptake on the one hand, and as a consequence of inadequate nutrient intake when on a GFD on the other hand. Impaired uptake is the main factor of nutrient deficiencies at diagnosis and becomes less important after histological recovery. After institution of a GFD, recovery of the small intestine occurs in most CD patients, making insufficient nutrient intake the factor most likely to contributing to nutrient imbalances, due to possible nutritional inadequacy of the GFD itself (see
Table 2
) [
102
,
103
,
104
,
105
,
106
].
4.1. Impaired Absorption DUE to Compromised Intestinal Epithelial Function
4.2. Histological Recovery on a Gluten-Free Diet
4.3. Nutrient Imbalance associated with a Gluten-Free Diet
Historically, the treatment of CD has focused on the avoidance of gluten-containing food and less importance has been devoted to the nutritional quality of the GFD [
99
]. However, maintaining a nutritionally adequate diet on a GFD requires effort and attention and insufficient dietary intake of nutrients is an important contributing factor to nutritional deficiencies in CD. The grains and gluten-containing products excluded in a GFD, are a major source of iron, dietary fiber, B vitamins and iodine, and contribute substantially to the energy and protein content of a normal diet. Their elimination from the diet inevitably alter the macro- and micronutrient composition of a GFD [
33
,
52
,
56
,
99
,
106
,
135
].
Rice, corn and potatoes are widely used as natural substitutes of gluten-containing grains but are generally less nutrient dense. Moreover, processed gluten-free products are often of lower quality and poorer nutritional value compared with their gluten-containing equivalents [
9
,
10
,
11
,
106
]. A number of nutrient-dense grains, including the pseudo-cereals buckwheat, quinoa and amaranth, represent a safe alternative concerning gluten absence while improving the variety and palatability of the GFD, and are a good source of carbohydrates, protein, dietary fiber, vitamins, minerals, and polyunsaturated fatty acids [
136
,
137
].
On a macronutrient level, several studies suggest that a GFD is characterized by lower intake of (complex) carbohydrates and fibers, with subsequent higher protein and fat consumption [
30
,
33
,
52
,
56
,
99
,
108
,
113
,
135
,
138
]. The altered macronutrient dietary patterns can have negative consequences. For example, poor dietary fiber intake can increase the risk of other chronic diseases [
99
,
101
,
113
,
135
,
139
]. Additionally, a rise in body mass index (BMI) and increased prevalence of metabolic syndrome has been observed in CD patients after initiation of a GFD [
140
,
141
].
5. Discussion
The current review of the available literature indicates that both newly diagnosed and CD patients following a GFD frequently exhibit nutrient deficiencies. Second, nutrient deficiencies are associated with short- and long-term manifestations and complications of CD [
2
,
3
,
4
,
49
]. However, the clinical impact of nutrient deficiencies and their modulation by treatment in CD patients are still unclear based on the available literature. Our current review identifies a high degree of variation between reports and a deficit in scientific evidence supporting a consistent role of nutrient deficiencies in CD on several levels. For example, no high-quality studies were identified that assessed deficiencies of iron, vitamin D, vitamin B12, folic acid, zinc or magnesium status in adult CD patients on a GFD. In general, after the analysis of the level of evidence of the reports reviewed in this work, only low- to moderate-level studies and practically no high-quality, high-level evidence studies were available. As a result, the evidence base is not strong enough to pronounce sound recommendations on CD management concerning nutrient status. Therefore, we suggest evaluating nutrient levels at the time of diagnosis as well as regularly during follow-up, until further research provides the evidence base necessary to generate more detailed recommendations. The results of this review show the importance of a nutritionally balanced dietary pattern as a part of CD management that can still lead to clinical improvement in most patients. Health providers should focus not only on gluten avoidance, but also on a balanced diet with respect to macro- and micronutrients in all CD patients. Early education of patients by a skilled dietitian with expert knowledge in CD is needed to address the achievement of adequate (micro) nutrient intake in patients on a GFD. Naturally gluten-free foods should be recommended as these have a higher nutritional value in terms of protein and fiber provision and vitamin content as opposed to the commercially purified gluten-free products [
9
,
10
,
11
]. Fortification of gluten-free foods needs to be considered and should at least match the micronutrient content of the foods they intend to replace. Targeted supplementation based on laboratory findings or a multivitamin and mineral supplement could be beneficial to the health status and recovery of individual CD patients, although care should be taken to avoid hypervitaminosis. Thus, vitamin B12 as well as folic acid supplementation have been shown to be clinically relevant in preventing or reducing neurological and psychological symptoms in CD patients. In children and adolescents, vitamin D and calcium supplementation are of particular importance to improve BMD. Interestingly, most studies evaluating the role of dietary supplements in CD management mainly focus on the restoration of blood levels as opposed to the effects on clinical consequences of nutrient deficiencies. However, if clinically relevant outcomes are investigated, the focus lies largely on long-term effects of nutrient supplementation on parameters such as BMD. Thus, short-term adverse effects of nutrient deficiencies are not taken into account. IDA and iron deficiency for example, may improve on a GFD regardless of the use of iron supplements, but may improve faster in patients using supplementation. A prolonged duration of recovery could have potentially harmful effects on the patients' health and/or psychosocial well-being. A prolonged period of IDA in pediatric CD patients could, for instance, result in a longer period of fatigue and weakness, impairing school performance and social life. In adult CD patients, this burden could also have an additional societal impact when resulting symptoms lead to reduced work performance or prolonged sick leave [
143
,
144
]. Taking this into account, the time it takes for nutrient deficiencies to restore after initiation of GFD treatment should be of interest in future studies. Moreover, efforts should be made to generate more evidence supporting sound recommendations regarding the effects of treatment and monitoring of CD patients in which a nutrient deficiency or a clinical consequence of deficiency has been detected.
As mentioned above, certain limitations of this review's methodology should be taken into account. These limitations, combined with several weaknesses in the current literature, especially concerning the assessment of nutrient deficiencies, should be addressed and summarized. This is not only of great importance for interpretation of the presented overview, but also to provide recommendations concerning future research efforts. Although this narrative review has not been constructed as a systematic review, an extensive literature search of three databases has been conducted aiming to give as comprehensive an overview as possible. Nevertheless, this review is not a complete representation of all studies, but rather provides an overview of the current state of knowledge. High-quality studies were also included in this review, however, due to their scarcity some studies of lesser quality were considered in order to provide a general overview (see
Supplementary Table S1
). Through conducting the literature search and selection by two investigators and broad screening for eligible articles, we aimed to minimize the risk of selection bias, but nonetheless we still present a narrative review.
A lack of consensus could be identified concerning several methodological aspects. This results in high variability in conducted studies concerning patient selection, chosen cut-off points for nutrient values and varying quality of assays measuring nutrient levels. Therefore, we present the reported percentages of patients with micronutrient values below the reference points, as chosen by the researchers of the respective studies. A uniform, clinically relevant cut-off value was thus not selected, as this can be controversial regarding several nutrients, for instance concerning vitamin D concentrations [
145
,
146
,
147
]. Another relevant point of concern is whether micronutrient levels measured in the blood (serum or plasma) are an accurate indicator of the overall status of a certain micronutrient in the entire body. This relates, for example, to zinc and magnesium measurements. It was suggested that other biomarkers in the blood could be a more accurate indicator of zinc status in the body [
148
]. Similarly, there are conflicting views on the use of magnesium levels in blood or urine as an assessment for magnesium status [
149
]. Notably, few studies make a distinction in the severity of nutrient deficiencies, but rather only report on the number of patients not meeting the lower cut-off value (see
Supplementary Table S1
) [
40
,
41
,
42
]. In order to truly evaluate the scope of the problem of nutrient deficiencies in CD, future studies might separately report on patients with sub-optimal nutrient values and patients with severe deficiencies. Overall, these shortcomings reflect general limitations of the current literature on this topic and could be viewed as an important outcome of this review. A consensus on these methodological issues should thus be achieved before studies assessing the subject matter elaborated upon in this review are executed.
6. Summary and Conclusions
Both newly diagnosed CD patients and patients adhering to a GFD frequently demonstrate nutrient deficiencies which can have important clinical consequences. Nutrient deficiencies with known clinical relevance in CD patients include iron, vitamin D, folic acid, zinc and calcium at the time of diagnosis and iron, vitamin D, vitamin B6 and zinc during treatment with GFD.
In newly diagnosed CD patients these deficiencies may reflect the loss of absorptive surface area as well as functional capacity. Following the elimination of gluten from the diet, improvement in small intestinal histology occurs gradually, especially in adult patients. Consequently, recovery of nutrient deficiencies after diagnosis takes time. Nevertheless, even during long-term GFD treatment in CD patients with biopsy-proven remission, these patients may still show nutrient deficiencies due to insufficient nutrient intake.
Several known comorbidities, e.g. osteoporosis, anemia and neurological symptoms, are possible indicators of the impact that impaired nutritional status can have on CD patients. In pediatric CD patients, growth or impaired sexual maturation can be consequences that highlight the potential impact of impaired nutritional status in this patient group. Consequentially, assessment of nutritional status should be a part of both CD diagnosis and during follow-up. Additionally, dietary education for CD patients focusing not only on gluten elimination, but also the need to balance dietary patterns is important and should receive more attention.
Evidence on the benefit of nutrient supplementation on mucosal healing, correction of nutrient deficiencies or recovery from comorbidities associated with CD is inconclusive. While vitamin B12 and folic acid supplementation appear beneficial, no evidence was found supporting favorable effects of calcium and vitamin D supplementation on decreased BMD in CD.
This review, although providing evidence for the relevance of nutrient status in CD at diagnosis and during treatment with a GFD, shows a noteworthy lack of high-quality evidence and a high degree of variability in the current literature regarding several relevant aspects. This concerns especially the lack of research in pediatric CD patients on a GFD and the consequences of impaired nutritional status on child development. The latter undoubtedly represents an important aspect in clinical care of these pediatric CD patients.
The causes of an impaired nutrient status in CD are currently only poorly understood. As improvement of nutritional status is of great importance for patients, further studies are warranted with comprehensive assessment of nutrient status in untreated and, even more importantly, treated CD patients are warranted. Studies should differentiate between adult and pediatric study populations and evaluate the need for optimal timing and dosing of supplementation as part of CD management. Prospective cohort studies would be expedient to further investigate the prevalence of certain nutrient deficiencies, their resulting health complications, and the potential role of nutrient supplements. It is of importance that future cohort studies are conducted on a multinational scale. This would not only account for differences between patient groups with different dietary habits, but also for patient groups that receive different types of medical care, from general practitioners and primary care facilities to specialized tertiary centers. Furthermore, researchers should pay more attention to the methodological aspects of assessing nutrient deficiencies, specifically regarding the type of measurement and appropriate reference values, clearly distinguishing between patients with sub-optimal nutrient levels and those with severe deficiencies. This will enable a more accurate evaluation of the scope of the problem and the clinical efficacy of treatment in the future. Long-term prospective studies could also provide evidence on the time it takes for nutritional deficiencies to recover and the factors influencing this process. This may shed light on the question whether we should strive to achieve a more rapid recovery of nutrient levels in CD patients after diagnosis. It could further clarify the matter if this can be achieved through attention to diet alone, or through addition of nutrient supplementation. In order to conduct valuable research addressing nutrient status in CD, it is crucial to reach a consensus on cut-off values of nutrient levels as well as the adequate techniques that should be used to assess them. When investigating the causes for the occurrence of certain deficiencies, the addition of a group of subjects (controls) following a GFD that do not have CD could be of additional value. This is currently more feasible, as GFD is becoming increasingly popular in healthy individuals without CD or in patients with non-celiac gluten sensitivity. This will yield important further knowledge to improve overall management of CD. The goal of this should be to relieve symptoms, recover the intestinal mucosa, and reverse the consequences of CD-related malabsorption, while enabling patients to secure a nutritionally adequate GFD.
Supplementary Materials
The following are available online at
https://www.mdpi.com/2072-6643/12/2/500/s1
: Table S1: Overview of studies included in
Table 1
and
Table 2
, describing nutrient deficiencies in celiac disease patients with active and treated CD or nutrient intake in CD patients on a gluten-free diet.
Author Contributions
conceptualization, A.C.E.V. and M.P.M.A.; formal analysis, J.M.K., M.P.M.A., E.M.C.v.d.P.; data curation, A.C.E.V., J.M.K., M.P.M.A., E.M.C.v.d.P.; writing—original draft preparation, J.M.K. and M.P.M.A.; writing—review and editing, A.C.E.V., J.M.K., M.P.M.A., E.M.C.v.d.P.; visualization, J.M.K.; supervision, A.C.E.V.; All authors have read and agreed to the published version of the manuscript.
Funding
This research received no external funding.
Conflicts of Interest
The authors declare no conflict of interest.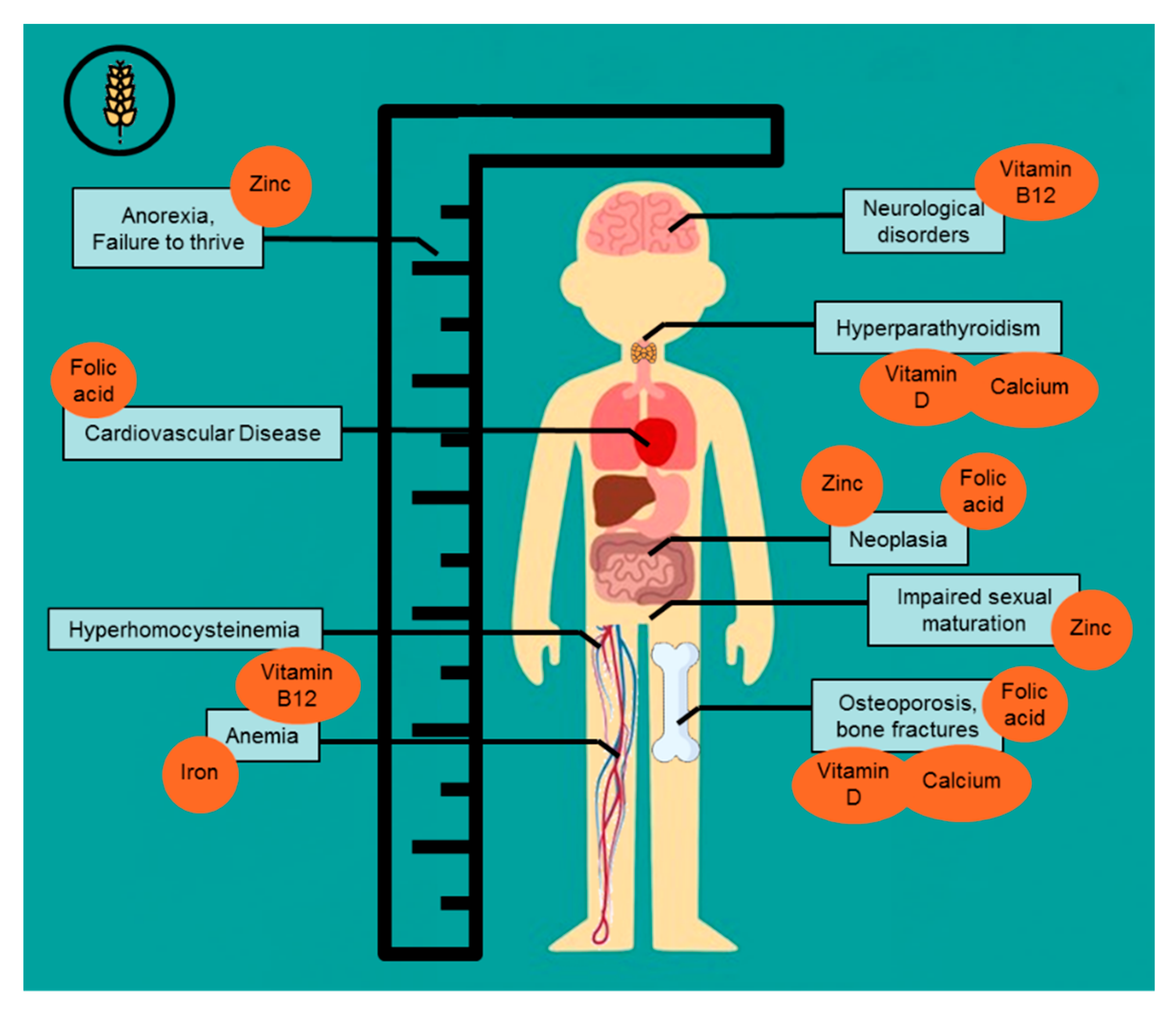 Nutrient
Percentage of Untreated CD Patients with Circulating Levels below Reference Value (%)
Percentage of Treated CD Patients with Circulating Levels below Reference Value (%)
Short Term Follow-up, <2 years on a GFD (Time on GFD)
Percentage of Treated CD Patients with Circulating Levels below Reference Value (%)
Long Term Follow-up, >2 years on a GFD (Time on GFD)
Percentage of Individuals in the General Reference Population with Circulating Levels below Reference Value (%)
Adults
Iron
(iron/ferritin)
6%–82% [15,16,17,18,19,20,21,22,23]
Serum iron: 44%
Serum ferritin: 15%
(1 year) [24] *
data not available
17 % [23]
Vitamin D
(25(OH)D)
5%–88% [18,20,25,26,27,28]
50%
(1 year) [29] *
7.6% (5 years)
0% (mean 4 years for men, 9 years for women) [29,30] *
50% [25]
Calcium
0%–26% [17,19,20,28,31]
0%
(1–2 years) [17]
data not available
data not available
Vitamin B12
5%–19% [16,17,18,20,22,32]
data not available
0%
(8–12 years) [33]
7%–17% [18,23]
Vitamin B6
(vitamin B6/Plasma pyridoxal 5 phosphatase)
15% [18]
data not available
37%
(8–12 years) [33]
0% [18]
Folic acid
(folic acid/folate)
11%–75% [15,16,17,18,19,20,22,23,31,32]
data not available
20%
(8–40 years) [33] *
4%–14% [18,23,32]
Zinc
67% [18]
30%;
(1 year) [24] *
20%
(range 8 months–7 years) [34] *
data not available
Magnesium
13%–17% [35,36] *
data not available
data not available
data not available
Children
Iron
(iron/ferritin)
12%–82% [22,23,37,38,39]
Serum iron: 5%–10%
Serum ferritin: 21%–27%
(6 months–2 years) [38,39]
Serum iron: 4%–8%
(3–5.5 years) [38]
17% [23]
Vitamin D
0%–70 % [25,38,39,40,41,42]
0%–57%
(6 months–2 years) [38,39,40,41]
12%–25%
(2–5.5 years) [38]
4%–30% [25,40,42]
Calcium
0%–41% [37,38,40,43,44,45,46]
0%
(6 months–2 years) [38,40]
0%
(3 years–5.5 years) [38]
0% [40]
Vitamin B12
1%–14% [22,23,37,38]
0%–1%
(6 months–2 years) [38,39]
0%
(3–5.5 years) [38]
7% [23]
Vitamin B6
data not available
data not available
data not available
data not available
Folic acid
14%–31% [22,23,37,38]
0%–3%
(1–2 years) [38]
0%
(3–5.5 years) [38]
14% [23]
Zinc
19%–72% [37,39,47]
16%–18%
(6–18 months) [39]
data not available
data not available
Magnesium
7%–11% [40,48]
data not available
4%
(11 years; range 3–17) [48]
0% [40]
Overview of reported percentages of adult and pediatric CD patients with a nutrient deficiency at the moment of diagnosis and during follow-up with a GFD. All reported values are summarized in ranges, with the corresponding studies referenced in square brackets. The duration of GFD is mentioned in brackets in columns three and four. * Studies that did not meet quality criteria were only included if no other eligible article existed for that nutrient level and are marked by an asterisk. Abbreviations: celiac disease (CD); gluten-free diet (GFD).

Table 2. Overview of dietary intake of nutrients on a gluten-free diet in celiac disease patients and reference populations.
Nutrient
Percentage of CD Patients with Nutrient Intake below Recommendations (%)
Percentage of Individuals in the General Reference Population with Nutrient Intake below Recommendations (%)
Adults
Iron
46%–54% [52,99,101,104,107]
14% [52,99]
Vitamin D
53%–100% [99,107,108]
data not available
Calcium
12%–78% [99,101,104,107,108,109,110]
6%–29% [52,99]
Vitamin B12
10%–61% [99,107,111]
1%–65% [99,111]
Vitamin B6
33% [111]
17% [111]
Folic acid
35%–100% [54,101,107,110,111,112]
3%–100% [52,99,111]
Zinc
11%–58% [52,101,107,108,110]
30% [52]
Magnesium
28%–50% [52,101]
29% [52]
Children
Iron
8% [113]
43%–79% [100,110]*
Vitamin D
68% [113]
data not available
Calcium
8%–54% [48,113]
86% [110]*
Vitamin B12
0% [113]
data not available
Vitamin B6
8% [113]
data not available
Folic acid
80% [110]
57% [110] *
Zinc
40% [110]
43% [110] *
Magnesium
29%–76% [48,113]
data not available
Overview of reported percentages of adults and children with CD and of general reference populations with nutrient intake below the recommended levels. All reported values are summarized in ranges, with the corresponding studies referenced in square brackets. * Studies that did not meet the quality criteria were only included if no other eligible article existed for the intake of that nutrient and are marked by an asterisk. Abbreviations: celiac disease (CD).

© 2020 by the authors. Licensee MDPI, Basel, Switzerland. This article is an open access article distributed under the terms and conditions of the Creative Commons Attribution (CC BY) license (http://creativecommons.org/licenses/by/4.0/).