In Vitro Gastrointestinal Digestion and Colonic Fermentation of High Dietary Fiber and Antioxidant-Rich Mango (
Mangifera indica

L.) "Ataulfo"-Based Fruit Bars

1

Tecnológico Nacional de México/Instituto Tecnológico de Tepic, Av. Tecnológico 2595, Nayarit, CP 63175 Tepic, Mexico

2

Department of Food Technology, Engineering and Nutrition, Lund University, P.O. Box 124, SE-221 00 Lund, Sweden

*

Author to whom correspondence should be addressed.

Received: 26 June 2019 / Revised: 4 July 2019 / Accepted: 8 July 2019 / Published: 11 July 2019
Abstract
Mango (
Mangifera indica
L.) is a tropical fruit which is considered to be a source of dietary fiber (DF) and phenolic compounds (PCs). In this study, high DF mango-based fruit bars were developed from whole mango (peel and pulp). The bars were evaluated for their nutritional composition, the bioaccesibility of PCs during gastrointestinal digestion, and the PCs metabolites profile after in vitro colonic fermentation. The amount of DF in a 30 g portion of mango bars was 9.5 g, i.e., 35% of the recommended daily intake. Phenolic acids such as gallic acid; cinnamic acids, such as ferulic, coumaric, and caffeic acids; flavonoids such as quercertin; and xanthones such as mangiferin and mangiferin gallate, were identified as the main PCs in the bars. The antioxidant capacity associated with the PCs profile, together with the high DF content are indicative of the potential functional features of these natural fruit bars. The bioaccesibility of PCs in the mango bar was 53.78%. During fermentation, the PCs were bioconverted mainly to hydroxyphenolic acids and the main short-chain fatty acid produced was acetic acid. The xanthone norathyriol was identified after 12 h of fermentation. This study on the digestion and colonic fermentation of mango-based bars using in vitro models provides hints of the potential physiological behavior of PCs associated with DF, which constitutes relevant information for further development of natural and health-promoting fruit-based bars.
View Full-Text
►

▼

Figures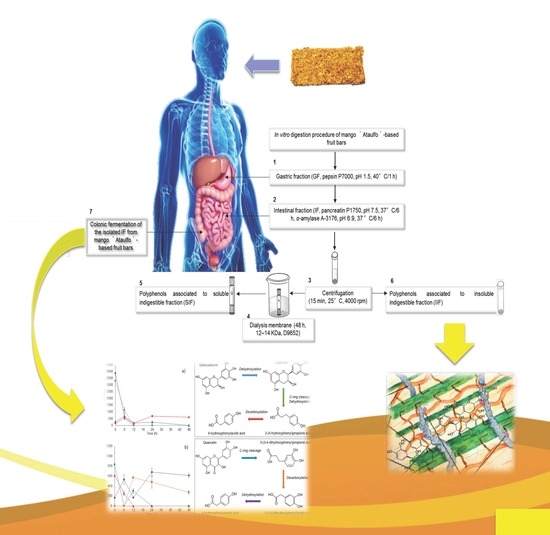 Graphical abstract
This is an open access article distributed under the
Creative Commons Attribution License
which permits unrestricted use, distribution, and reproduction in any medium, provided the original work is properly cited (CC BY 4.0).

Share & Cite This Article
MDPI and ACS Style
Hernández-Maldonado, L.M.; Blancas-Benítez, F.J.; Zamora-Gasga, V.M.; Cárdenas-Castro, A.P.; Tovar, J.; Sáyago-Ayerdi, S.G. In Vitro Gastrointestinal Digestion and Colonic Fermentation of High Dietary Fiber and Antioxidant-Rich Mango (Mangifera indica L.) "Ataulfo"-Based Fruit Bars. Nutrients 2019, 11, 1564.
Note that from the first issue of 2016, MDPI journals use article numbers instead of page numbers. See further details here.
Related Articles
Comments
[Return to top]