Investigating Risk of Suboptimal Macro and Micronutrient Intake and Their Determinants in Older Danish Adults with Specific Focus on Protein Intake—A Cross-Sectional Study
1
Vitality—Centre for Good Older Lives, Department of Nutrition, Exercise and Sports, University of Copenhagen, 1958 Frederiksberg C, Denmark
2
Institute of Sports Medicine Copenhagen, Department of Orthopaedic Surgery M, Bispebjerg Hospital, Copenhagen, Denmark & Department of Biomedical Sciences, Faculty of Health and Medical Sciences, University of Copenhagen, 2200 Copenhagen, Denmark
3
CoRe—Copenhagen Centre for Health Research in the Humanities, Saxo Institute, Faculty of Humanities, University of Copenhagen, 2300 Copenhagen, Denmark
4
Department of Food Science, University of Copenhagen, 1958 Frederiksberg C, Denmark
5
School of Sport, Exercise and Rehabilitation Sciences, University of Birmingham, Birmingham B15 2TT, UK
*
Author to whom correspondence should be addressed.
Received: 12 March 2019 / Revised: 27 March 2019 / Accepted: 2 April 2019 / Published: 6 April 2019
Abstract
Suboptimal intake of nutrients is associated with adverse health outcomes. The current study investigated the risk of suboptimal macro and micronutrient intake and their potential determinants in a cross-sectional study of community-dwelling older Danish adults (65–81 years). Nutrient intake was obtained through a 3-day weighted dietary record and information on personal characteristics and attitudes towards specific foods and dietary habits and nutrition through questionnaires. Dietary Reference Values (DRV) from the Nordic Nutrition Recommendations were used for the assessment. Among 157 participants, 68% and 66% had risk of suboptimal intake of dietary fiber and saturated fatty acids (SFA). For mono-unsaturated fatty acids (MUFA) and poly-unsaturated fatty acids (PUFA), the numbers were 47% and 62%, respectively. Increased risk of suboptimal protein intake was estimated in 3 to 45% of the participants, depending on the criteria used for the DRV and of the mode of expressing protein intake. Fifty percent had intakes of alcohol above the maximum recommended intake. Risk of micronutrient inadequacy was particularly high for vitamin D and thiamine (80 and 45%, respectively). Total energy intake and attitude regarding healthy eating were associated with lower nutrient intake. The current study illustrates that there is room for improvements in the dietary quality of community dwelling older Danish adults.
View Full-Text
►

▼

Figures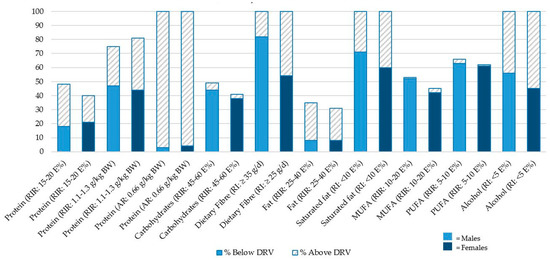 Figure 1
This is an open access article distributed under the
Creative Commons Attribution License
which permits unrestricted use, distribution, and reproduction in any medium, provided the original work is properly cited (CC BY 4.0).

Share & Cite This Article
MDPI and ACS Style
Rønnow Schacht, S.; Vendelbo Lind, M.; Bechshøft, R.L.; Højfeldt, G.; Reitelseder, S.; Jensen, T.; Pernille Jespersen, A.; Sandris Nielsen, D.; Holm, L.; Tetens, I. Investigating Risk of Suboptimal Macro and Micronutrient Intake and Their Determinants in Older Danish Adults with Specific Focus on Protein Intake—A Cross-Sectional Study. Nutrients 2019, 11, 795.
Note that from the first issue of 2016, MDPI journals use article numbers instead of page numbers. See further details here.
Related Articles
Comments
[Return to top]