Vitamin C Activates Osteoblastogenesis and Inhibits Osteoclastogenesis via Wnt/β-Catenin/ATF4 Signaling Pathways
1
Department of Food and Nutrition, KC University, Seoul 077661, Korea
2
Department of Food Science and Technology, Seoul National University of Science & Technology, Seoul 01811, Korea
3
Department of Biomedical Engineering, Sogang University, Seoul 04107, Korea
4
Department of Advanced Materials Engineering, Daejeon University, Daejeon 34520, Korea
5
Kwang-Dong Pharmaceutical Co, Ltd., Seoul 06650, Korea
*
Author to whom correspondence should be addressed.
Received: 23 January 2019 / Revised: 22 February 2019 / Accepted: 25 February 2019 / Published: 27 February 2019
Abstract
This study evaluated the effects of vitamin C on osteogenic differentiation and osteoclast formation, and the effects of vitamin C concentration on bone microstructure in ovariectomized (OVX) Wistar rats. Micro-computed tomography analysis revealed the recovery of bone mineral density and bone separation in OVX rats treated with vitamin C. Histomorphometrical analysis revealed improvements in the number of osteoblasts, osteoclasts, and osteocytes; the osteoblast and osteoclast surface per bone surface; and bone volume in vitamin C-treated OVX rats. The vitamin C-treated group additionally displayed an increase in the expression of osteoblast differentiation genes, including bone morphogenetic protein-2, small mothers against decapentaplegic 1/5/8, runt-related transcription factor 2, osteocalcin, and type I collagen. Vitamin C reduced the expression of osteoclast differentiation genes, such as receptor activator of nuclear factor kappa-B, receptor activator of nuclear factor kappa-B ligand, tartrate-resistant acid phosphatase, and cathepsin K. This study is the first to show that vitamin C can inhibit osteoporosis by promoting osteoblast formation and blocking osteoclastogenesis through the activation of wingless-type MMTV integration site family/β-catenin/activating transcription factor 4 signaling, which is achieved through the serine/threonine kinase and mitogen-activated protein kinase signaling pathways. Therefore, our results suggest that vitamin C improves bone regeneration.
View Full-Text
►

▼

Figures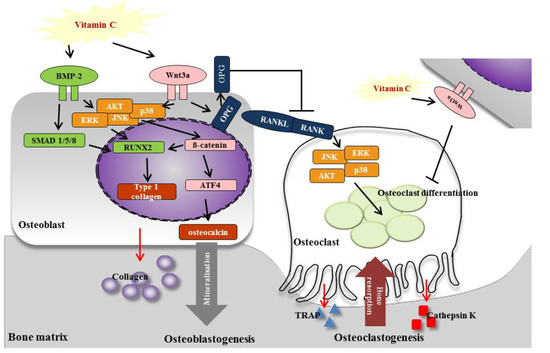 Graphical abstract
This is an open access article distributed under the
Creative Commons Attribution License
which permits unrestricted use, distribution, and reproduction in any medium, provided the original work is properly cited (CC BY 4.0).

Share & Cite This Article
MDPI and ACS Style
Choi, H.K.; Kim, G.-J.; Yoo, H.-S.; Song, D.H.; Chung, K.-H.; Lee, K.-J.; Koo, Y.T.; An, J.H. Vitamin C Activates Osteoblastogenesis and Inhibits Osteoclastogenesis via Wnt/β-Catenin/ATF4 Signaling Pathways. Nutrients 2019, 11, 506.
Note that from the first issue of 2016, MDPI journals use article numbers instead of page numbers. See further details here.
Related Articles
Comments
[Return to top]