Bamboo Stems (
Phyllostachys nigra

variety henosis) Containing Polyphenol Mixtures Activate Nrf2 and Attenuate Phenylhydrazine-Induced Oxidative Stress and Liver Injury

1

Laboratory of Toxicology, College of Pharmacy, Chosun University, Gwangju 61452, Korea

2

College of Korean Medicine, Dongshin University, Naju, Jeollanam-do 58245, Korea

3

Department of Biochemical and Polymer Engineering, Chosun University, Gwangju 61452, Korea

4

RC-HCLD, College of Korean Medicine, Daegu Haany University, Gyeongsan, Gyeongsangbuk-do 38610, Korea

*

Authors to whom correspondence should be addressed.

Received: 27 November 2018 / Revised: 28 December 2018 / Accepted: 1 January 2019 / Published: 8 January 2019
Abstract
This study was designed to investigate the hepatoprotective effect of bamboo stems using in vitro and in vivo experimental liver damage models. Ethyl acetate fraction of 80% ethanol extract of
Phyllostachys nigra
stem (PN3) containing polyphenols had a higher
NQO1-ARE
reporter gene activity as monitored by the activity of the NF-E2-related factor (Nrf2) antioxidant pathway in cells in comparison to extracts from other species and under other conditions. The Nrf2 was translocated from the cytosol to the nucleus in response to PN3, followed by induction of the Nrf2 target gene expression, including
HO-1
,
GCL
, and
NQO-1
in HepG2 cells. Phosphorylation of Nrf2 in HepG2 cells was enhanced in PN3, which was mediated by PKCδ, ERK, and p38 MAPK. Consequently, PN3 inhibited arachidonic acid (AA) + iron-induced reactive oxygen species generation and glutathione depletion, and, thus, highlighted their role in cytotoxicity. Treatment with major polyphenols of PN3, including catechin, chlorogenic acid, caffeic acid, and
p
-coumaric acid, also improved AA + iron-mediated oxidative stress and, thus, improved cell viability. Treatment with phenylhydrazine in mice, i.e., the iron overload liver injury model, increased plasma alanine aminotransferase and aspartate aminotransferase levels and changed histological features in mice—a response that was almost completely blocked by PN3 administration. Moreover, PN3 extract mitigated phenylhydrazine-induced oxidative stress and inflammatory responses. Conclusively, PN3 can exert a hepatoprotective effect against iron overload-induced acute liver damage due to its antioxidant properties.
View Full-Text
►

▼

Figures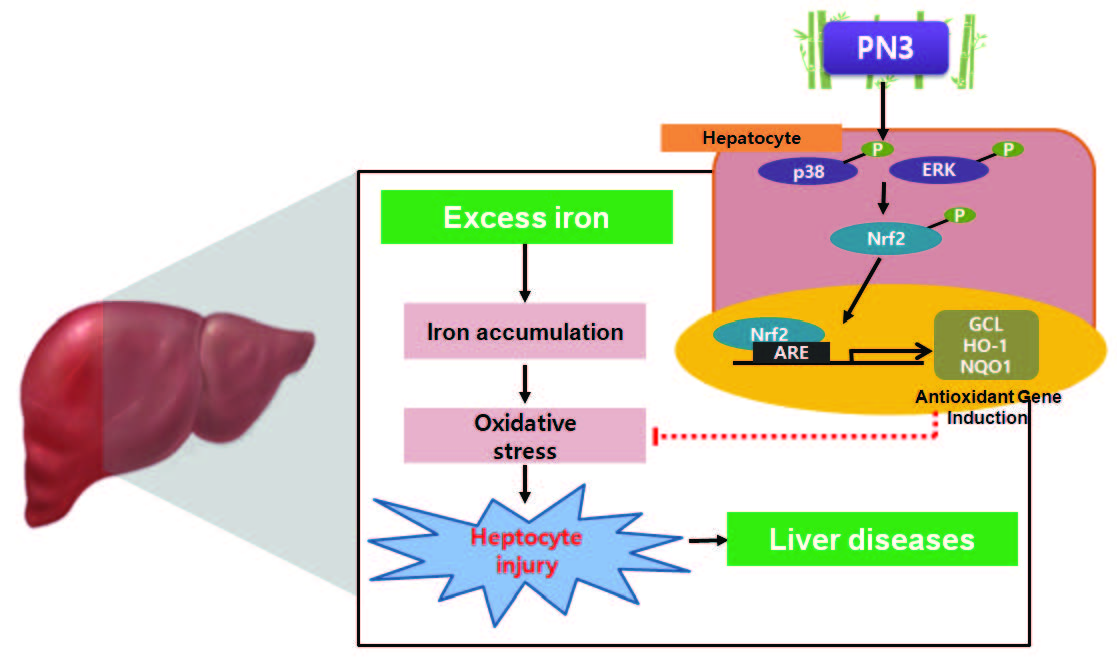 Graphical abstract
This is an open access article distributed under the
Creative Commons Attribution License
which permits unrestricted use, distribution, and reproduction in any medium, provided the original work is properly cited (CC BY 4.0).
Supplementary materials
Supplementary File 1:

PDF-Document (PDF, 219 KB)

Externally hosted supplementary file 1
Link: http://no
Description: Supplementary Figure 1.

Share & Cite This Article
MDPI and ACS Style
Yang, J.H.; Choi, M.-H.; Na, C.-S.; Cho, S.S.; Kim, J.H.; Ku, S.K.; Cho, I.J.; Shin, H.-J.; Ki, S.H. Bamboo Stems (Phyllostachys nigra variety henosis) Containing Polyphenol Mixtures Activate Nrf2 and Attenuate Phenylhydrazine-Induced Oxidative Stress and Liver Injury. Nutrients 2019, 11, 114.
Note that from the first issue of 2016, MDPI journals use article numbers instead of page numbers. See further details here.
Related Articles
Comments
[Return to top]