Supplement Use and Dietary Sources of Folate, Vitamin D, and
n

-3 Fatty Acids during Preconception: The GLIMP2 Study

1

Division of Human Nutrition, Wageningen University, P.O. Box 17, 6700 Wageningen, The Netherlands

2

Department of Gynaecology and Obstetrics, Hospital Gelderse Vallei Ede, P.O. Box 9025, 6710 HN Ede, The Netherlands

3

Department of Internal Medicine, Hospital Gelderse Vallei Ede, P.O. Box 9025, 6710 HN Ede, The Netherlands

4

Clinical Chemistry and Haematology Laboratory, Hospital Gelderse Vallei Ede, P.O. Box 9025, 6710 HN Ede, The Netherlands

5

Department of Obstetrics and Gynaecology, Rijnstate Hospital, P.O. Box 9555, 6800 Arnhem, The Netherlands

*

Author to whom correspondence should be addressed.

Received: 13 June 2018 / Revised: 19 July 2018 / Accepted: 23 July 2018 / Published: 25 July 2018
Abstract
An adequate nutritional status during the preconception period is important, particularly for folate, vitamin D, and
n
-3 fatty acids (i.e., EPA+DHA). We aimed to determine supplement intake and the main dietary sources of folate, vitamin D, and EPA+DHA using the data of 66 Dutch women aged 18–40 years who wished to become pregnant. Additionally, associations of these intakes with their blood levels were examined. Dietary intake was assessed with a validated food frequency questionnaire, and supplement use with a structured questionnaire. 25-hydroxyvitamin D levels were determined in serum and folate and phospholipid EPA+DHA levels in plasma. Partial Spearman's correlations, restricted cubic splines and trend analyses over tertiles of nutrient intakes were performed to examine intake-status associations. A large proportion of women did not meet the Dutch recommended intakes of folate (50%), vitamin D (67%), and EPA+DHA (52%). Vegetables were the main contributor to dietary folate intake (25%), oils and fats to dietary vitamin D intake (39%), and fish to dietary EPA+DHA intake (69%). Fourteen percent of the women had an inadequate folate status and 23% an inadequate vitamin D status. Supplemental folate intake, supplemental and dietary vitamin D intake and dietary EPA+DHA intake were significantly associated with their blood levels. In conclusion, even in our highly educated population, a large proportion did not achieve recommended folate, vitamin D and
n
-3 fatty acid intakes. Promotion of folate and vitamin D supplement use and fish consumption is needed to improve intakes and blood levels of these nutrients in women who wish to become pregnant.
View Full-Text
►

▼

Figures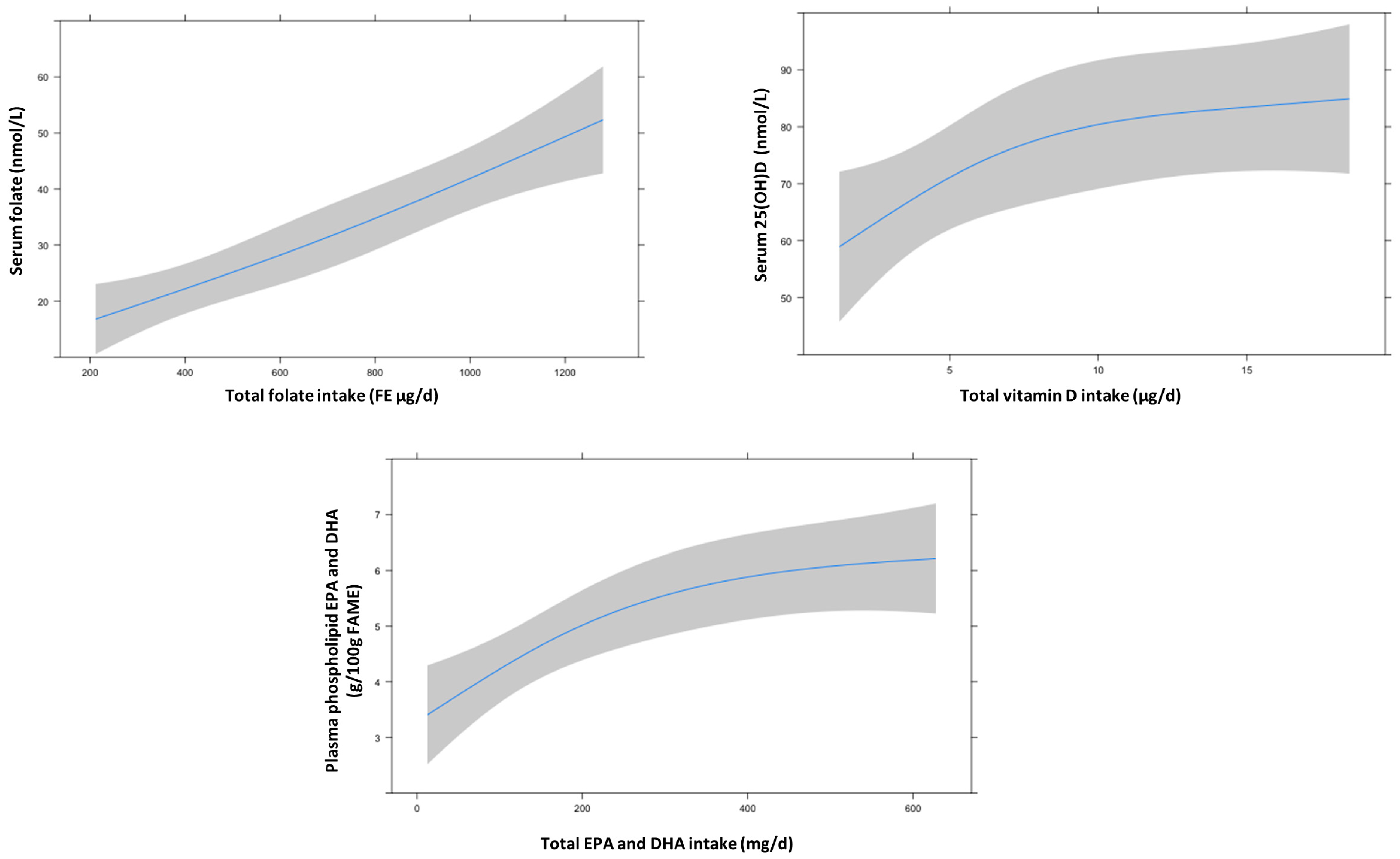 Figure 1
This is an open access article distributed under the
Creative Commons Attribution License
which permits unrestricted use, distribution, and reproduction in any medium, provided the original work is properly cited (CC BY 4.0).

Share & Cite This Article
MDPI and ACS Style
Looman, M.; Van den Berg, C.; Geelen, A.; Samlal, R.A.K.; Heijligenberg, R.; Klein Gunnewiek, J.M.T.; Balvers, M.G.J.; Leendertz-Eggen, C.L.; Wijnberger, L.D.E.; Feskens, E.J.M.; Brouwer-Brolsma, E.M. Supplement Use and Dietary Sources of Folate, Vitamin D, and n-3 Fatty Acids during Preconception: The GLIMP2 Study. Nutrients 2018, 10, 962.
Note that from the first issue of 2016, MDPI journals use article numbers instead of page numbers. See further details here.
Related Articles
Comments
[Return to top]