Are Total and Individual Dietary Lignans Related to Cardiovascular Disease and Its Risk Factors in Postmenopausal Women? A Nationwide Study
1
Department of Food Biotechnology, Faculty of Health Sciences, Medical University of Bialystok, Szpitalna 37, 15-295 Bialystok, Poland
2
Department of Epidemiology, Cardiovascular Disease Prevention and Health Promotion, Institute of Cardiology, Alpejska 42, 04-628 Warsaw, Poland
3
Department of Epidemiology and Population Studies, Faculty of Health Sciences, Institute of Public Health, Jagiellonian University Medical College, Grzegórzecka 20, 31-531 Krakow, Poland
4
Department of Social and Preventive Medicine, Faculty of Health Sciences, Medical University of Lodz, Hallera 1, 90-001 Lodz, Poland
*
Author to whom correspondence should be addressed.
Received: 20 June 2018 / Revised: 28 June 2018 / Accepted: 2 July 2018 / Published: 4 July 2018
Abstract
The study objectives were to examine total and individual lignan intakes and their dietary sources in postmenopausal Polish women and to investigate the relationship between lignan intake and the prevalence of cardiovascular disease (CVD), hypertension, hypercholesterolemia and central obesity. A total of 2599 postmenopausal women, participants of the Multi-centre National Population Health Examination Surveys (WOBASZ and WOBASZ II) were selected. Of them, 916 had a history of CVD. Nutritional data were collected using a single 24-h dietary recall. Data on lignan content in food, i.e., lariciresinol (LARI), matairesinol (MAT), pinoresinol (PINO) and secoisolariciresinol (SECO), were collected from the available lignan databases. In postmenopausal women, total and individual lignan intakes (SECO, PINO, MAT) were not associated with the prevalence of CVD and its risk factors. The intake of LARI was linked by 30% to the reduced odds for hypercholestrolemia. This study reinforces the existing concept that dietary total lignans are not associated with the prevalence of CVD, and provides further evidence that they are not linked to CVD risk factors such as hypertension, hypercholesterolemia and central obesity. However, the intake of LARI should be taken into consideration in further studies with regard to its potentially beneficial effect in hypercholesterolemia.
View Full-Text
►

▼

Figures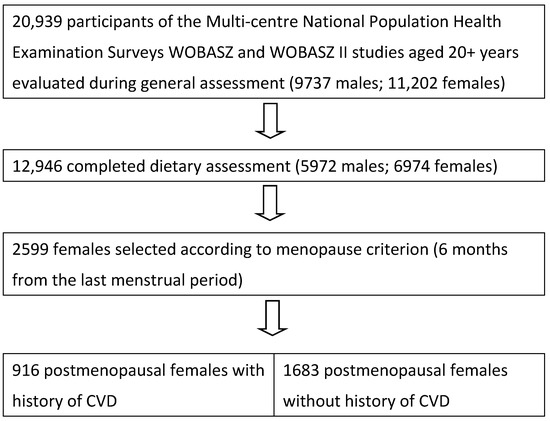 Figure 1
This is an open access article distributed under the
Creative Commons Attribution License
which permits unrestricted use, distribution, and reproduction in any medium, provided the original work is properly cited (CC BY 4.0).

Share & Cite This Article
MDPI and ACS Style
Witkowska, A.M.; Waśkiewicz, A.; Zujko, M.E.; Szcześniewska, D.; Stepaniak, U.; Pająk, A.; Drygas, W. Are Total and Individual Dietary Lignans Related to Cardiovascular Disease and Its Risk Factors in Postmenopausal Women? A Nationwide Study. Nutrients 2018, 10, 865.
Note that from the first issue of 2016, MDPI journals use article numbers instead of page numbers. See further details here.
Related Articles
Comments
[Return to top]